Last night, the NFL announced their 2015 Pro Bowl rosters, and I'm just going to go ahead and say it: The Broncos got robbed.
After grabbing a franchise record 11 spots in 2014, Denver only came home with four this year. And while Chris Harris Jr., Aqib Talib, Von Miller and DeMarcus Ware are all incredibly deserving, there are more than a handful of guys who should be on that roster, too.
The offense may have taken a dramatic turn for the worse, but the defense, despite their performance last week, has been the best group in the entire NFL. Not to mention, they've been doing it despite a barrage of injuries.
So let's walk through some of the Broncos biggest snubs, as well as special honorable mention, from this year's Pro Bowl selections: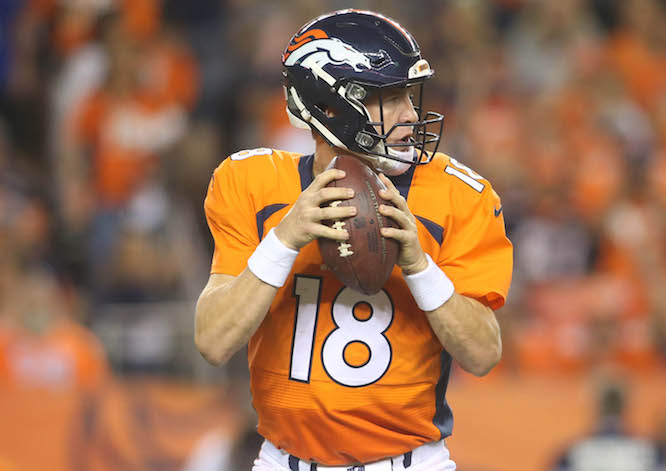 Has Peyton Manning played like a Pro Bowl player? No, absolutely not.
Still, after all that he's done for this game, would anybody really be angry if he was awarded one last spot? Discounting the 2011 season where Manning missed all 16 games following neck surgery, The Sheriff has been to 12 consecutive Pro Bowls. Would a 13th really kill anyone? It's not like he's going to play anyways; they can just give his spot away when he announces he'll no-show.
We see it all the time in other sports. We're seeing it right now with Kobe Bryant. The Black Mamba, who's also in his final year (though Manning has actually admitted that much), will undoubtedly be starting in the NBA All Star game, and he's horrible. Literally, he may be the most detrimental player on any basketball team, and he's going to be starting come tip off. And we've seen it with Allen Iverson and Yao Ming, too; both guys were named to the All Star game despite the fact that they had hardly played a minute all season.
And in baseball we've seen it with Derek Jeter and Cal Ripken. Football, though, I guess they just take the Pro Bowl too seriously. I mean, it's only the most important, exciting game of the year, right? (Please note the sarcasm)
So, no, Manning doesn't deserve to be playing in the Pro Bowl for his work this season, but if this were any other sport, he'd be named a starter — no question.