By this point in the year, it feels as if all 32 teams are pretty much set. Free agency season ended a long time ago, the trade deadline has passed and anybody worth their weight in salt is already on a roster or someone's practice squad.
But what about when worst comes to worst, a key contributor has gone down with injury and you don't necessarily have the personnel to replace him? And even if you did, who replaces the guy that just replaced the guy?
If you're a playoff contender, it doesn't matter how many players are spending the rest of the season on injured reserve or in the training room, you need to be deep come January; you have no chance to win, otherwise.
In these situations, that leaves teams scrounging through the scrap heap, looking for anyone who can feign competence for a few weeks. Unfortunately, that's not normally an easy task; there's a reason why they're not on a roster 13 weeks into the season.
But if you're going to do it, it helps when you can call on a guy who already knows the team, the facility, the city and the players. And for the Broncos, they're are quite a few of those guys out there.
If it came down to it, here are five ex-Denver Broncos the team could bring back right now for their playoff run:
LB D.J. Williams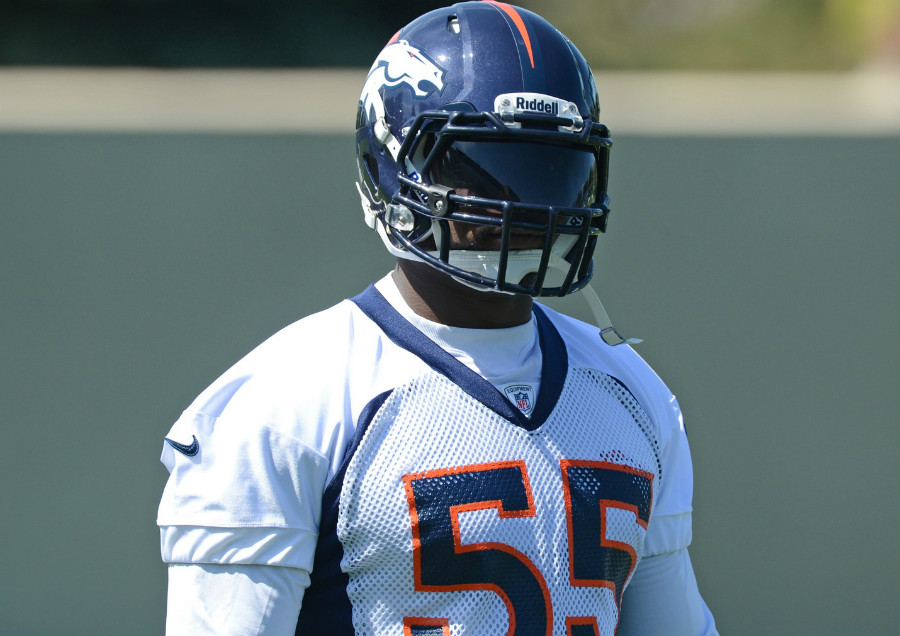 D.J. Williams did not leave Denver under the best of circumstances, he's a bit of a knucklehead and he's not very good, but the guys on this team love him.
That's probably one of my biggest takeaways from last Sunday's game against the Patriots. Even with all the attention on Tom Brady and New England's powerful offense, nearly every Broncos defender made it a point to come over and show love to Williams, who was watching from the sidelines all night.
Honestly, it was as if he'd never left the team.
Now, again, this is not a move that's going to push the Broncos over the top. But just keep your eyes open. If, god forbid, Denver suffers a couple injuries at linebacker, don't be surprised if they give a call to their old friend, D.J. Williams.
We're all about that Dyme Lyfe, right?