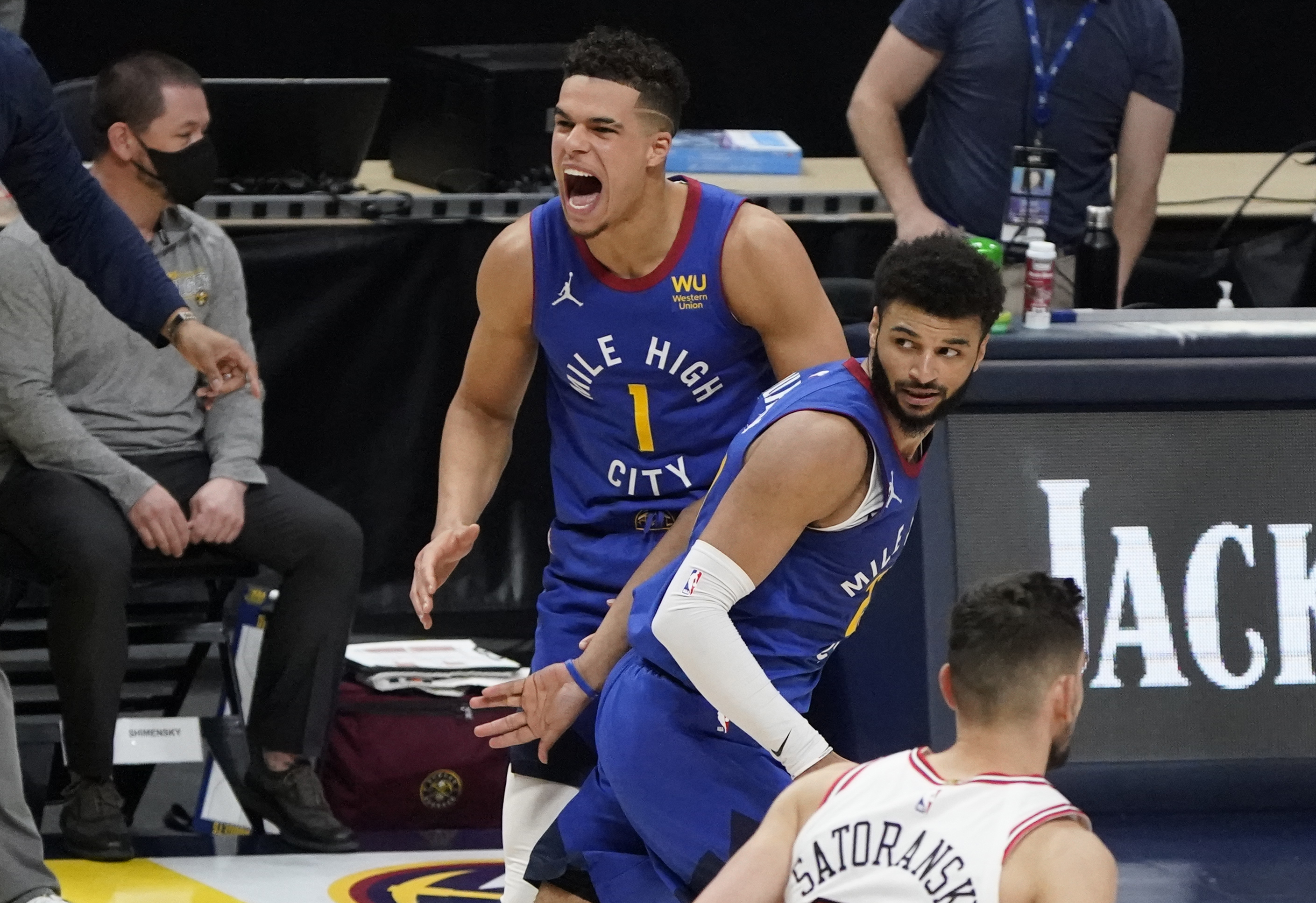 With some new additions to the roster and some players returning from injury, there are options abound for head coach Michael Malone and the 2022-23 Denver Nuggets.
The Nuggets went out of their way to add two-way wings in Kentavious Caldwell-Pope and Bruce Brown to the new rotation this offseason. Both players have yet to play a minute in a Nuggets uniform, but their presence adds something the Nuggets haven't had in a long time: versatility. There are limitless combinations and lineup configurations that the Nuggets can try out this season, anchored by the returns of Jamal Murray and Michael Porter Jr. to the starting lineup. Both players are expected to be limited to start the season, but they add new (or old) wrinkles that the Nuggets will use to their advantage.
But which lineups will Malone decide deserve the most time? Which lineups will be the go-to groups in a playoff series?
Here are some of my favorites:
---
The starters
Jamal Murray, Kentavious Caldwell-Pope, Michael Porter Jr., Aaron Gordon, Nikola Jokić
If everything goes according to plan, the Denver Nuggets could have the best starting unit in the entire NBA. Health permitting, the Nuggets are about to put out the most ideal Jokić-centric lineup of his career. Three of the four players are elite perimeter shooters while two of the four are big targets on back cuts and offensive rebounds. Jokić also reunites with Murray to form one of the best duos in the NBA. Their chemistry is unmatched, and Murray's dynamic talent will relieve some pressure from Jokić's shoulders.
Caldwell-Pope and Gordon are expected to tie the defense together, but in order for this unit to be the best it can be, the Nuggets will need better defense from the Jokić-Murray-Porter trio. If that happens, they might generate the best net rating for a five-man unit in the entire NBA.
The high level execution unit
Jamal Murray, Bruce Brown, Kentavious Caldwell-Pope, Aaron Gordon, Nikola Jokić
The most important swing factor in Denver's season is Michael Porter Jr.'s health. The next most important may be his readiness to contribute defensively.
Offensively, there are few questions. He went through some rough moments in his first playoff run outside of the bubble as Denver's primary perimeter scorer in place of Jamal Murray. That pressure will be off of him now, and he should be a better offensive player with some seasoning in his Age-24 season.
Defensively is where he may struggle to keep up with the best teams in the NBA. He struggled against both the Portland Trail Blazers and Phoenix Suns in the 2021 playoffs, and the Nuggets as a whole struggled with the Golden State Warriors this last year. The Nuggets have to account for the possibility that Porter can't be on the court for some of those important possessions.
The good news: Bruce Brown should be a great replacement for those moments. His versatility on the defensive end guarding point guards, shooting guards, and small forwards is great in a playoff context, and he has had great moments throughout his young career pestering opposing playmakers. Add him to Denver's other four starters, and that has a strong chance to be Michael Malone's most trusted group in what the Nuggets hope to be a deep playoff run.
The best bet off the bench
Bones Hyland, Bruce Brown, Christian Braun, Michael Porter Jr., Zeke Nnaji
While Porter may not be the right fit in all of Denver's closing lineups, he is the team's best candidate in the starting five to stagger with the second unit. The Nuggets struggled with their bench lineups last year. Much of the offensive responsibility fell to rookie Bones Hyland, an unfair task for a first-year player. Porter and Bones leading the scoring charge off the bench feels tenable, and while it may not be perfect and will be a high variance lineup, it has high potential for success.
Adding in three other players to the bench lineup is difficult. Bruce Brown is a shoo-in for those groups, likely serving as a secondary ball handler and primary guard defender. Malone will probably want to trust Jeff Green and DeAndre Jordan to anchor the lineup in the frontcourt. To be the best possible bench lineup though, the Nuggets should be looking to Zeke Nnaji. The 6'9″ power forward is heading into his third season. He might be Denver's best defensive big man already, and he has shot 43.9% from three-point range in his career (albeit on limited volume). Pairing him and Porter in the frontcourt would maximize Denver's bench spacing while also allowing their defense to run a switching system due to Nnaji's mobility.
That leaves one more spot, and for now, it goes to Christian Braun. The 6'7″ wing didn't shoot the ball well at Summer League, but he showed a lot of great traits as a defender and offensive connector. If the shot comes around, he makes the most sense for a fast-paced bench unit. Davon Reed is also a great candidate here.
The firepower unit
Bones Hyland, Jamal Murray, Kentavious Caldwell-Pope, Michael Porter Jr., Nikola Jokić
If the Nuggets are ever looking to take advantage of an opponent with a shoddy defense, this is the lineup to roll out there. Two ball handling guards in Bones and Murray running pick and rolls and dribble handoffs with Jokić while Caldwell-Pope and Porter space the floor and cut through the paint. There are no players that the defense can leave open in this unit, and the worst shooter out there might be Jokić. He can go to the post though, or run some middle pick and roll with Murray. Either instance would lead to some wide open shots for somebody.
Malone will be hesitant to roll this unit out there due to the lack of defensive personnel, but it includes five of Denver's top seven players in their rotation. The Nuggets will HAVE to play this lineup at some point, and they might end up liking the occasional 15-5 runs that it generates in a three-minute span. This is a situational lineup that forces the opposition to match up with Denver, because if teams attempt to outgun that five-man unit, I wish them the best of luck.
The kitchen sink
Jamal Murray, Bruce Brown, Kentavious Caldwell-Pope, Michael Porter Jr., Aaron Gordon
This lineup represents the minutes when Jokić gets a well-earned rest in a playoff series where he plays the entire third quarter of a close game. The Nuggets have generally hemorrhaged points when Jokić goes off the floor in most situations, and the best way to counteract that is by throwing the kitchen sink at those minutes. AKA: the next five best players beyond Jokić.
Murray and Porter will be the first and second options here, but the real kicker is Aaron Gordon at small ball center. The Nuggets have avoided this lineup since Gordon arrived in Denver, but it has some serious merit in a playoff context. Gordon is one of Denver's best help defenders, but he has rarely been able to show that skill with how often he played small forward last year. Using him as either a blitz defender or switch defender in pick and rolls would give Denver a unique defensive look that just hasn't been seen in the non-Jokić minutes. Gordon can also be the roll man in pick and rolls with Jamal Murray with his ability to finish at and above the rim through traffic. Playing center would give him more space to operate offensively too.
Bones has the capability to join this unit at some point throughout the season, but the guard trio of Murray, Brown, and Caldwell-Pope represents Denver's best two-way guard trio. Perhaps he replaces Brown or Caldwell-Pope in those situations, depending on the matchup.
There will come a time in a playoff series next year where Jokić has been dominating but needs a four-minute rest between quarters. Depending on how many players Malone trusts to perform in a playoff context, a lineup like the one above might be Denver's best option. A series against the Warriors or Los Angeles Clippers comes to mind here with the small ball options those teams have. The Nuggets have the personnel to match small for small, and the best option involves Porter at the 4 and Gordon at the 5.