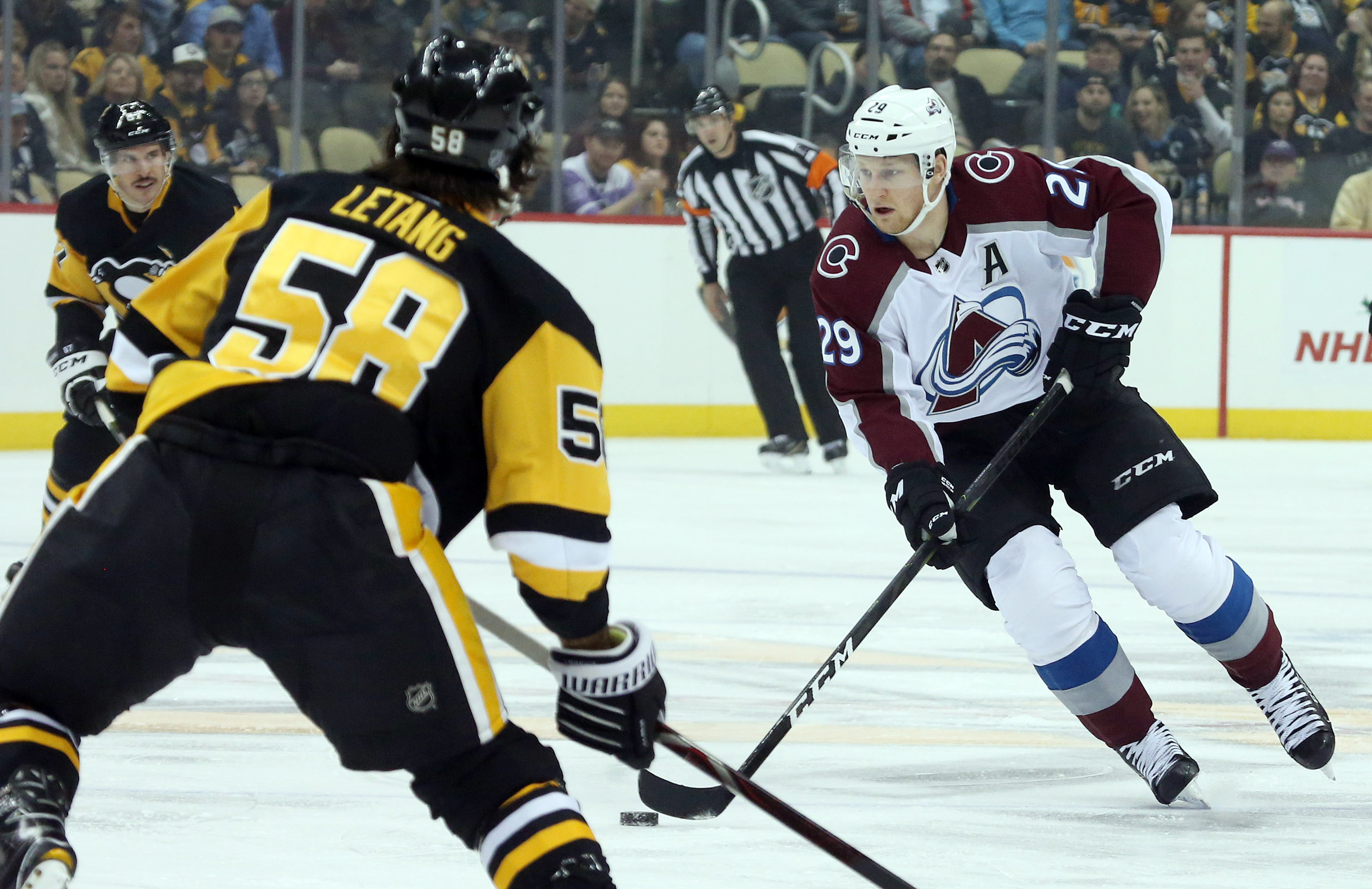 The Colorado Avalanche's 11-game point streak came to an end at the hands of the Pittsburgh Penguins by a score of 6-3 on Tuesday. The game was almost a complete role reversal from their matchup last week, where the Avs beat the Pens 6-3 in Denver.
What did we learn from this game?
Semyon Varlamov had one of his worst performances of the year, giving up six goals on 32 shots. Unfortunately, the worst goal he gave up all night came in a crucial moment in the third period, when the Avs were only down by one goal. Patrik Hornqvist, who completed a hat trick just moments later, let a slap shot go from far out that seemed to fool Varly and snuck through. Let's not be too hard on him, he's allowed one of those every once in a while with how well he's played this year.
Another guy who really struggled was Ian Cole. In his return to Pittsburgh, he was on the ice for five of the six goals by the Penguins, and struggled on quite a few of them. He got walked by Kris Letang on the opening goal, and his turnovers led directly to the final two Penguins goals. He's another guy who has played really well this year, but tonight was definitely not his night.
Matt Nieto has quietly really turned his year around the last month or so. He made a really smart play on the Soderberg goal tonight, and then decided he wanted to do it all himself on his shorthanded goal soon after, which looked to be a big-time tying goal. Nieto was an important player on the team last year, and while he maybe plays a little too many minutes, he can help this team with his speed.
Alexander Kerfoot looks like he's in the doghouse a bit. He started the game on the fourth line again, and only played a little over 11 minutes to finish with a -2. It's interesting because J.T. Compher has taken over the second line, and is getting a lot of playing time overall. Compher is the better overall player, so maybe that's what Bednar wants on that line right now.
Ultimately, you aren't going to pick up points in every single game, so it's good to take a step back and look at how well this team has played lately. Points in 11 games in a row is very difficult to do and has helped the Avs build up some big separation between themselves and the teams trying to squeak in the playoff picture. Even tonight, they controlled the majority of the play, but big-time mistakes cost them. You can't win them all, and the Avs just need to keep digging away and doing what they have been doing.
The Avs road trip continues when they head to Florida to take on the Panthers on Thursday. The game starts at 5 p.m. MT.