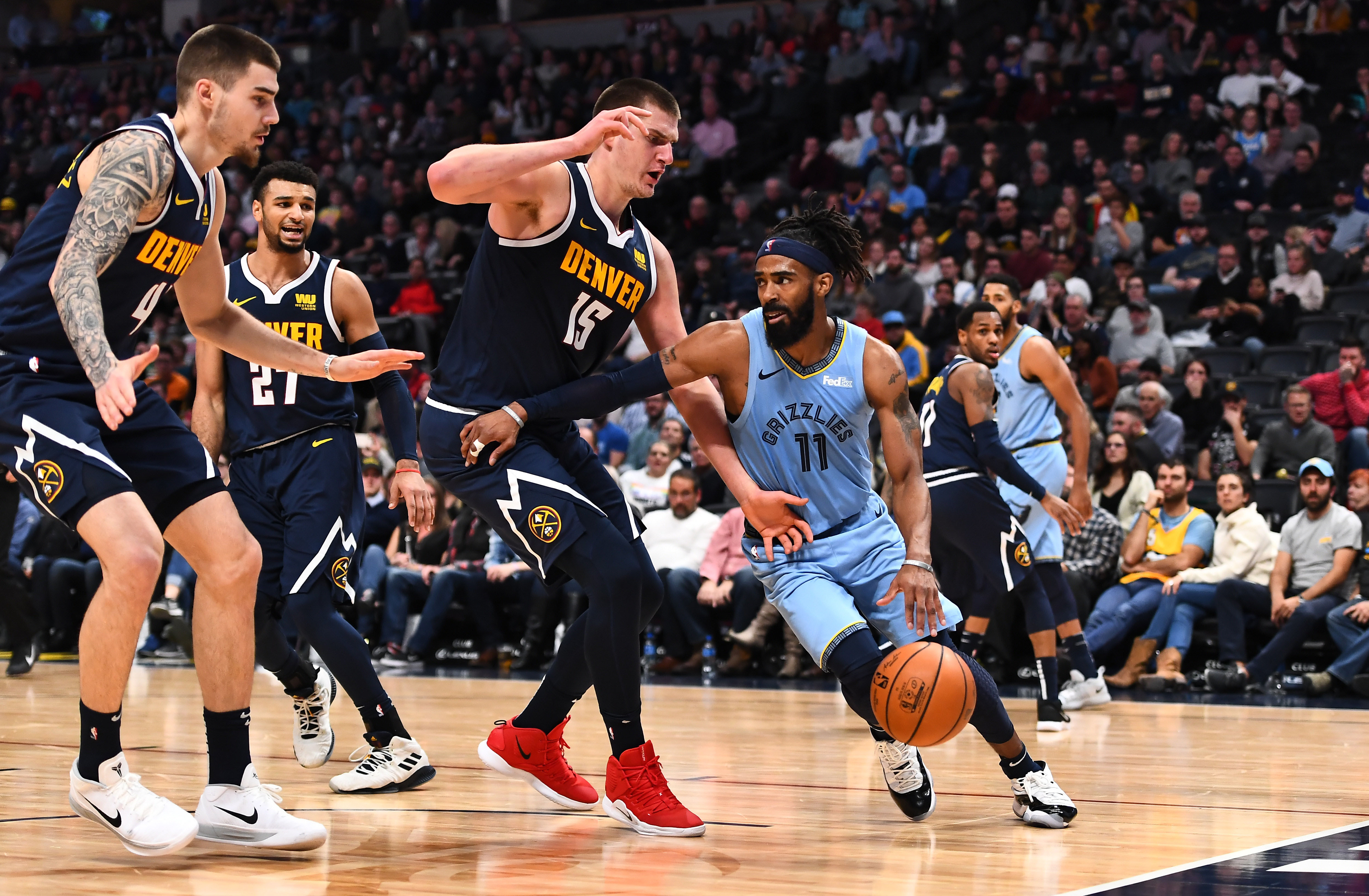 The Denver Nuggets got back into the win column Monday night with a convincing 105-99 victory over the Memphis Grizzlies.
Shorthanded or not, the Nuggets found a way to get the job done against Memphis to push their record to 18-9 on the season which puts Denver a half-game behind the Oklahoma City Thunder and Golden State Warriors for first place in the Western Conference. Denver now has a 10-3 record at home, which is one of the best in the West.
Even with the odds stacked against them due to injuries, the Nuggets were still able to walk away with a big time Western Conference victory. So without further ado, let's dive into the five takeaways from the Nuggets victory over Memphis.
Nikola Jokic has a big night for Denver
In the Nuggets first matchup this season against Memphis, Jokic only attempted one shot and it was the final one of the game. That was not the case on Monday night as Jokic was looking to score the basketball early and often. The aggressiveness that Jokic played with was big and it led him to finish with a stat line that was headlined by his 27 points. Jokic also finished with a double-double by grabbing 12 rebounds and also chipping in six assists.
🃏 >>>> pic.twitter.com/lYVu4lGyg2

— Denver Nuggets (@nuggets) December 11, 2018
Falling just short of yet another triple-double, Jokic imposed his will early in the game so much that it forced Grizzlies big man Marc Gasol into early foul trouble. Gasol picked up his second foul with just 7:20 left in the first quarter, essentially allowing Jokic to go after Grizzlies back up center Joakim Noah. Jokic would do just that as he finished with 11 points on 3-of-4 shooting from the field after the first quarter. Those numbers would only get better for Jokic as he finished the first half with 19 points on 5-of-8 shooting from the field and a perfect 8-of-8 from the free-throw line. Jokic also chipped in five rebounds in half number one, while dishing out one assist in the process.
The aggressiveness Jokic played with offensively could not have come at a better time for Denver as they are extremely shorthanded due to injuries. Jokic gave the Nuggets instant offensive production and it worked as he constantly asserted himself in the post, from the midrange, and especially at the free-throw line.
Monte Morris provides the Nuggets with a much needed spark 
It is a nightly occurrence at this point, but Morris continues to come up in big moments when the Nuggets need him the most. Tonight, that was when Denver began the third quarter on the wrong end of a 22-10 run that saw their five point halftime lead whittle down to a two-point deficit. Morris came to the rescue though energizing an 11-2 Denver run in which he scored seven points and capped it off with a 3-pointer to give Denver the lead once again.
Monte Morris having himself a third. pic.twitter.com/yT4zlus8sW

— Denver Nuggets (@nuggets) December 11, 2018
As the leagues' current leader in assist to turnover ratio (5.68), Morris continued his stellar play off the bench this season finishing with 20 points on an efficient 8-of-12 shooting from the field. For his assist totals, Morris chipped in five of those to go with one steal and one turnover. Morris' ability to effect the game in an extreme amount of ways was on full display Monday night as he brought the Nuggets back to life with his tremendous play on both ends of the floor. Morris was scoring in a plethora of ways all night using a repertoire of floaters, layups, and phenomenal shooting from 3-point range.
Morris finished the night an almost perfect 4-of-5 from distance, with none being more important than the one he hit in the third quarter to give the Nuggets the lead once again. His nine third quarter points were a major tipping point in Denver regaining the momentum and ultimately pushing the Nuggets to a big time victory.
Jamal Murray plays through pain and does so efficiently 
There's no question that Murray is banged up, but that did not stop him from playing a solid and efficient game against Memphis. Coming into the game questionable with a right shin contusion, Murray played through the pain to finish with a solid stat line of 16 points on an efficient 6-of-10 shooting from the field, while also dishing out five assists.
Murray did not just have an effect on the game offensively though as he also finished with four steals and two blocks. His play on the defensive end of the floor was a solid compliment to his extremely efficient offensive night. Just like in Jokic's case, Murray was scoring from all over the floor and did a nice job scoring the ball when the opportunity presented itself. Whether it was a play designed for him out of a timeout or just a wide-open look, Murray made the most of almost all of his scoring chances against the Grizzlies.
We'll take that one, Pau's brother. pic.twitter.com/WFTF6K17dv

— Denver Nuggets (@nuggets) December 11, 2018
Murray's performance against Memphis also says a lot to his character and passion for the game. With the Nuggets having three-straight off days after beating the Grizzlies, Murray could have easily rested this one and waited till the Oklahoma City Thunder came to town on Friday night to play again. But he did not, and it is something he's done throughout his three-year career. Murray has now played in 190 of the 191 NBA games he has had an opportunity to play in and the only reason he did not play in that one game was because he was forced to sit out because he was in concussion protocol. If one thing is for sure its that it is going to take a lot more than a shin contusion to make Murray sit out, and his perseverance to play on Monday night was a big reason why the Nuggets were able to walk away victorious.
Denver switches up the starting lineup by slotting Mason Plumlee next to Jokic
The Grizzlies game marked the Nuggets second-straight game where they were without three of their usual starters: Will Barton, Gary Harris, and Paul Millsap. Denver rolled out a starting lineup against Memphis that featured Murray, Torrey Craig, Juancho Hernangomez, Plumlee, and Jokic.
Plumlee was slotted into the starting lineup for Trey Lyles, who started for Denver in their last game against Atlanta. The insertion of Plumlee into the starting five gave the Nuggets a defensive presence that they lacked in their game against the Hawks, which was a key reason why Denver held Atlanta under 100 points.
Plumlee's night was highlighted by the big time block he had in the closing minutes of the game to seal the Nuggets victory. The block was Plumlee's second of the game and it could not have came at a better time as it ultimately propelled the Nuggets to their win. It was not just defense though as Plumlee also chipped in 12 points on 5-of-9 shooting from the field to go along with his 10 boards with five of them coming on the offensive glass. It was Plumlee's third double-double of the season as he was rebounding and scoring almost everything he came in contact with in the paint.
"Yeah, I thought Nikola played great. Obviously, he sets the stage for everything we do and he was solid. Like I said, Monte came off and played great, Jamal really got people involved on the offense," Plumlee said postgame on everyone having an expanded role. "Everybody is just playing better, nobody has to play outside of themselves. I think our system is what makes us good, we just have to play within that and guys will have nights."
The beauty of inserting Plumlee into the starting lineup is that it gives the Nuggets another offensive playmaker to pair next to Jokic and Murray. It also heightens the Nuggets defense  next to Hernangomez and Craig, which provides Denver three solid defenders on the floor. There is no telling whether or not starting Plumlee will be a thing the Nuggets continue to do moving forward, but its certainly a strong option while Denver is still fighting the injury bug.
If Monday's game against the Grizzlies was an inclination of what this starting five will look like moving forward, the Nuggets might be able to whether the storm until they are fully healthy again.
The Nuggets defense wills them to victory down the stretch 
Denver's recipe for success so far this season has been their new and improved defense, which came up big again in their victory over Memphis. Plumlee picked up a big time block in the closing minutes of the game, but it was a team effort in the fourth quarter.
"Nothing from the game plan standpoint. It was just more about communicating, having discipline, having awareness, and doing it harder" Nuggets coach Michael Malone on his teams defensive performance. "Obviously, with Mason (Plumlee) in the lineup with Nikola (Jokic), two bigs up there that are harassing (Mike) Conley in the pick-and-roll. We gave a lot of help when Marc Gasol was popping and trying to take away his pick-and-pop threes. But, we got timely stops, which allowed us to get out and run and put pressure on them. Against that team, you don't want to play a half-court game. If it is a half-court match all night then that is their style and they are very good at it. We got some tempo into the game and some pace into the game in the fourth and that is because of the defense and the stops we were able to get."
Timely stops was certainly what the Nuggets got as they were able to hold Memphis to just 16 points in the fourth quarter. Holding them to that low of a point total in the fourth was how the Nuggets ultimately held them under 100 points, which is the 11th time they have accomplished that so far this season. In those games that Denver has held their opponent to under 100 points, they are 10-1.
That is a pretty good record for Denver and its indicative to the work and effort they have put into the defensive end of the floor so far this season. The Nuggets still sit at fifth in the NBA in defensive rating (104.5), while also coming in at eighth in the league with 8.6 steals per game. Those two stats do not even tell the whole story though as just watching this team you can tell how defense is important to them and its the biggest reason why they are currently sitting near the top of Western Conference standings through 27 games.