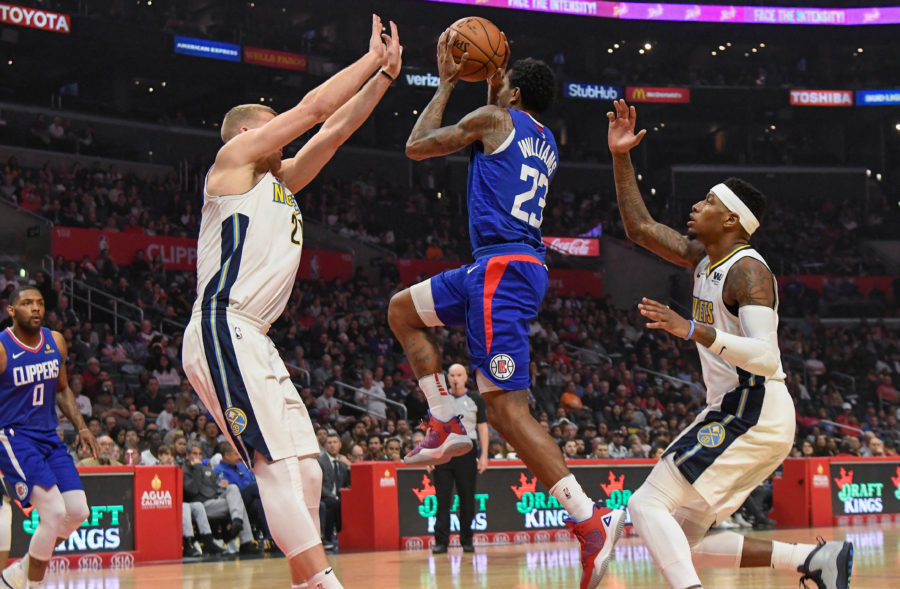 Yes, it was a meaningless preseason game, and yes, the Denver Nuggets starters only played 12 minutes against the Los Angeles Clippers. That does not mean that there was a lack of storylines to talk about after Denver's 109-103 loss to the Clippers in the City of Angels.
Here are five takeaways about the Nuggets and their loss to the Clippers.
Starters played with much more urgency
If you ask Nuggets' head coach Michael Malone what he wanted to see in Denver's preseason matchup with the Clippers, he would tell you that he wanted to see the Nuggets starting unit come out and play with aggression, intention, and tenacity. After nearly losing to the Perth Wildcats of the Australian National Basketball League, Malone was frustrated and adamant that his starters need to step up and step up quickly.
Malone must have thought his starting group accomplished that mission. All five of Denver's starters — Jamal Murray, Gary Harris, Will Barton, Paul Millsap, and Nikola Jokic — played with a vigor that they did not possess in the last two preseason games. Even though they were outscored 30-26 in the first quarter, everyone was engaged defensively and they played offensive basketball with a purpose. Every player was cutting without the ball and making quick decisions when the had the ball. No, not every starter shot particularly well, but they played with urgency and that is all Malone wanted to see from them.
Because they played so hard in the first quarter — the entire first quarter — Malone elected to rest his starting five for the final three quarters of play. This decision made sense for two reasons. First, this was the fourth preseason game of the season so giving his starting unit a rest before a dress rehearsal game in Chicago made a lot of sense. Secondly, the Nuggets begin their regular season in Staples Center against these same Los Angeles Clippers. There was no reason for Malone to show his opponent his hand before they square off in seven days.
Overall, it was a strong game for the starters from an effort standpoint. That is what Malone wanted to see from his guys, and that is what they gave him.
Bench unit continues to shine
Once the first quarter ended, the rest of the game was there for the Nuggets' bench unit to take care of. It took a couple minutes for the bench unit to get their footing in the second quarter, but once they did, the group of Monte Morris, Malik Beasley, Torrey Craig, Trey Lyles, and Mason Plumlee took off.
The first couple minutes of the second quarter were rough. Denver gave up an 8-2 run from the get-go, but after Malone burned a timeout to get his players on the same page, they returned to their impressive selves.
When Lyles — who I will get to in lower in the article — wasn't single-handedly destroying the Clippers, it was Morris making decisions like a veteran point guard. Morris was a surgeon with the ball in his hands as he gobbled up four assists in his first eight minutes of action. The more that Morris plays, the comfortable he looks operating as the backup point guard. He does not try to do too much, but knows exactly when to force the issue and create a shot for himself or his teammates. Morris had another impressive outing against the Clippers and finished with 14 points, six assists, two steals and just two turnovers.
Beasley also continued to surprised people with his strong preseason performance, but against the Clippers, he was more than just a shooter. Beasley managed to accumulate three assists, including a pretty alley-oop lob to Plumlee in the paint, and also played pesky, but strong, defense. Beasley is not playing beyond his abilities for the first time in his career and it is paying immediate dividends. At this point, it seems as if Beasley has overtaken Juancho Hernangomez for the 10th spot in Malone's rotation. Beasley finished with 12 points, four rebounds, and three assists in a team-high 29 minutes.
On the fringes, everyone else on the Nuggets' bench unit filled in the gaps. Plumlee did a great job vertically spacing the floor and rolling hard to the rim. Torrey Craig was doing a bit of everything with a made three-point shot, a blocked shot, and even an offensive rebound put-back layup to go along with a strong defensive performance. Overall, Craig was everywhere on the floor and played with tons of energy. Hernangomez — Beasley's competition for minutes — also added in 11 points and 12 rebounds of his own as a cherry on top of a great performance from the Nuggets bench.
Finally, turnovers were not an issue
If there is one thing — other than lack of effort — that drives Malone crazy, it is giving away free points by turning the ball over. Denver averaged an atrocious 23 turnovers per game in their first three preseason games, but against the Clippers, they cut that number all the way down to just 12 turnovers.
In 2017-18, Denver was 23rd in the NBA with 15 turnovers per game. Sure, building the offense around such a creative passer like Jokic will lead to some turnovers, but cleaning up that area will make Denver an even more lethal offensive team. Yes, this was just a meaningless preseason game, but building strong habits when it comes to taking care of the ball is a big deal. Denver deserves credit for focusing and not turning the ball over.
Hopefully, that level of attention to detail will continue into the regular season. The more offensive possessions that this Nuggets offense gets, the harder they will be to beat.
Paul Millsap finding rhythm
Paul Millsap has not quite looked comfortable on the floor with his teammates through three preseason games, but in the fourth game of the preseason, Millsap finally looked like he found his footing.
No, Millsap did not score in bunches nor did he create for himself or teammates with the ball in his hands. Offensively, Millsap was not a focal point, which is likely going to be his role for the rest of the 2018-19 season — at least as long as Jokic shares the floor with him. Denver is much better playing through Jokic and Millsap needs to learn how to play off of his front court counterpart.
What made Millsap's performance so noteworthy was how impactful he was on defense in just 12 minutes of action. He was rotating over from the weak side with perfect timing and tenacity as evident in his three blocks in just one singular quarter. He was locking up whomever was in front of him and providing help defense all over the floor in an almost Draymond Green-esque way. If Millsap can give Denver this level of support on defense, his offensive output will become drastically less important.
Overall, Millsap had one of his better stints with the Nuggets since returning from wrist surgery. He finished with four points, four rebounds, two assists, one steal, and three blocks in 12 minutes of game action. It was a very quiet, but very strong night for Millsap.
Trey Lyles
Lyles is quickly becoming the most interesting storyline of the preseason for the Nuggets. He has been consistently mentioned as one of the most impressive standouts in training camp, he has packed on muscle and is in the best shape of his life, and he has been turning in phenomenal preseason performances. At this point, it seems as if Lyles is a dark horse for becoming the Nuggets X-factor. His performance against the Clippers continued to add more validity to that thought process.
Lyles was hitting three pointers with ease, getting to the rim using both quickness and power, creating for teammates off of the dribble after collapsing the opposition onto him, and showing off his defensive versatility in a variety of ways. Lyles not only helped protect the rim from the weak side, but he also showed off his newly improved lateral quickness when defending in space. He did an admirable job guarding smaller players all night and he contained well on the perimeter.
The short of it is that Lyles gave tons of effort on both ends of the floor against the Clippers. After finishing the game with 15 points, 10 rebounds, five assists, and one block, it is safe to say that Lyles was not only the most impressive player on the floor for Denver, but potentially the most impressive player throughout all of training camp and preseason thus far.