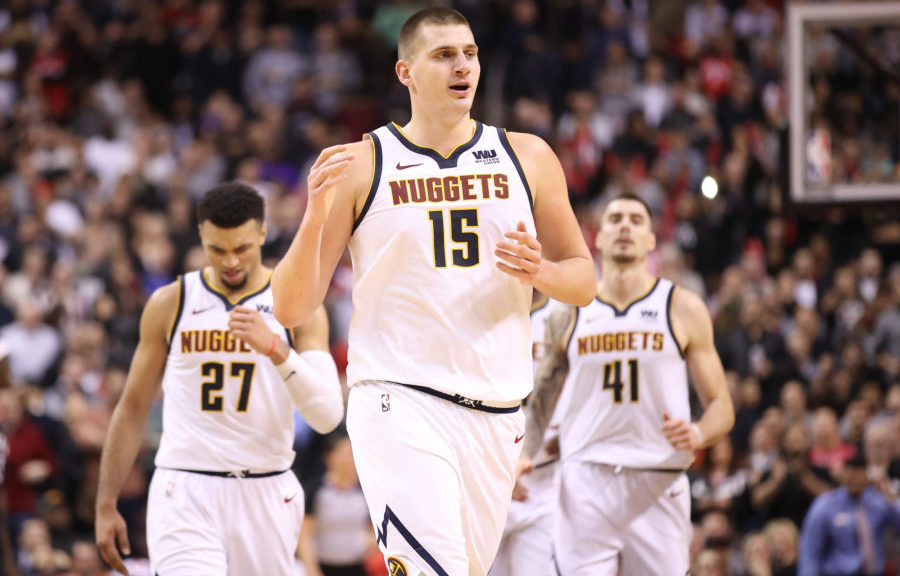 The Denver Nuggets continued their winning streak on Tuesday night when they knocked off the Eastern Conference's best team in the Toronto Raptors in Toronto to capture their sixth-straight win.
With the win, Denver pushed their record to 16-7, which is good for first place in the Western Conference. Denver has now reeled off big win after big win as they look to continue beating teams on the road for the next three games
Let's dive into the five takeaways from the Nuggets massive road win over the Raptors.
Nikola Jokic's historic night
The world has been waiting for Nikola Jokic to get back to his completely unique style of dominance and, in Toronto against the Raptors, that is exactly what happened.
Jokic came out aggressive and had five assists in the first six minutes of the game on his way to ten assists at halftime. Once the second half arrived, so did Jokic's scoring touch. By the time the final buzzer had sounded, Jokic had secured his second triple-double of the 2018-19 season with 23 points, 11 rebounds, and 15 assists.
Even more incredible is that Jokic's performance against the Raptors was that his 18th triple-double of his career places Jokic as the center with the second-most triple-doubles in NBA history. The only center who has more is none other than Wilt Chamberlain, who has 53 triple-doubles of his own.
Just to add to Jokic's historic night, Jokic had 15 assists against Toronto. Over the past 20 years, no other center has had even a single game with 15 or more assist. For Jokic, including his 15-assist game against Toronto, he now has three games with 15-or-more assists in the past three years.
Jokic is firmly supplanting himself as one of the greatest passing big men of all time and he is doing so with less than four full seasons under his belt.
Denver's devastating depth
The Nuggets may have been without both Will Barton and Gary Harris against the Raptors, but the play of Juancho Hernangomez, Torrey Craig, and Malik Beasley was enough to make up for it.
Against the Raptors, each of the Nuggets reserve wings filled in admirably. Beasley led the way with 15 points on 6-of-8 shooting, but Hernangomez added 15 points of his own to go with five rebounds and two steals. Even then, once Harris left the game due to injury, Craig came in and stepped up big time and finished with eight points and four rebounds, three of which came on the offensive glass.
By the time it was all said and done, the combination of Craig, Beasley, and Hernangomez combined for a whopping 38 points on 14-of-24 shooting and 8-of-13 from 3-point distnace to go with 11 rebounds, two assists, and three steals.
Simply stated, the Nuggets do not escape with their best win of the year without the contributions of Beasley, Craig, and Hernangomez.
Nuggets win with defense once again
Denver's dominating defense strikes again.
The Raptors, who currently have the third-best offense in the NBA, were held to their second-lowest point total of the 2018-19 season when the Nuggets came to town. Denver held Toronto to just 103 points on the night and they were forced into 17 turnovers. By the time the game had ended, the Raptors had hit only 11 of their 41 attempted 3-point attempts.
Overall, Denver was great on defense in almost every area, but where they were best was at the point of attack. The combination of Murray, Harris, Monte Morris, Craig, and Beasley gave the Raptors guards fits. Danny Green, Kyle Lowry, and Fred VanVleet combined to hit just five of their 23 attempted shots and were an abysmal 4-of-18 from 3-point range.
When Denver can slow down the opposing guards, they usually come away with a victory and that was exactly the case against Toronto.
Gary Harris' injury
While almost everything went right for the Nuggets in their visit to the Great White North, the one thing that did not go according to plan was when Gary Harris had to be removed for a groin injury.
Harris went up for a layup with 3:33 left in the first quarter and when he landed, he immediately reached for his groin area. Just 30 seconds later, he was removed from the game for good.
Craig, Beasley, and Hernangomez filled in admirably for Harris, but the loss of Harris is a massive issue for the Nuggets. He has the best on-court relationship with Jokic, is arguably Denver's best defender, and is likely their second-best player overall. Without Harris, Denver takes a step back on both ends of the floor.
Craig will likely replace Harris in the starting lineup, but that has yet to be determined. For a full update on Harris' injury and what comes next, here is a full breakdown on Mile High Sports.
When will the winning streak end?
As of now, the Nuggets have won six-straight games against the Minnesota Timberwolves, Orlando Magic, Oklahoma City Thunder, Los Angeles Lakers, Portland Trail Blazers, and now the Raptors. They are rolling forward and collecting tons of consecutive wins in the process, but when will the winning streak inevitably end?
Well, it could end next game against the Orlando Magic, who the Nuggets defeated in Denver five games ago. If not against the Magic, it could happen in Charlotte against the Hornets or the next night on the second night of a back to back in Atlanta against the struggling Hawks. All three of the remaining road games on Denver's season-long five-game road trip could be trap games, but if Denver manages to win all three of those games, they will then head home for a four-game home stand against the Memphis Grizzlies, Thunder, Raptors, and Dallas Mavericks.
Good odds will have Denver losing one of their next three road games, but if they return to Denver with their winning streak at nine games, they will have to face a strong Grizzlies team before taking on a divisional opponent in the Thunder and then a rematch with the Raptors. I do not see a scenario in which their winning streak goes beyond that.