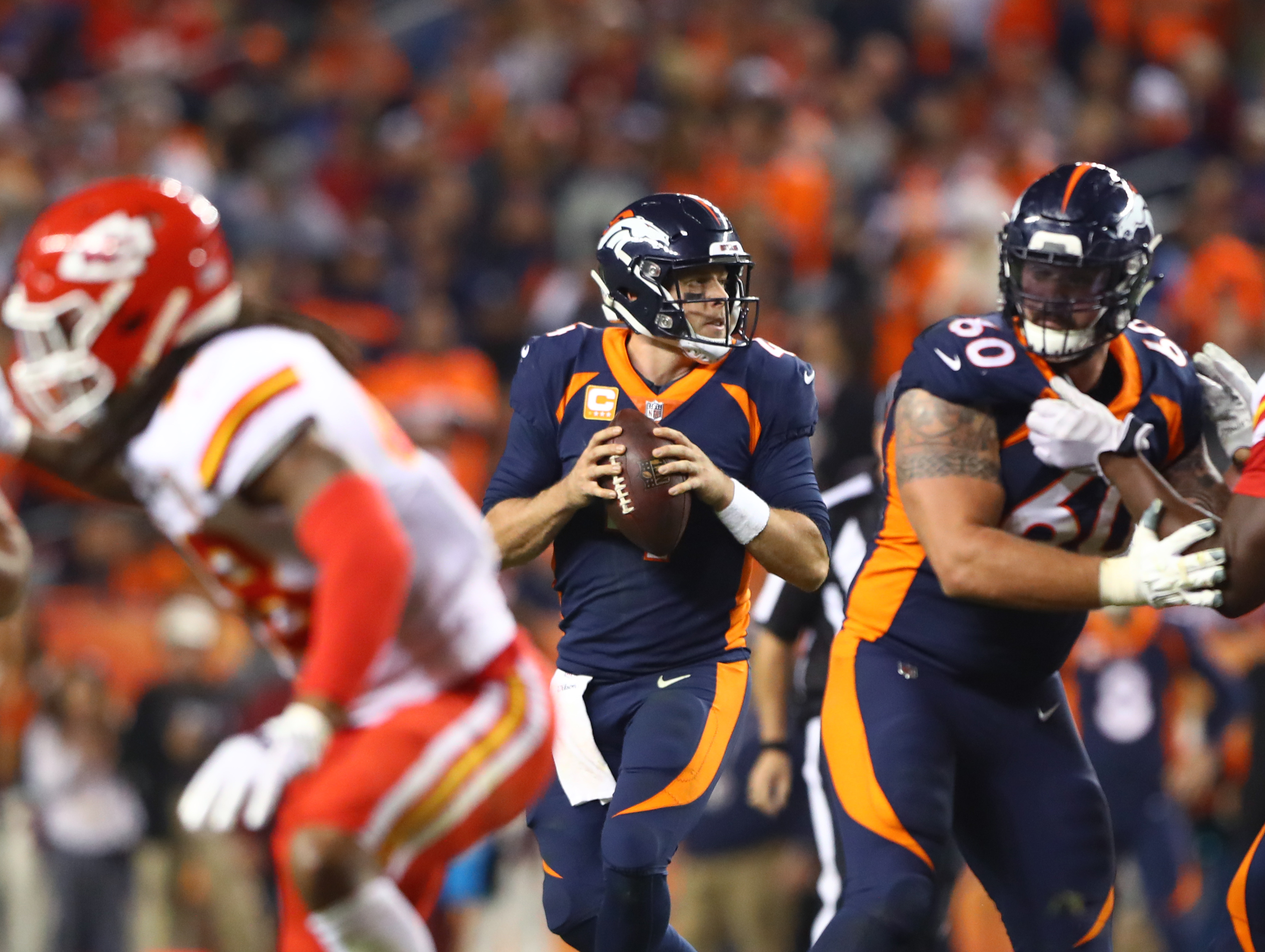 After the Denver Broncos' home loss to division rival Kansas City, a plethora of question marks have appeared, surrounding a team that is struggling on offense, defense and special teams.
While Denver did lead for a majority of the game, Patrick Mahomes stormed back and not only closed the gap, but took the lead late and sealed the deal against Denver.
Before we look ahead to the road trip to New York to face the Jets next Sunday, here are some takeaways from the Broncos' 27-23 loss.
Case Keenum just isn't very good right now 
The Broncos' quarterback has been the target of increasing criticism in his first four games of the year and it's all well-deserved. With a quarter of the year done, what was once hopeful optimism that Denver just wasn't getting the best of Keenum yet, has now shifted to the idea that Case Keenum just isn't very good right now — if ever.
Keenum's numbers across the board are terrible; there's no two ways about it. His 71.6 quarterback rating ranks 31st in the league after Week 4 and the reputation of being careful with the football has been thrown out the window — quite literally — as his 61.1 completion percentage ranks 29th in the NFL, and only Andy Dalton and Derek Carr have more interceptions.
Denver wasn't going to get Pro Bowl play from Keenum when they signed him to a $36 million contract, but certainly they expected better than this, which has been a disappointment in all four games.
Jeff Heuerman is alive and well
The Broncos finally saw real production from their tight end position. Heuerman caught four receptions for 57 yards, leading the Broncos in receiving yard from the position for the first time in 15 games.
Heuerman was an effective blocker, and despite his quiet start to the season, he now ranks fourth on the team in targets.
With Jake Butt now on injured reserve for the season, it'll be up to Heuerman to carry the load and finally justify his third-round selection back in 2015. After his performance Monday night, we're finally beginning to see an upward curve in that trajectory.
Marquette King's time in Denver has been underwhelming… but it might not be his fault
After multiple poor performances, Denver signed Colby Wadman to the practice squad and sent a message to King. Perform and perform well.
That's been the exact opposite as King shanked a crucial punt late against the Chiefs that set up Kansas City with great field position – and the Chiefs took advantage.
With plenty of free-agent talent in the pool to choose from and Wadman potentially waiting in the wings, if King's play remains poor, he could be replaced as early as next week (if not sooner.)
However, reports had King hobbling around after leaving the field.
Marquette King was limping in the locker room after. He was checked out by trainers after his last punt, a 35-yarder, in the fourth. Said Vance Joseph: "He's got to perform better. We're at home and it's his job to flip the field. That isn't happening. He's got to play better."

— Nicki Jhabvala (@NickiJhabvala) October 2, 2018
If indeed King is hurt, it's unknown why that news wouldn't come out. News of King being hurt doesn't change how an opponent would play against him, nor does it alter his status with Denver greatly. But it would explain the poor play from King, including a crucial short punt late in the loss Monday night. Continually sending King out on the field unhealthy is simply going to hurt his reputation.
Coaching/play-calling remains an extreme question mark
Denver led by 10-points in the fourth quarter and had excellent success in the running game all evening, yet turned to the pass late in an attempt to seal the game… for some reason.
#Broncos two touchdown drives (14 points)
10 runs.
4 passes.#Broncos three drives that all scored FG's (9 points)
16 passes.
6 runs.

To be fair, one of those FG drives was up against the first half clock, but still a theme here.

— x-Ronnie Kohrt (@RonnieKRadio) October 2, 2018
Denver had an incredible amount of success on the ground, but yet abandoned it when it mattered. This continues to be a category where Denver remains weak when it comes to decision-making.
In a best-case scenario, Denver's defense faltered
For the defense to be at its best, the Broncos need to play with the lead. That's the conventional wisdom, at least. In the fourth quarter of Denver's loss, that's exactly what the Broncos' offense gave them.
Yet when the time to buckle down and contain the Chiefs' offense approached, even with the lead, Denver's defense gave up a 12-play, 75 yard touchdown scoring drive to Mahomes and company, followed by a eight-play, 60-yard touchdown drive to seal the win for Kansas City.
Football is a four-quarter game, and while Denver's defense was strong in the first half containing the Chiefs high-powered offense, they were placed in what's considered their 'perfect scenario,' and yet still failed to get the job done. It's fair if confidence in the idea that the Denver's defense — when given a lead late, at home, mind you — can sustain the lead has been shaken.