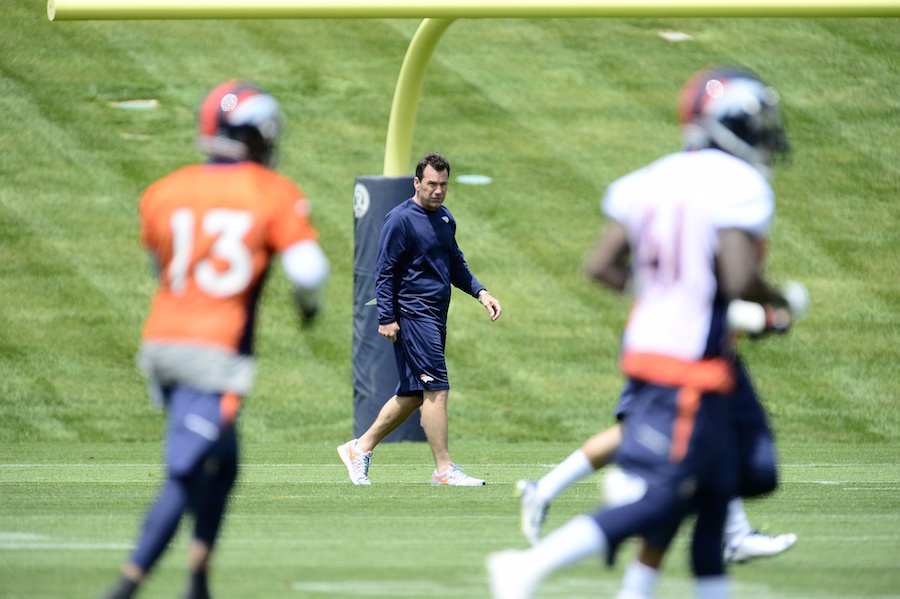 We did it, Broncos Country. We survived the month-long stretch between the NFL Draft and OTAs, and we came out alive!
Football is back … for now.
No, OTAs aren't as important as training camp, which is still a few months away, and they're certainly not as exciting as preseason action, but this is what we've got. And in a world deprived of football news and action, it feels pretty great.
So, with the first day over with, what did we learn? Well, here are five quick takeaways from the Broncos' first bit of offseason action.
While he is still recovering from offseason thumb surgery, and while he was expected to miss the first few days of OTAs, Mark Sanchez was out on the field today participating in practice in a limited fashion.
This shows that Sanchez is not willing to give Paxton Lynch or Trevor Siemian an inch of room; he wants this job, and he doesn't plan on letting someone else earn it while he's healing on the sidelines.
You have to give him credit for that.
After the Broncos released Evan Mathis and Louis Vasquez, and with the signing of Russell Okung and Donald Stephenson, the thought was that Ty Sambrailo would likely slide inside and play opposite Max Garcia at guard.
The drafting of Connor McGovern, though, looked to be a sign that Sambrailo might be staying outside, but as of today, he was in fact running with the ones at guard.
Now, this could just be because McGovern is a rookie in his first NFL practice, so we shouldn't read too much into it, but if he's going to grab the starting spot, he's going to have to earn it.
Paxton Lynch was third on the QB depth chart
As expected, Lynch started his first practice with the Broncos as the third quarterback.
Lynch reportedly looked fairly good on a windy Denver day, but he's going to need a lot more reps if he's going to prove himself to be an option at starting quarterback. For now, it's best to take a wait-and-see attitude.
Gary Kubiak is taking it easy on the veterans
Last year, Kubiak made it clear that he wasn't going to ride his veterans into the ground, and he's continuing that thought process this time around.
While everybody available got their work in, many of the veterans looked to be on their own "snap count," and why should't they?
While it's exciting to have the whole roster — minus Von Miller and a few others — on the field for the first time since winning the Super Bowl, there's no reason to do anything but ease into things.
DeMarcus Ware's back held him out of practice
If there's anything from today's activities that should worry Broncos fans, it's that DeMarcus Ware was held out of practice with a sore back. And while it's probably no more than a precautionary measure, because of his recent back troubles, it's definitely concerning that he's still having issues.
It's another sign that the best course of action for Ware is likely to limit his snaps, maximize his ability on passing downs and let Shane Ray and Shaquil Barrett have more opportunities on first and second down.