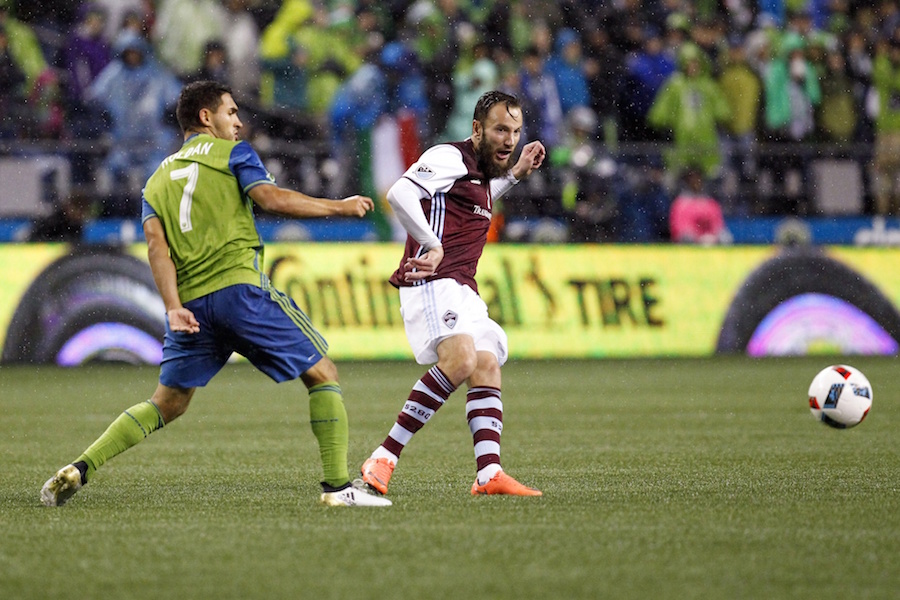 As the seconds ticked down at Seattle's CenturyLink Field on a 2-1 loss for the Colorado Rapids, the national broadcast noted that both sides could walk away from the match claiming to hold an advantage heading into the final leg of the Western Conference Championship – to be played Sunday in Commerce City.
Colorado certainly has much to look forward to as play returns to the friendly confines of Dick's Sporting Goods Park, where the Rapids are undefeated on the season. But Colorado needs more than simply a "non-loss" to advance to their third MLS Cup. Colorado needs a win – preferably a 1-0 win – for the chance to claim the team's second Cup.
Here are some of the key takeaways from Tuesday's loss and how they could affect the team in the second leg.
The MacMath Effect
Colorado was playing with backup goalkeeper Zac MacMath in net due to an injury that will shelve Tim Howard for at least three to four months. MacMath started Colorado's first 16 games in 2016, 17 total in the regular season, and was statistically better than Howard in many key areas. Still, Zac MacMath is not Tim Howard.
On several occasions, including the equalizer by Jordan Morris, MacMath was deep in the box and surrendered quality looks to Seattle. To his credit, he made several key saves, including a dangerous sequence in a crowded box shortly after Seattle had leveled things. Another goal at that time might have spelled disaster. Colorado's defensive depth a concern all night and something they will need to correct at home. MacMath regained some confidence late, and although he conceded the game-winner on a penalty shot, in the second half he seemed to reestablish that commanding presence that put him in the conversation for best keeper in the league during the first half of the regular season.
On Gashi's Ankle
One week prior to the match, head coach Pablo Mastroeni said he did not expect Colorado's Golden Boot winner, Shkelzen Gashi, to play on the turf in Seattle. Gashi has been nursing an injured ankle suffered near halftime of Colorado's decisive win over Los Angeles in the last round.
Gashi, though, is a gamer. Despite a severely swollen ankle, he was on the pitch and performing his usual magic. Gashi was the decoy on Colorado's opening goal, skipping over a Jermaine Jones pass and making a run that freed Kevin Doyle for a beautifully lofted score. He took only one shot, but handled all the corner duties and most free kicks inside the offensive zone. Most of Colorado's free chances came from a distance counterproductive to Gashi's striking ability, though. Gashi was not great in winning possession duels, but should be commended (considering his ankle) as he was better than most everyone else on his squad, which was dominated 53-28 in that category on the night.
Jones Goes the Distance
Also of high concern for Pablo Mastroeni was Jermaine Jones' health and fitness. Jones, 35, is finally looking (mostly) healthy from a leg injury, but he has logged significant minutes over the past two weeks in games for the U.S. Men's National Team and then going the distance Tuesday night.
Jones spent some time on the ground Tuesday and was hobbling at times, but he was unquestionably Colorado's most influential player on the night. It was clear that his time off impacted some of his timing and reads with teammates. On several occasions Dominique Badji would cut right when Jones was thinking left, or vise versa. With a game under their belts, Colorado should find better offensive rhythm on Sunday; however, Jones will need to rest during the week to recover from the mileage he's logged of late. If Colorado is going to win the second leg, they need Jones to be just as strong as he was on Tuesday.
Le Toux Must Finish
No doubt Marlon Hairston, a late substitution, will be replaying his missed opportunity many, many times over between now and Sunday. Late in the second half Sebastian Le Toux broke free inside the box and sucked three Seattle defenders with him as he stood face-to-face with Stefan Frei. Le Toux's angle was not great and he missed a streaking Hariston coming into the box with nothing but net standing in front of him. It was one of three shots on the night for Le Toux, two on target, that he could not convert. At times he looked as though he was moving at half-speed compared to his defenders and he was never really able to create separation outside of that one opportunity on the interior. With all the attention Gashi and Doyle command, Le Toux will find himself with opportunities on Sunday. He can be most effective by finding another open body in those situations.
Field and Fouls
A cold, steady rain fell in Seattle basically from start to finish on Tuesday night and Colorado often looked like a team whose home did not see rain for the final three months of the regular season. Seattle looked far more comfortable in the wet, slippery conditions and had an obvious speed advantage, especially on the wings.
Colorado has held the best home-field advantage in MLS this season, going undefeated at home, 11-0-6. Most importantly, they secured a key road goal on Tuesday night, meaning a 1-0 decision on Sunday is all they need to advance to the MLS Cup. Colorado's stout defense, led by Axel Sjoberg, has been outstanding at home but will need to be as good as ever in the second leg. Captain Sam Cronin took a yellow card that will keep him out on Sunday. Cronin is key in the defensive midfield and his loss will be sizable.