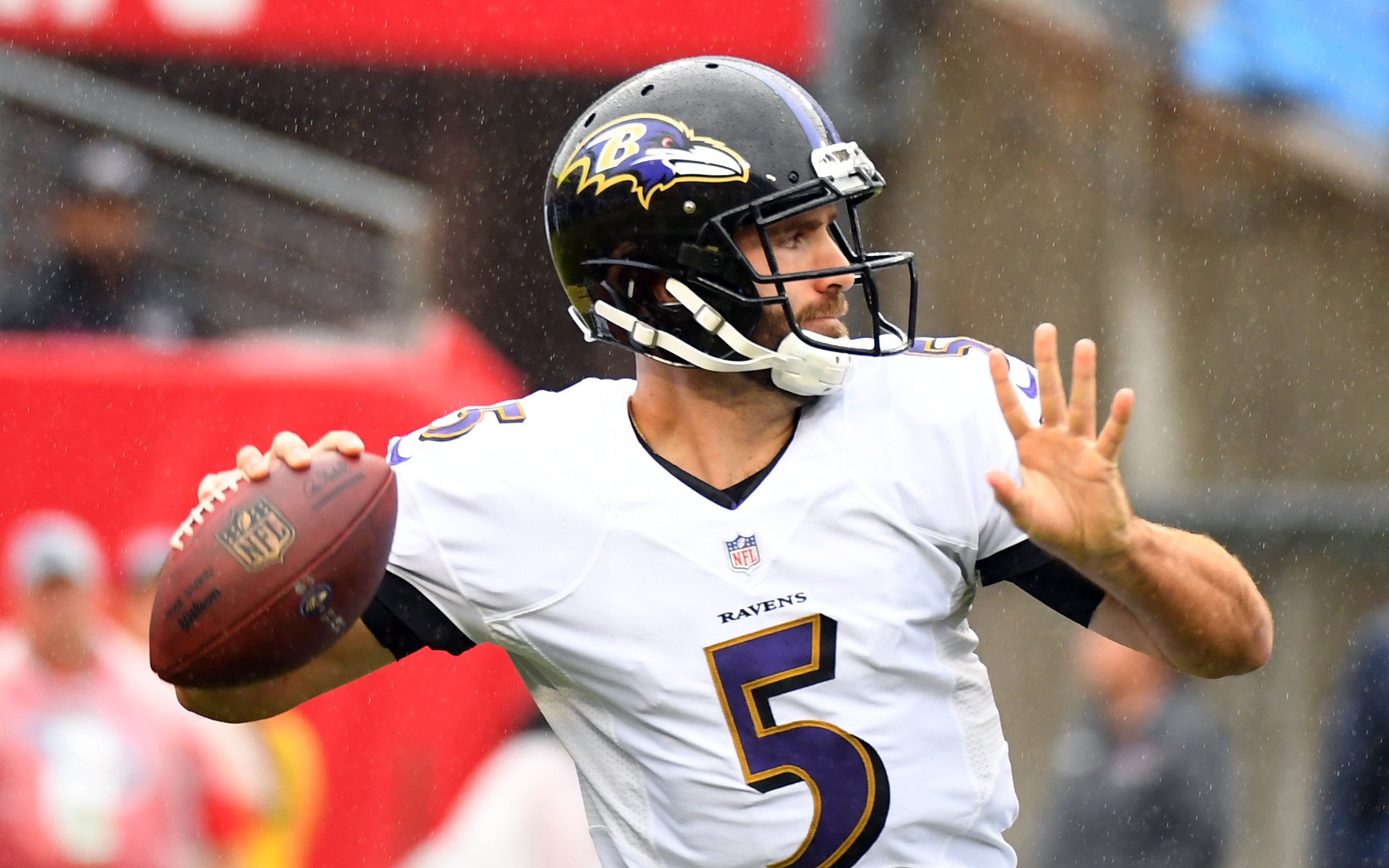 Joe Flacco's got a problem.
And his name is Drew Lock.
Flacco was in a prickly mood on Monday when asked if it's his role to "mentor" the Broncos QB of the future, and his answer(s) didn't exactly do him any favors.
"I think that is — it's kind of Rich (Scangarello)'s job. It's to be in that quarterback room and watch. Listen, I got so many things to worry about. I'm trying to go out there and play good football. I'm trying to go out there and play the best football of my life, so as far as the time constraint, I'm not worried about developing guys or any of that," Flacco told the assembled media.
Sorry, Drew, Joe thinks he's too good for you.
In what was already going to be a tricky situation, with a veteran quarterback on the back-nine of his career and a projected first rounder falling into the Broncos' lap with the No. 42 overall pick, Flacco made it worse with his standoffish responses.
The question isn't "if" Lock will take over for Flacco, it's "when" – and that timeline may be accelerated if Flacco doesn't want to be a good teammate.
Can you imagine if Von Miller said he had no desire to help Bradley Chubb? Or if Emmanuel Sanders publicly declared it the coach's job to help Courtland Sutton and not his?
Last time I checked both Flacco and Lock wear orange and blue. It seems like Joe would prefer Drew in different threads.
"I'm not a selfish person, I don't think," Flacco said. "There are times where you have to be selfish. But listen, Rich does such a good job in those meeting rooms, Drew is going to learn listening from him talk and then us getting the reps on the field and seeing how we all do it as a collective group at quarterback. Listen, I hope he does learn from me because that means we're out there and we're slinging it around and we're having a lot of fun. He's going to learn by watching us do it and watching us do it well."
For mid-May NFL news, this is about as juicy as it gets.
Flacco might as well have said Lock can buy a ticket like the rest of us and take in all his glory on the field each Sunday.
There's a fine line between confidence and cockiness, but this reeks a little more of arrogance. Flacco's got one Super Bowl ring (many around here think it comes with an asterisk), but you'd think based on these comments he has six.
All this does is create more pressure on Flacco. If he's treating this like some sort of competition between him and Lock, then how long before fans and media feel the same way? The leash on Flacco might be even shorter now, given he sees Lock as a threat and therefore capable of taking his job.
Say the Broncos start the season 3-6, the switch to Lock would make more sense then ever. They're not reeling off seven straight wins, and you might as well embrace the future with nearly half a season of football left.
Flacco's contract will pay him more than $20M in 2020 and you can bet the Broncos are only writing that check if he wins double digit games in 2019. Remember: There's no dead money on the deal and nothing is guaranteed, meaning Denver can let Flacco go whenever and not pay him another dime.
And if he doesn't want to help Lock, then his presence as a leader and mentor is not needed because it's non-existent.
Don't just take my word for it, Pro Football Hall of Fame quarterback Kurt Warner echoed a similar thought on Twitter, clearly directed at Flacco without naming names.
"I don't understand all the QBs saying their job isn't to be a mentor to young QBs coming into org… in what part of life (family, business, sports, etc…) do u enter where u say Im not here to do everything I am capable of to make us better, including helping next generation!?" Warner tweeted.
Joe Flacco's problem isn't going away anytime soon.
Drew Lock will just have to mentor himself.