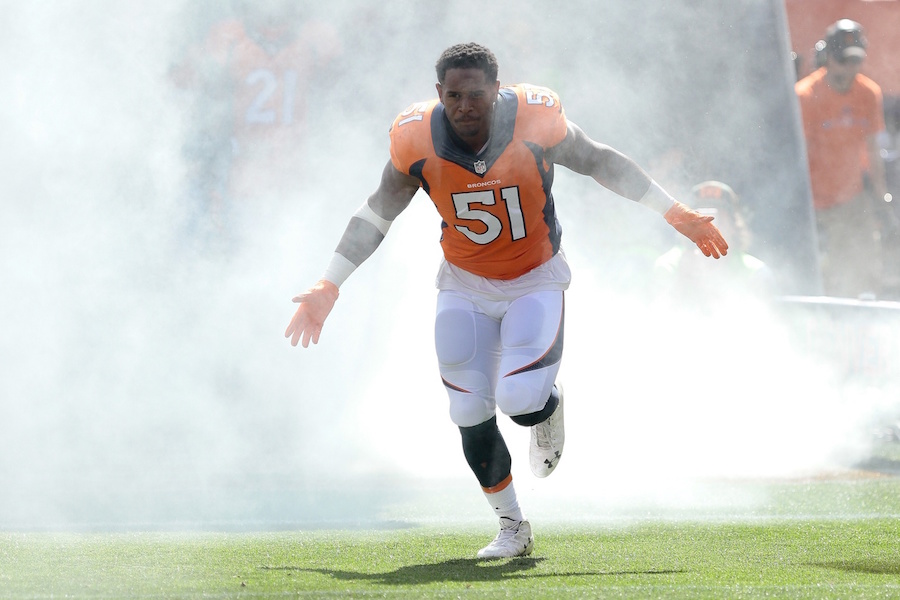 In a season that was a struggle for the defense as a whole, Todd Davis was one of the few Denver Broncos who didn't spend the majority of the campaign banged up in some capacity. Recording a career-high 97 combined tackles with one forced fumbled and three passes defended, Davis was a solid member of a defense that, while taking a step backward, wasn't indicative of Davis' play. Instead, Davis proved that the team was right in inserting him into the lineup in the absence of Danny Trevathan, who moved on to Chicago in free agency in 2016.
Going into his second season as the primary starter opposite Brandon Marshall, and with the defense looking to get back on the perch of having top-10 defenses in both defending the pass and the run, Davis is hardly the weak link amongst a star-studded group that boasts Pro Bowlers like Von Miller, Aqib Talib and Chris Harris Jr. While it may seem like a passive move on behalf of the team to continue to pair him with Marshall, Davis' body of work last year, while underrated, does enough to prove that he is the right man for the job.
It can't be said enough that, for being thought of as just a two-down "thumper" of a linebacker, Davis' 97 stops represented the best on the team, ahead of notables like T.J. Ward, Derek Wolfe and others. While having to play more snaps might have seen Davis' production hit a wall, Davis had a solid accounting of himself, despite playing without his running mate in Marshall for a sizable chunk of the season. With Marshall coming back presumably healthy this season, it will only help Davis and his production going into this season.
Linebackers get paid to make tackles, and while Davis did make the most on the team, it's up to the defensive line to mitigate how many blockers a linebacker has to sift through before he can make that tackle and how far down field that will need to be. Nobody expected the platoon the team employed after Malik Jackson departed for Jacksonville to match Jackson's level of his play, but in combination with Derek Wolfe being banged up for most of the year and Sylvester Williams having to spend more time on the field than expected, it led to a tired front three.
While the line was not able to consistently hold their ground at the point of attack, Davis was still as effective a run-stopper, considering the circumstances. With more traditional and bigger 3-4 personnel in nose tackle Domata Peko and defensive end Zach Kerr, you can expect fewer offensive lineman to be unblocked upfront, allowing Davis to be more effective in best defensive attribute – stuffing the run.
It was hard for some fans to see Trevathan go due to his ability to stay on the field for all three downs as an effective defender versus the pass, something that Davis struggled with at times last season. For as much as there was an urging to try and land a linebacker like Reuben Foster in the first round of the draft or try and take someone later on, the team as whole felt confident enough with Davis. With no noticeable additions being made at linebacker in either free agency or the draft, it shows a clear intent that the Broncos are happy with Davis' production last season and look forward to seeing him continue to trend upward in 2017.
Davis has come a long way since joining the Broncos back in 2014 when Denver lost a few linebackers during the season and needed depth for the remainder of the year. With increased playing time and more responsibility, we saw Davis take the next step in his maturation process. the team thought enough of his play as a whole, that they didn't add another player in the offseason that has a realistic shot at replacing him. Although he doesn't generate much buzz, Davis has proven to be a dependable player on a resurgent unit and has earned a starting middle linebacker spot with his play.