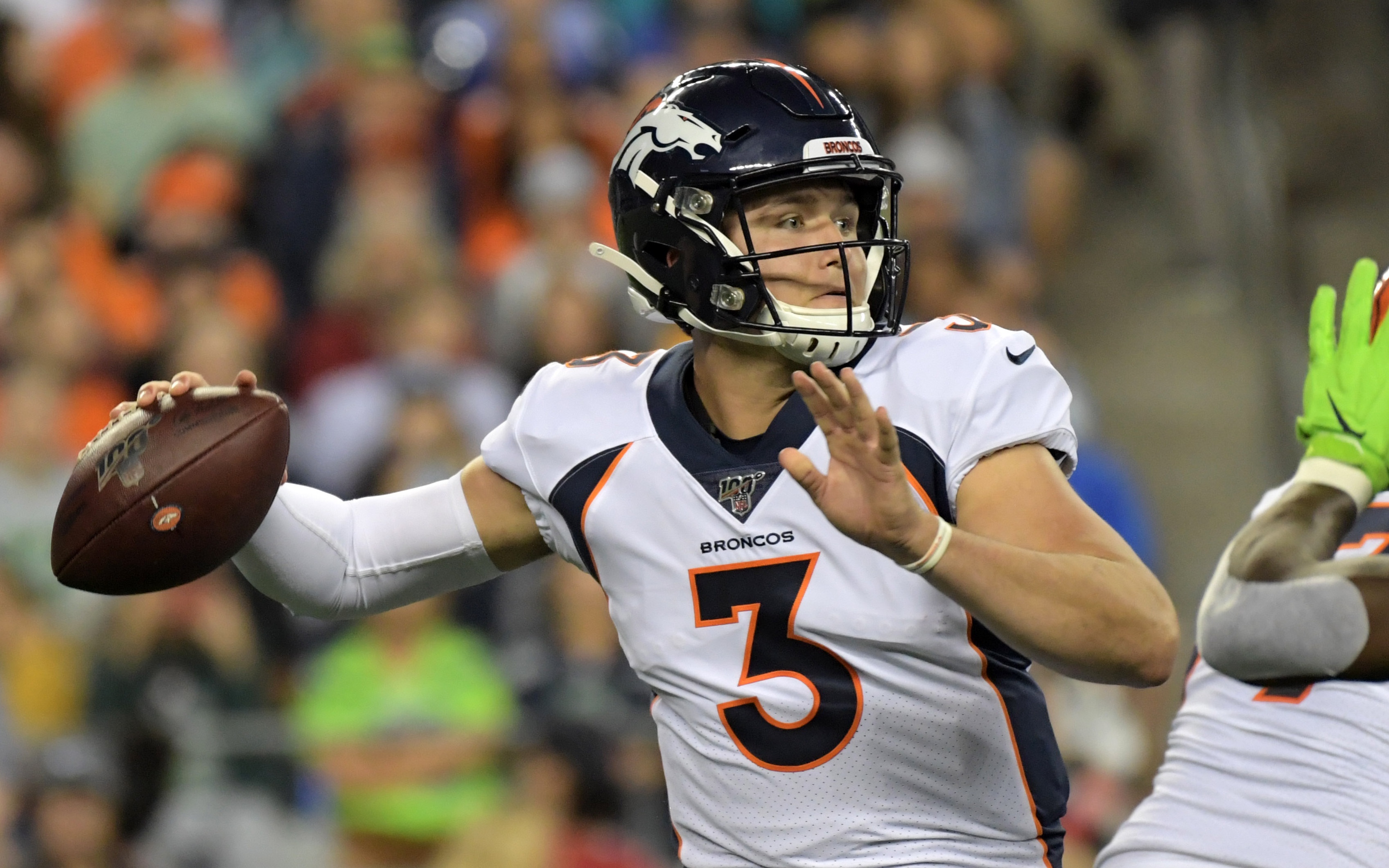 Everyone wants to see what the Broncos can look like over an extended period of time with Drew Lock at the helm.
Whether it's been injury or organizational decision, the two years in which Lock has been a Bronco haven't provided what's truly needed to evaluate the future of the quarterback position in Denver. Last season, Lock finished the season as the starter in five straight games and went 4-1. It was enough to convince John Elway to go all in on Lock, who was handed the reins heading into the 2020 season. Lock's debut this season, a loss to the Titans, was "okay" but his second start was disastrous, as he was hurt after completing just one of his five passing attempts against the Steelers.
It might be too soon to declare Lock as "injury prone," but the fact remains that in his short time with the Broncos, the young gunslinger has only played in six (and a quarter) of the team's 20 games.
It might also be too soon to call Lock the future of the franchise. Sure, there's a lot to like, but the sample size needs to be much bigger.
But, rushing Lock back as the starter this season – especially this week – would be a mistake.
It's tempting – it really is – but Vic Fangio and John Elway must avoid that temptation.
"Drew is, I think, 50-50 to make it this week and I'm being totally honest with that statement," Fangio told the media on Friday following the Broncos Thursday night win against the Jets. "We'll see how he progresses here by Tuesday, by Wednesday, see where he's at."
By all means, let's hope Lock is feeling great and ready to roll. Then again, there's no rush. A trip to New England is generally not what the doctor orders back in Denver. In recent years, playing the Patriots at Gillette Stadium has been a recipe for disaster. Besides, young quarterbacks are typically given the true Bill Belichick treatment – lots of looks they've never seen, lots of pass rush, lots of lumps.
With all due respect to Brett Rypien (who should start this game regardless), the Broncos need to let him take those lumps. If Lock is truly the future quarterback in Denver, another week of recovery sounds better than a probable loss (and/or worse) in New England. And, if Rypien somehow manages to pull out another east coast win, good on him; if a quarterback controversy blossoms in Denver because Rypien just keeps winning, well, there are certainly worse problems to have.
The most realistic scenario is one where Lock gets another week to recover, Rypien gains a little more NFL experience and stays healthy himself, and Lock returns the following week – at home – in a very winnable game against the Dolphins. That game, in turn, serves as a tune up for the Chiefs, who come to town on Oct. 18.
Furthermore, consider Courtland Sutton. While there's zero actual correlation between Sutton and Lock's return, Sutton should serve as a reminder of how injuries chase injuries. When an athlete isn't 100 percent, the body tends to compensate for whatever is still injured. In Sutton's case, a minor shoulder injury somehow turned into a major knee injury. Sutton's knee and shoulder aren't connected – not literally – but there's some logic that suggests a second injury often follows the first. Whether an injured player favors, overcompensates or simply plays "timid," a second injury of some kind is not uncommon.
Why subject Lock to that?
Especially on a short recovery time.
Especially in what projects to be a loss to the Patriots.
Especially since 1-3 teams don't often make the playoffs anyway.
Especially if the Broncos are thinking about life long after 2020 and not week five.
There's zero need to rush back the potential future of the franchise for this particular week. If Lock is worth it, then he's worth the wait.