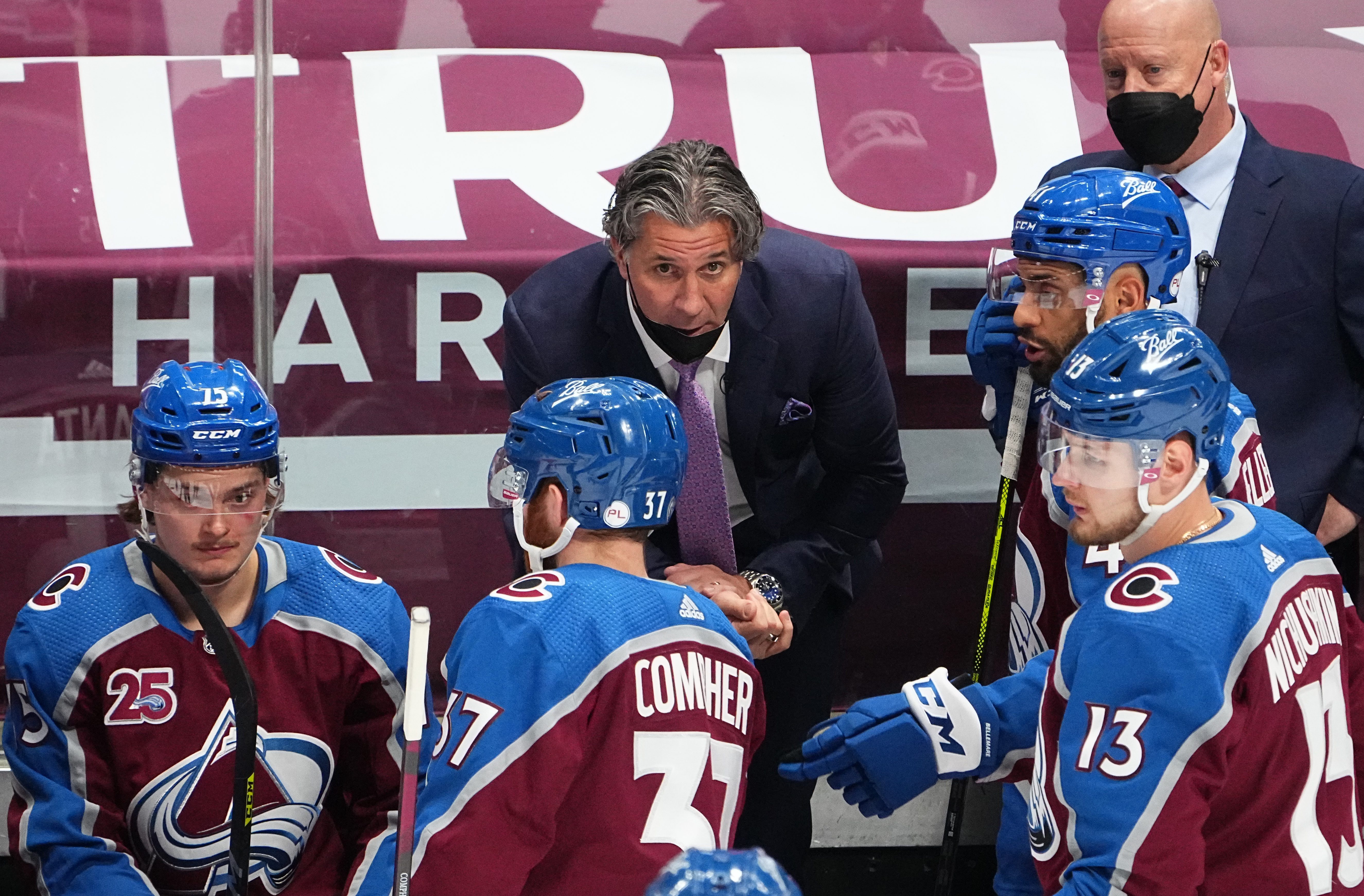 EDITOR'S NOTE: Mile High Sports Magazine contributing writer and author Terry Frei has covered the Avalanche since its 1995 arrival in Denver. He will be writing commentaries during Colorado's 2021 playoff run for the MHS site. Oops, which means this is his last commentary during the Avalanche's 2021 playoff run.
Crash. Burn. Yes, that was the Avalanche season coming to an ignominious end Thursday night in the 6-3 loss to Vegas in Game 6 of the West Division second-round series at Las Vegas.
What happened in Vegas didn't stay in Vegas.
The disappointment and recriminations were and will be resounding.
Any team with finalists for the Hart, Norris and Vezina trophies — as the Avs have in Nathan MacKinnon, Cale Makar and Philipp Grubauer — is thunderously underachieving when exiting the reconfigured playoffs after the second round.
That might turn out to be not giving sufficient credit to the hardscrabble Golden Knights, legitimate threats to be passing around the Stanley Cup in another month.
There are some strains of reaching over-analysis in the immediate reaction. The fact is — and part of this is hindsight — the series was lost in Game 5, when the mistake-plagued Avalanche blew a two-goal lead and fell in overtime at home. Not any sooner than that. Every Cup champion, including Colorado's in 1996 and 2001, overcomes bumps in the road and quiets the inevitably panic-stricken. Splitting the first four games, with home ice holding, shouldn't have been cause for doom and gloom.
In Game 5, the Avs lost the home ice and they lost the chance to reclaim momentum, and they squeezed sticks tighter after that. There are a lot of kneejerk and oversimplistic theories being tossed around, including that Knights coach Peter DeBoer suddenly became the second coming of Toe Blake, Al Arbour and Scotty Bowman combined and decisively outcoached Jared Bednar.
I've said, and I will continue to maintain, that Bednar's biggest mistake was breaking up the top line because it was a panic-based move at a time there was no need for panic — and sent the wrong message. Beyond that, though, the portrayal of DeBoer, whose old-school philosophy often eventually wore thin and led to bad fits at other stops, as a mastermind is a little much.
I've covered the NHL, which treats coaches with all the respect of disposable razors and jumps on every chance to scapegoat them for other failings, long enough to not rule anything out. But I'm convinced Bednar will be back, in part because Joe Sakic's track record as GM is of unusual patience and avoiding that "time for a change" mentality. Any other GM might have fired Bednar after the historically horrendous 2016-17 season, confessing the hiring of a first-time NHL coach was a mistake, or during some bumpy stretches at other points of what now is his five-season tenure.
The one bandwagon view I'm finding myself nodding about, though, is the talented Avalanche at times in this series looked like a team constructed for the regular season, not the playoffs. Much of that has to do with the laissez faire standards of the playoff officiating (the aforementioned Andy Van Hellemond standard), which I'm all for. And some is matchup stylistics. We'll never know if that would have seemed so apparent against the Canadiens and then, if the Avs advanced, the Lightning or Semyon Varlamov's Islanders in the Finals.
The Avalanche was not the only team in NHL history to suffer injuries or suspensions, despite what some of its proponents wanted you to believe. But it also was undeniable that not having Erik Johnson, Matt Calvert and the corrosive Nazem Kadri (for what turned out to be the final eight games) lowered the grittiness quotient. I didn't think the Avs would miss Kadri after his cement-headed and unnecessary hit on the Blues' Justin Faulk. But they did.
Plus, this matchup highlighted the fact that the highly skilled Samuel Girard's biggest weakness isn't that he's an undersized defenseman; it's that he plays like an undersized defenseman. Against the Golden Knights, at least, that stood out as a problem.
The frustrated MacKinnon didn't step up in the series, and neither did Gabe Landeskog and Mikko Rantanen. To focus the blame on one or all three, though, is taking the oversimplifying and easy way out. Grubauer wasn't awful and had his moments in the series, but he didn't come close to getting into the Knights' heads, either, as in: "What's a guy got to do to beat him?"
The Avs can't stand still, and that's more a statement of fact than a recommendation. In a hard salary cap league, Grubauer, Brandon Saad and Landeskog can be unrestricted free agents. Seattle will claim a decent player in the expansion draft. And Sakic must and will pull off more of the bolstering-type moves he made the past few seasons. The biggest mistake he could make is seeking to pull off a blockbuster, change-the-chemistry deal involving his core. In other words, blowing this team up.
A few days ago, I attended the Celebration of Life for Pierre Lacroix a few hours before the Avs lost Game 4 at Las Vegas. It's no secret that Lacroix believed that as fulfilling as the '96 and '01 Cup wins were, the Avs should have claimed the title at least once more and possibly twice more in glory years of the franchise.
This team was good enough for this to be its epitaph: The 2021 Avs let it get away, too.
Terry Frei is a seven-time winner of a state's sportswriter of the year award. Among his seven books are "Horns, Hogs, and Nixon Coming," "Third Down and a War to Go," "'77: Denver, the Broncos, and a Coming of Age," and "Olympic Affair." Info is available on his web site, www.terryfrei.com