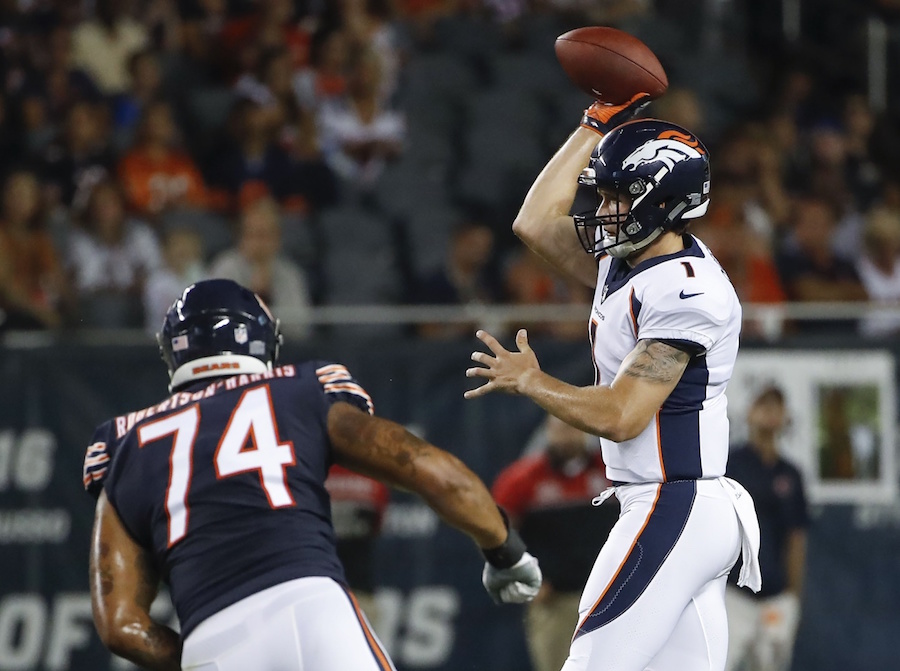 Most Denver Broncos fans hoped to turn off the television on Thursday night with a better understanding of the quarterback competition between Trevor Siemian and Paxton Lynch.
Both Siemian and Lynch saw a quarter and a half of work against the Chicago Bears, but only came away with a field goal on a drive led by Siemian to show for it.
The Broncos' first touchdown pass of the preseason? That belonged to undrafted rookie free agent Kyle Sloter.
The former Northern Colorado quarterback hit a fellow rookie, wide receiver Isaiah McKenzie, with a 47-yard touchdown pass with just over six minutes to play in the fourth quarter to tie the game at 17. He then led a drive that ended with rookie running back De'Angelo Henderson's 41-yard touchdown scamper that helped win the game for the Broncos. He completed five-of-his-six passes for 94 yards and a touchdown.
Sloter pointed out the pros and cons of his preseason debut at UCHealth Training Center on Saturday, the Broncos' first day back at training camp following Thursday's game.
"Good: I think I can step up in the pocket and throw it 50 yards wide open to a guy," Sloter joked. "Bad: I've just got to refine the footwork and fix the timing and all of that stuff. There's a couple of plays where I could probably go somewhere else with the ball. It was my first time out there, and I'm going to learn. We're learning on the fly. I'm not getting too many reps out here, so I've got to make the most of it when I get out there in the game."
Sloter is just thankful to be out there learning at all. The UNC product almost took a job as a financial adviser before NFL teams began calling.
"I think I always believed I had the talent, it was just a matter of putting it on tape and getting that opportunity," Sloter said. "Up until I started getting calls in December, I was about to take a job in January as a financial adviser just because I didn't know what people were thinking. Right after the season, I got my first couple of calls from NFL teams and thought I should take a harder look at it."
Even though Sloter stole the show on Thursday, head coach Vance Joseph was quick to point out that he wasn't in the running for the starting job. That doesn't bother Sloter. He knew the deal when he signed up.
"It's something that I went into, knowing when I came here, that it was going to be a Paxton and Trevor show," Sloter said. "I'm fine with that. I don't get paid to make those decisions, that's up to them. My job is just to go out there, do the best that I can and put the team in a position to win."