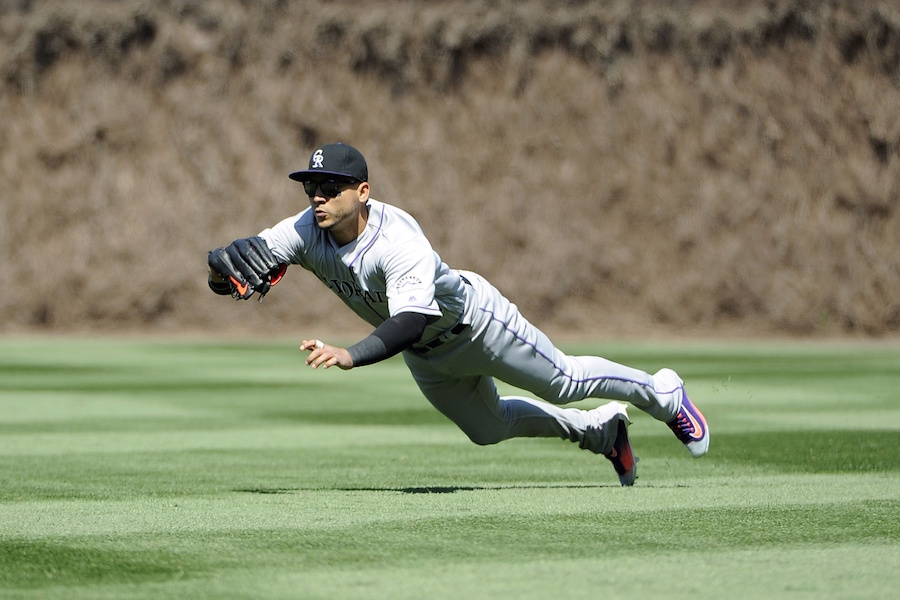 The Colorado Rockies this season have experienced ups and downs with their performances on the mound and on offense. At times, their defense has seemed to be the only thing holding steady.
For veteran players like outfielder Carlos Gonzalez, consistency on the defensive side can be vital in games where the runs aren't necessarily racking up.
"I think it's one of those things that you can't forget," Gonzalez said ahead of the All-Star break. "You got to go out there, no matter what happens at the plate. If you just missed a great opportunity to help the club, it was either with bases loaded to put an important run on the board, you strike out or you ground out, whatever. You still have to take your helmet off, put your glove in your hand, and try to make plays. I know it sounds easier than anything, but for some guys it's hard to concentrate and execute defensively when things are not going well."
For the guys on the pitchers on the mound fighting to keep them in the game, it can give them a little more comfort knowing the defense is always there.
"It's great," rookie Kyle Freeland said. "Our entire infield and outfield is littered with Gold Gloves."
While every Rockies fan knows that fifth-year third baseman Nolan Arenado's defense is already legendary, it's hard to overlook the rest of the infield's accomplishments thus far in the 2017 season, alongside high-flying Gonzalez out in right field.
Right now, only three active Rockies players have earned the prestigious Gold Glove award – three-time winner Gonzalez, four-time honoree Arenado and one-timer DJ LeMahieu. But this season, especially, it's be hard to overlook the stylings of Trevor Story and Mark Reynolds.
After what he describes as a somewhat lackluster start to his Major League career on the defensive end, Arenado said that he practices his third base skills almost religiously to become perhaps the most feared fifth position player in all of baseball.
"I practice it all the time," Arenado said. "It's something I've always worked on and something I always took pride in. I tried to get better at my defense. Earlier in my pro career, I wasn't as good as teams wanted me to be, and that's something that I wanted. I wanted to be good. It's just something I've worked hard for."
.@Chuck_Nazty → #NolanBeingNolan → ??? pic.twitter.com/dOxg3lrvZN

— Colorado Rockies (@Rockies) June 8, 2017
The rest of his teammates, however, chalk up their success in the diamond or in the outfield to one common thread, that Arenado also identifies with to some degree.
"Definitely instincts, it's all instincts. That's what it's all about and that's what I work on," Arenado said. "I try to let that take over, and the good thing is that when my instincts take over, it's because of the work I put in. I don't have to worry about it or think about it when it happens. When plays come at me, I feel like I've just done it before so I don't have to second guess myself."
From the start of his career last year, shortstop Trevor Story has drawn comparisons to former Rockies six-man Troy Tulowitzki, and for good reason.
"I learned a lot from him—just really how to work and what intensity to work," Story said. "I try to make [practice] as game-like as possible, and if you practice that way, the game almost becomes not easier, but it's more familiar. I practice like that, and that's where I got it from, is Tulo."
For fans who have been watching the team for years, the correlation on the field between the two young stars is undeniable, which is something that Story said he strives for every day. He, too, said his success at short all boiled down to impulse.
The anticipation. The range. The athleticism. The arm. The body control.@Tstory2 is amazing. ? pic.twitter.com/hrYJ9OxYzs

— Colorado Rockies (@Rockies) June 29, 2017
"I'll practice the one up the middle and the spin in the hole, but diving plays and things like that are mostly instinctual, and you don't really get to practice those a lot," Story said. "Pretty much when you get in the game, it's all instinctual, no matter what the play. You just kind of rely on your practice to give you confidence and just rely on your instincts during the game. That's what I try to do."
Throughout nearly every series this year, we've seen him pull off feats much like this one, where in a June 15 game against the San Francisco Giants, he sacrificed limb and body to make an incredible diving play.
In a similar thread, the Rockies have become accustomed to spectacular diving plays from Gonzalez, who's not afraid to get down and dirty, even when the game isn't on the line.
During this play, on May 9 in a beat-down of the Chicago Cubs, he robbed Javy Baez of an easy base hit when he dove forward to make the grab.
Because the majority of his phenomenal plays often involve the life-over-limb mentality in the outfield, he doesn't have the need to practice them outside of play.
"You don't really slide during batting practice to try to get the best jumps possible and try to make the play," Gonzalez said. "It's not something you train for. Just react and when the game's on the line, and whenever there's a play, you go out there and execute."
For LeMahieu, any "natural talent" description doesn't seem to quite grasp how good he performs at second, specifically with the ol' slide and throw play he's mastered over the years.
"I don't practice that, I just try to get to every ball, I try to be in the right spot at the right time, just try to help our pitchers out and try to get as many outs as I can," LeMahieu said. "I'd say the majority of it is just instincts."
And you can't overlook first baseman Mark Reynolds who, although he almost didn't get the starting bid at first for the Rockies this year, has paired with his fellow infielders for spectacular play after spectacular play thanks to his great flexibility at the bag, literally.
"He's great. He's one of the better first basemen I've ever had," Arenado said of his teammate. "I had some good ones with Todd [Helton] and [Justin] Morneau and stuff like that with those guys. They'd scoop up my stuff all the time. Todd saved me from a bunch of errors, and Mark does the same thing and he's done the same thing for our whole team.
"He's done some great things on both sides of the ball and we're happy he's on our team. It's funny, because spring training, we didn't know if he would make the team, and now he [was] a borderline All-Star. It's just been a great year for him."
The Rockies offense and pitching struggled in the final two and a half weeks before the All-Star break