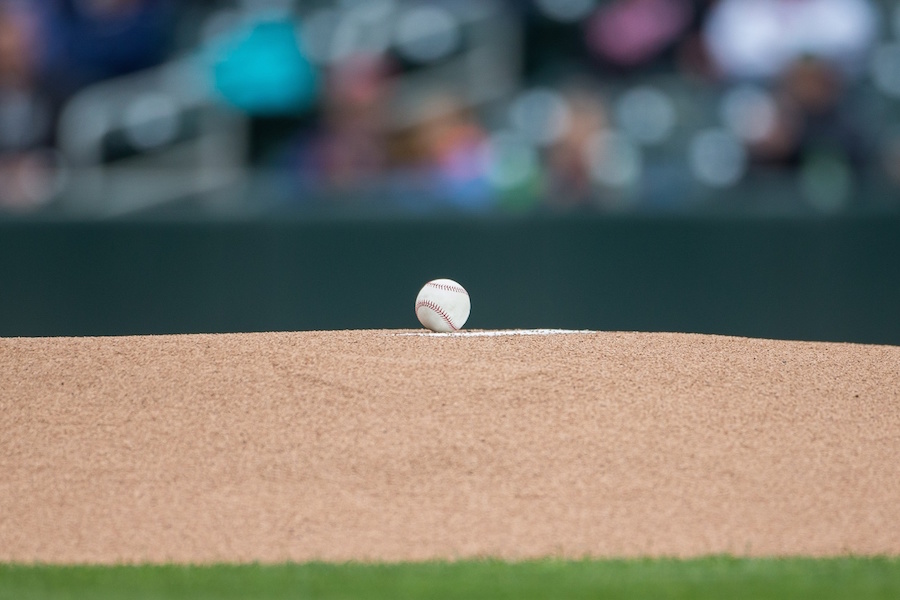 Seven outs. That's all the Rockies' two veteran starters, Jon Gray and Tyler Chatwood, managed to get this weekend.
A pair of pitchers with 22 wins between them in 2016 retired just seven New York Mets, while at the same time allowing a combined 12 earned runs.
In a recent poll on the Mile High Sports Twitter account, a whopping 40 percent of fans said that the Rockies' offense was the biggest concern at the All-Star break. While there's no denying that the offense has been uninspiring recently, there's no amount of offense that can cover for a starting rotation whose senior-most pitchers combine to give up 12 runs while earning just seven outs in two starts.
For as bad as the bullpen has been (the No. 22 bullpen ERA in baseball) and as shaky as the offense has looked of late (averaging just 3.95 runs per game over a 5-15 stretch heading into Sunday), the starting rotation has to be Colorado's biggest concern. Bad starting pitching puts a huge strain on the bullpen and puts the offense on the defensive. If the Rockies are going to stay in the playoff hunt, they have to make a move for a starting pitcher.
At present, their rotation is crumbling faster than an Antarctic ice shelf.
Gray looked solid in his first two outings back from the disabled list, but his command was completely absent Friday night in the first game out of the All-Star break. Gray has the stuff to be a No. 1 starter and perennial 15-game winner. But he's still yet to win 15 games in his career. At 12-13 through parts of three seasons in the big leagues, the 23-year-old still needs time to master his arsenal. Asking him to shoulder the entire load of a playoff run isn't fair, or realistic.
In 2016 and through the early parts of 2017, the Rockies accepted Chatwood's Jekyll and Hyde road vs. home splits. But lately the road Chatwood has been just as monstrous, punctuated by Saturday's hideous (albeit injury hampered) start in Queens. Chatwood may be battling a physical injury, but he looks equally flustered mentally at this point in the season. Expecting him to miraculously become a reliable No. 2 (or 3, or even 4 or 5) at this point seems like a stretch.
Meanwhile, the fearsome foursome of Rockies rookies isn't nearly as scary as it was a month ago.
Antonio Senzatela, at one point the NL wins leader, was first relegated to the bullpen and has since been sent to the minor leagues. The beneficiary of the second-best run support in baseball, he may still factor into the second-half plan but shouldn't be counted on to be the force he was in April and May.
German Marquez, who won four consecutive games in the month of May, has won only two since and has a 5.94 ERA over his last three starts. The 22-year-old has been streaky so far in his big league career, but he's also been sneaky good. If he puts together another three or four solid starts in a row, it'll be hard to hide him in the rotation much longer.
Kyle Freeland, who nearly tossed a no-hitter in the final game before the break and pitched three innings of practically perfect relief on Saturday, seems to have rebounded from a rough three-game stretch that almost saw him sent to the minors. However, he likely lost his next turn in the rotation having to mop up Chatwood's mess.
Jeff Hoffman was lights out in his first five starts for Colorado, but has shown some minor cracks in his five starts since. He still boasts a 6-1 record after a solid outing on Sunday (minus a pair of home runs) to salvage the final game of the Mets series, but, like Senzatela and Freeland, the Rockies can't count on him to remain completely dominant as hitters see more and more of him.
As the league has built a bigger book on the young Rockies starters, their success has been in decline. That's to be expected. And it's why the Rockies can't rely solely on those young arms to carry them to the playoffs.
Yes, Chad Bettis will unquestionably provide an emotional boost when he returns (probably in mid-August) from his battle with cancer. But can he provide a similar boost on the field after having his body battered by cancer treatment? That's asking a lot.
As the Rockies rotation continues to regress, other competitors in the National League are gobbling up trade options. Their closest challenger in the Wild Card, the Chicago Cubs, made a move last week to bolster a starting rotation that already features a Cy Young winner and a pair of three-time World Series champions. The Washington Nationals, leaders in the NL East, on Sunday grabbed two available bullpen arms from Oakland.
The longer the Rockies wait to make a move, the steeper the price and the fewer the options will be.
The Dodgers, Diamondbacks and Nationals all boast an imposing 1-2 punch at the top of their rotation. The Rockies, at present, have a 0.5.
As we've seen in 2007, '09 and the years since and in between, there's no guarantee of sustained success in Colorado. The Rockies have a chance to make the playoffs this season and need to capitalize.
Colorado needs to bolster the bullpen. There's no denying that. They could use some help behind the plate, as Brian Reiff pointed out (paywall) over the weekend. They need big bats like Carlos Gonzalez and Trevor Story to come around. But none of that will matter if they don't do something to solidify the starting rotation.