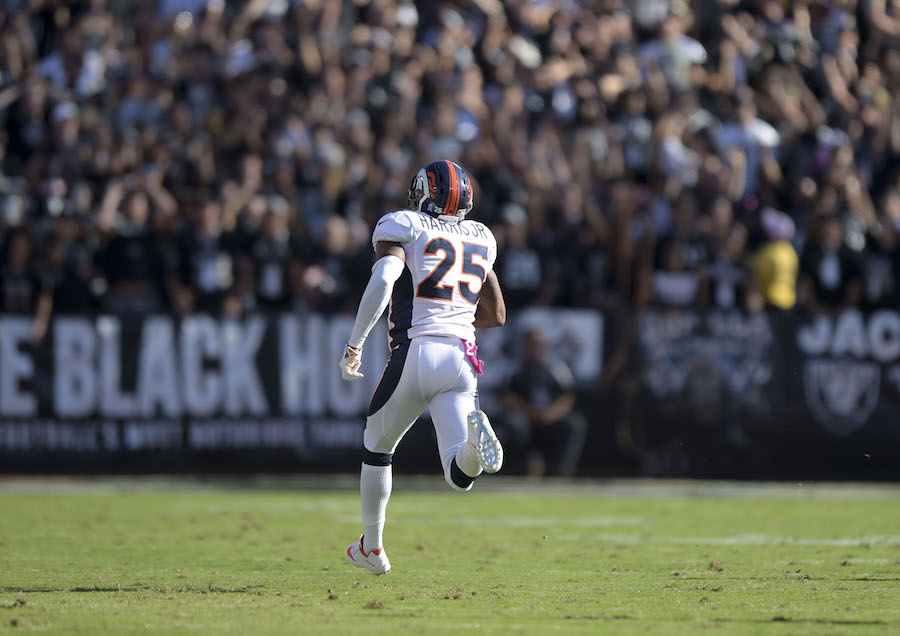 For the first time in quite some time, Raiders Week has a different ring to it around the Mile High City.
It goes without saying that the Denver Broncos-Oakland Raiders rivalry is one of the best in the history of the NFL. The Broncos and Raiders have played at least twice a year since 1960, but as of recently, the matchup hasn't felt much like a rivalry.
Before losing to the Raiders by a score of 15-12 in their second meeting of the season last year, the Broncos had defeated the Raiders in eight straight meetings dating all the way back to the 2011 season.
The 2000s hasn't been the best century for the rivalry, but Sunday's game already has a different feel to it.
The Broncos and Raiders are tied atop the AFC West with 6-2 records, but there will be a lone leader come Monday morning.
Not only does the game decide the leader of the division — for now, at least — but this game could ultimately help shape the playoff seeding further down the road.
If the Broncos want to finish the season with a sixth consecutive AFC West title in their back pocket, a win on Sunday certainly wouldn't hurt.
A win on Sunday for the Broncos would put them at 7-2 through nine weeks of the season, the same record they had at this point last season. A win for the Raiders would match their win total from 2015.
For fans of both teams, the first meeting of the year between the Broncos and the Raiders doesn't get much better. A Sunday night showdown for first place in the AFC West in the Black Hole? That's football at its peak.
As far as football goes, the stingy Broncos defense will have to stop another high-flying offense, and they may have to do it without the help of cornerback Aqib Talib.
Oakland heads into the game fifth in total offense and fourth in passing yards per game in the NFLm while Denver's defense ranks third and first in those same categories. Sunday night should be a good one.
It seems that the Raiders are officially over their 2002 Super Bowl hangover. At 6-2, they are just three wins away from their first winning season since the 2002 season. I'm sure the Broncos would love nothing more than to bring them back down to earth on Sunday night.
Whether you're a fan of the Broncos, Raiders or football in general, this is a game that everyone can get excited about. The NFL is more fun when the Broncos and the Raiders are competitive.
If the NFL is looking for a game to drive up their ratings a little bit, this could be it.
Sunday can't come soon enough.