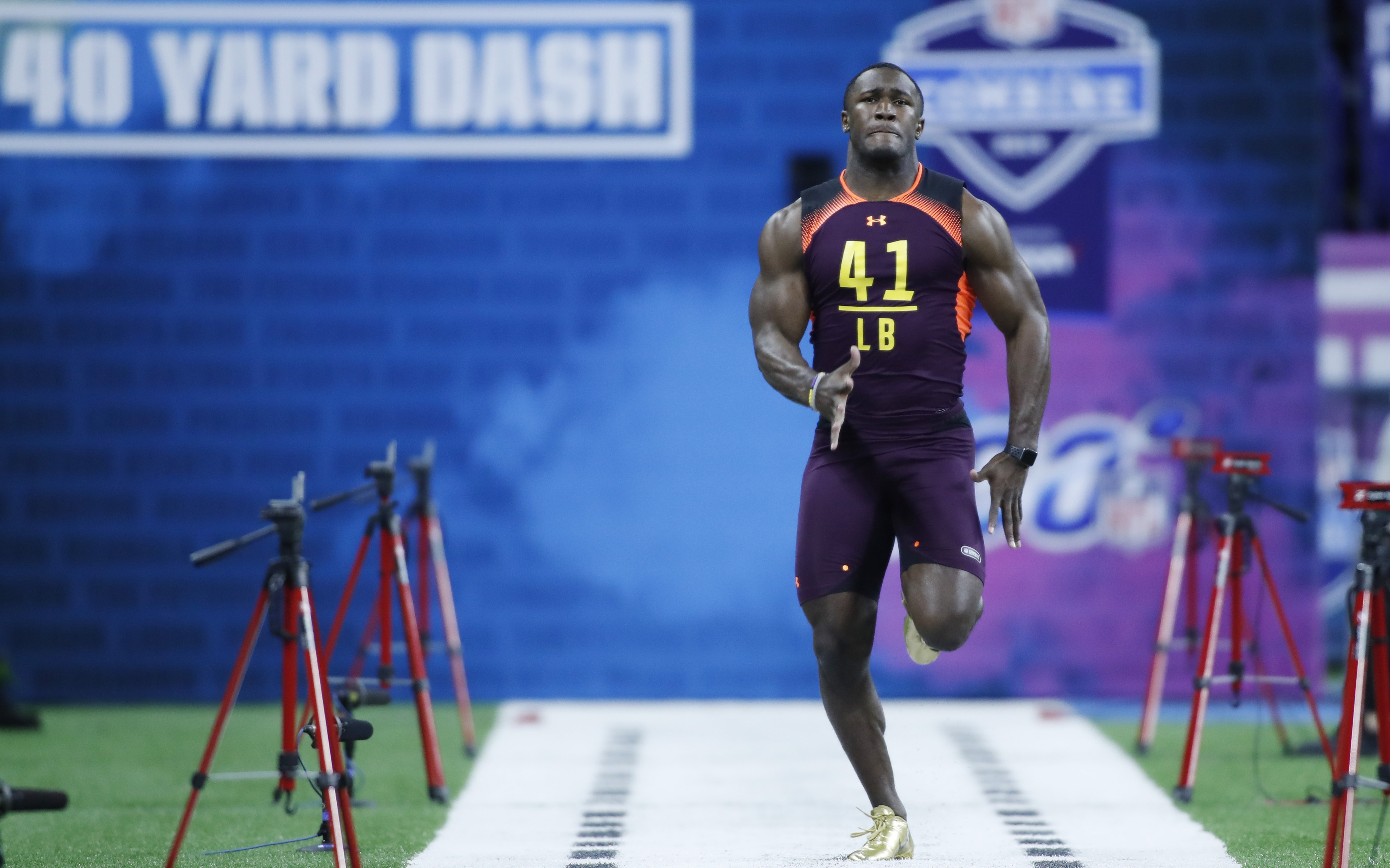 At pick No. 10, the Denver Broncos select…Devin White, linebacker, Louisiana State University.
White was already a lock to be a first-round selection before the NFL Scouting Combine, but add in his breakneck 40-yard dash (4.42 seconds), there's no way he gets past Denver at 10. In fact, he's performed so well, the Broncos will likely have to move up to get him; and they should.
Armchair quarterbacks everywhere will tell you their beloved Broncos have to draft a quarterback this year in the first round, hoping their team reacts in desperation rather than continue to build their defensive foundation.
Drew Lock? Don't put him in my mock. Kyler Murray? Could get a GM fired in a hurry.
When John Elway traded for former Super Bowl MVP Joe Flacco, it sent a message to the entire AFC: The Broncos are all-in for 2019. It's playoffs or bust, even if that saying doesn't resonate as much as Pat Bowlen's "Super Bowl or Bust" mantra from back in the day.
Hey, if the Broncos climb out of this hole again and get back to the postseason this year, it'll be a huge victory for the Duke. Elway's already led them through dark days once before, and then they climbed the mountain as the Super Bowl 50 winners.
Of course, that first hole was dug by Josh McDaniels and this current rut the Broncos find themselves in was created, in large part, by Elway himself. He hired Vance Joseph — who was completely unqualified to lead a team — and Elway's been in charge of the draft since Day 1. Last year notwithstanding, Elway's drafts have included more busts (Shane Ray, Paxton Lynch, Sylvester Williams and possibly Garett Bolles) and reaches than hits.
So, it's even more crucial this time the Comeback Kid is able to bring Denver back from three straight disastrous seasons.
How can Elway pull the Broncos out of this sad spiral once again?
He's got to start by drafting White, the absolute and unquestioned best linebacker in this year's draft class.
Why? White has the chance to be an immediate impact star, not just player, someone who can start right away and hopefully for a long time into the future. Inside linebacker is a position of need for the Broncos, not just because they're moving on from Brandon Marshall, but because Vic Fangio's defense is predicated on playing with athletic, do-it-all linebackers.
And maybe most importantly; Elway's two, superstar draft picks have come in the top-10, and each were linebackers in Von Miller (No. 2) and Bradley Chubb (No. 5). Like Chubb, White would be a steal at No. 10 overall. Remember, Chubb was so highly regarded last year, some had him going as high as No. 3. With Miller and Shaquil Barrett on the roster, an edge-rushing, outside linebacker was certainly not a need, but Elway made the right choice with Chubb, who became an instant sensation in the Mile High City.
White would likely do the same.
At LSU, White was the No. 1 tackler in the SEC last season, with 123 total. He's picked off a pass and defended nine passes, leading him to say of himself, "If we're having trouble with a tight end in our zone coverage [who is] catching a lot of balls, you can stick Devin White on him and he'll go stop him." The Broncos defense was burned so badly by tight ends last year it was laughable at times; White could remedy that overnight.
The 6′ and 237-pound beast of a backer also knows how to make plays behind the line of scrimmage, with 8.5 sacks and 28.5 tackles for a loss in his three-year career at LSU.
Elway already has the recipe for winning Super Bowls in today's NFL, evidenced by that Super Bowl 50 win as much as that Super Bowl XLVIII blowout loss; defense wins championships.
Rewind back to 2013 and Peyton Manning was lighting NFL record books on fire, throwing for a record 55 touchdowns and setting too many more milestones to name here. That Broncos team was built on an awesome offense and was destroyed by the "Legion of Boom" Seattle Seahawks 43-8.
Two years later, the 2015 Broncos won with the demonstrative defense nicknamed the "No Fly Zone," led by Von Miller breaking Cam Newton and Chris Harris shutting down opposing receivers. Miller, DeMarcus Ware and Co. led the NFL that year with 52 sacks, and when they didn't get to the quarterback, they were hurrying his time to throw, resulting in 14 interceptions.
Miller is still in his prime and so is Harris on the back end. Bradley Chubb looks like he'll be a star for a long time in Denver, and White would give the Broncos a fourth, legitimate stud on the defensive side. That leaves out Shelby Harris — who is likely to be retained — and was one of the league's best interior defensive linemen in 2018.
Elway already went out and landed Fangio to run his team, a defensive mastermind. Now, the Duke can give Fangio more firepower to go out and win games with by drafting White. And, together, White and Chubb can be the next generation of Broncos superstar defenders, like Miller and Harris have been for the last seven years.
It's not a question whether or not Devin White will be a star, it's: Will he become a star in Denver or somewhere else?