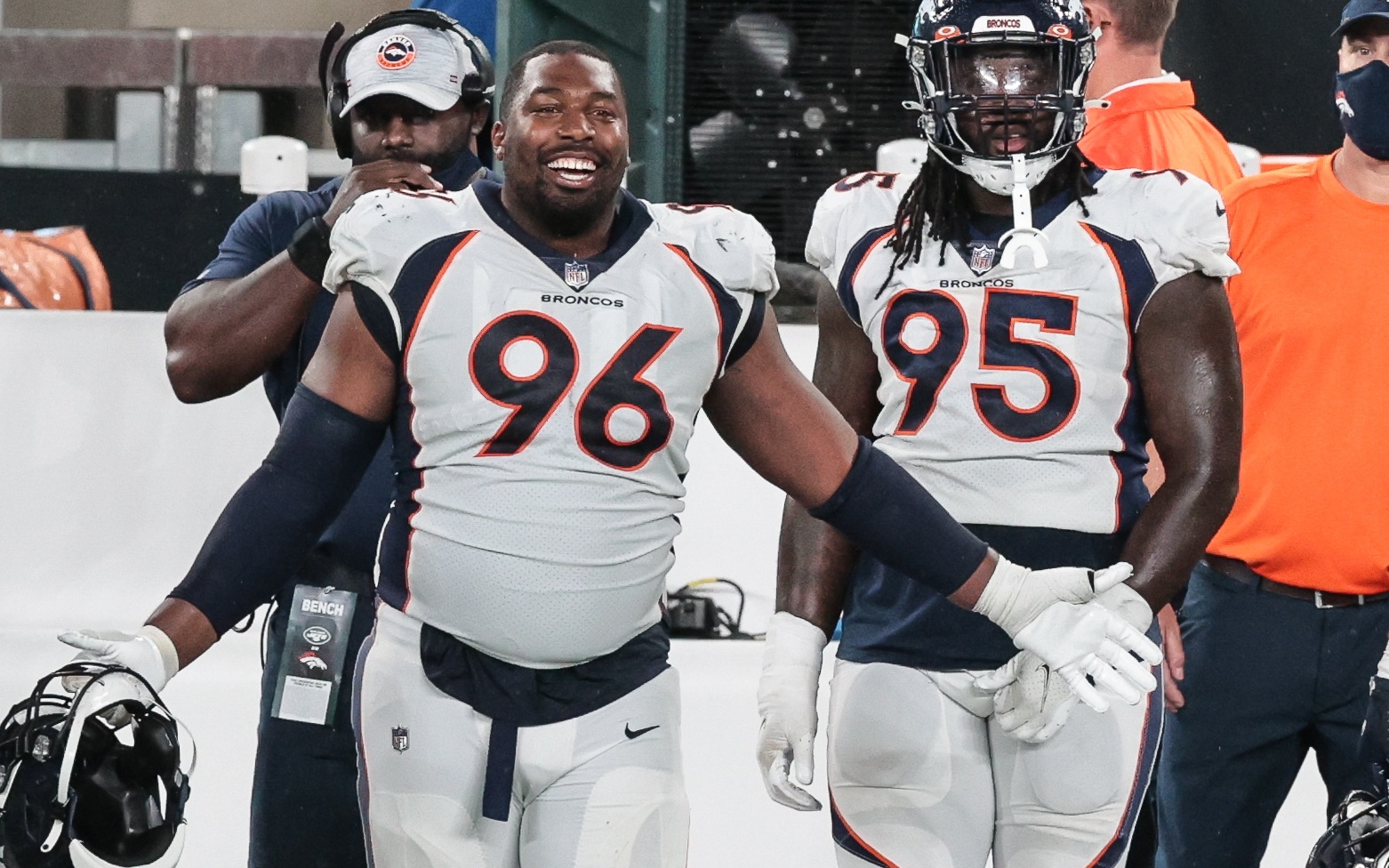 The Broncos' 2021 defense has the makings of a truly historic unit.
The type of unit that is either immortalized alongside their year (see the '85 Bears or 2000 Ravens) or that is forever remembered by an iconic nickname, like the No Fly Zone or Legion of Boom.
That identity is one that must come about naturally, and Shelby Harris might have just coined the nickname that could hang with this unit for the foreseeable future.
Harris referred to the defensive line as, "a bunch of dogs" after being dissatisfied with "The Expendables" nickname, which had been chosen by some.
"They came up with that garbage name. That was not me," Harris said in regard to being called expendable. "I do not like that name, that name is trash. Do not associate me with that name. That had nothing to do with me (laughs). Honestly though, I get it. Just for me, expendable is like being replaceable. We're not replacements. We're damn good football players, and we deserve everything that we've achieved. There's nothing expendable about us. We go and we affect every football game we're in. That's not expendable. That's why I don't like the name."
And his argument for his alternative was a convincing one.
"A bunch of dogs," the veteran defensive lineman offered up instead. "No matter how many times you tell us no, we're going to keep fighting. That's the thing—it rubs me the wrong way because we're not a replacement. We go out there and we're great d-linemen. We go out there and we perform. We make plays and we get stats. That's not what a replacement does."
That mentality is, fortunately, one Harris sees throughout the defense and throughout the entire Broncos roster.
"Everyone is saying that we're expected to do great things. The reason why I know we will [do great things] is because everybody on this team takes everything personal," Harris said Wednesday. "We go out there and let's say they get a run of 10 [yards]. [We say], 'Alright that's on me.' Everyone takes this personal. Everybody wants to be the best. That's what it takes to be the best. This whole team—everybody wants to be the best. You keep talking about we've started slow the last two years and we're 0-7 in September. That's unacceptable."
Denver has an excellent opportunity to rewrite that narrative this season, as they open up against the Giants, Jaguars and Jets, before finally facing a formidable opponent when the Ravens come to town in Week 4.
Now with extra time in Vic Fangio's system, and a more normal offseason, the Broncos' players are feeling more prepared and are ready to get the season off to a fast start.
"The key to starting fast is being prepared," Harris said. "Being prepared, but also being confident in your preparedness and being decisive. When we go out there, we have to cut down on mistakes. I remember the last couple seasons have been the big play. The big play has always screwed us over a little bit. It's all about cutting down on the big plays and also creating big plays for ourselves—getting turnovers. We talk about the hidden yardage of interception returns. You might get 20 yards to put us on our 30 [yard line] or something like that. It makes it easier so we're automatically going to get points. All the little things add up to be something big. If we just do the little things right, then we'll be successful."
That echoes the 'death by inches' mentality Fangio has attempted to instill during his time with the team.
"We just want to win," Harris said when asked for the goals he has for the defensive line. "You can talk about goals all you want to. Stats come with the wins. You can say I want 10 sacks, but you're 0-10. That doesn't do anything. It's all about just getting the W. At the end of the day, that's what we get paid to do. If you don't get the W, then you're going to be gone. The only stat that needs to matter is wins"
This Broncos team is fed up with that lack of success over the past decade. Veterans like Harris just want to win games. Now, they have the dogs to do just that.