Former Colorado State University All-American Becky Hammon made National Basketball Association history this past Saturday when she became the first woman to coach a Summer League basketball game. A current assistant coach for the San Antonio Spurs, Hammond was in the drivers seat as the Spurs Summer League squad's head coach in a 78-73 loss to the Knicks.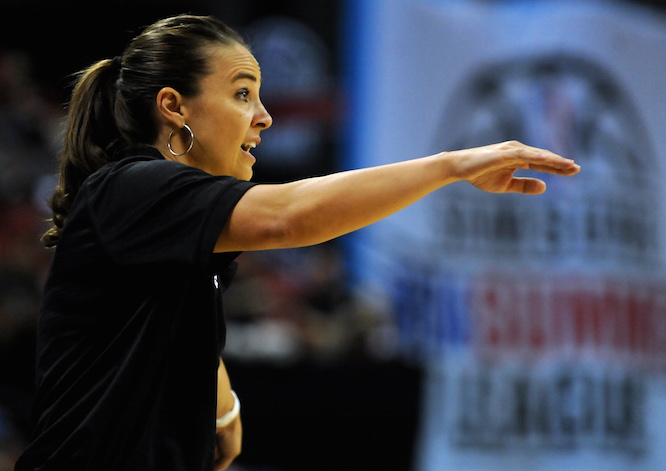 Hammon spoke to ESPN about the experience after the Spurs 78-73 loss to the New York Knicks in the Summer league.
"I just think it's important (for) society that women be rewarded for their brains just as much as any guy," Hammon said. "To me, it's always about bigger picture. We want to make sure that when your wife or your daughter goes in for a job interview, she gets the same opportunity that a guy gets. I think that's the bigger picture, that's the bigger goal. Whether it's basketball or in the army or in CEOs or in operating rooms, we want women there."
Despite San Antonio losing, Hammon put the team in a position to win. Sloppy play from her young players derailed them from overcoming the Knicks. Hammon drew up a beautiful screen play that left forward Jarell Eddie wide open for a three, but his missed and New York closed out the game with a few free throws.
"I'm learning," Hammon said. "Do I want it go down to the wire every game? No, because it's freaking stressful."
Spurs head coach Gregg Popovich has taken Hammon under his wing and tried to guide her to be a successful coach in the NBA. She is surrounded by some of the best basketball minds in the league and is not taking it for granted.
"I've spent this last year learning in the greatest learning space possible for a coach," Hammon said. "It's as if Henry Ford came back to somebody and said, 'Hey, let me teach you how to make cars.' Anybody who doesn't jump on that opportunity would be crazy."
San Antonio was the perfect environment for Hammon to blend in with. The Spurs, known for their diverse international roster (with stalwart veterans like Tim Duncan, Tony Parker, Manu Ginobili among others), were very accepting of Hammon and her role on the team.
Hammon's ties to Colorado are extensive. As a CSU Ram she led the lady Rams basketball team to a 33-3 record during the 1998-99 college basketball season and helped them advance to the NCAA tournament Sweet 16.  She was named the 1998-99 Western Athletic Conference Mountain Division player of the year.
CSU Assistant Athletic Director for Communications Paul Kirk offered his congratulations on Twitter.
Big day in the career of @CSUWomensBball great @BeckyHammon! #CSURams https://t.co/cxONh3D7yM

— Paul Kirk (@PaulKirk_CSU) July 12, 2015
In her time at CSU she broke numerous school records including points (2740), points per game (21.92), field goals made (918), free throws made (539), three-point field goals made (365), and assists (538). In her senior year of play, Hammon received the Francis Pomeroy Naismith Award from the Women's basketball Coaches Association as the best senior player under 5'8″.
Hammon was elected into the Colorado State University Athletic Hall of Fame on November 12, 2004. Her college number, 25, was retired at Moby Arena on January 22, 2005.
---
Marcus Flowers, a Mile High Sports intern, contributed to this report
---