 Once a fixture on the Nuggets' bench, Steve Hess is busily fulfilling a new vision
*This story appears in the May issue of Mile High Sports Magazine. Subscribe here!
***
THURSDAY. MARCH 15, 2018. PEPSI CENTER. NUGGETS VS. PISTONS.
Steve Hess is not on the Nuggets' bench. That's not unusual, at least if one only considers the 2017-18 NBA season. If the past two decades are considered, however, it's pretty strange. Steve Hess has always been on the bench. And "on" – with specific regard to Hess – means standing, shouting, never sitting still. No matter the setting, Hess was, is and always will be "bought in."
As odd as it is to not see Hess on the Nuggets' bench, it's almost more bizarre to see him on the court at halftime. That's when he usually works with players back in the locker room. Stretching them out. Assessing their immediate physical condition. Determining the exact thing their bodies might need at that exact moment – all in the spirit of winning a basketball game, so long as the body is willing and able. And if by chance it's not up for the task, Hess is the first one to ask: Why?
But there he is. Standing at center court. Not working with a player. Not stretching anyone out. In fact, it's dark. There's a spotlight. And Steve Hess is standing under it.
It's his night.
The Denver Nuggets are honoring Hess. Rightfully so. After 21 years as the team's strength and conditioning coach, the franchise has officially declared Hess to be one of the "50 Most Influential People in Nuggets' History." As such, the halftime ceremony is 100 percent designed to honor Hess. The massive video board inside Pepsi Center reveals that the weight room adjacent to the Nuggets' practice court has been permanently designated "The Steve Hess Weight Room."
To say that Hess has played a major role with the Nuggets would be an understatement. He was there before and after Carmelo. He saw the worst, the best and everything in between. He helped Kenyon Martin overcome not one, but two, microfracture knee surgeries. Never – not once – did a Denver Nugget suffer an ACL injury and then re-injure that same knee. He was a part (a big part, as any Nugget will profess) of the team that made it all the way to the 2009 Western Conference Finals.
These are the things that Steve Hess is proud of. These are the reasons the Nuggets hold him in such high regard.
Yet, he's no longer with the team. That's a new development, by the way. This is the first season he's not.
As much as he loves the Nuggets, Steve Hess is at peace with not being one.
"You have two ways of looking at it — good or bad– there's no in between," says Hess, painted in Under Armour dry-fit geared sitting inside his new office at "The Institute" (we'll get to that shortly). "Ninety-eight percent of people love the bullshit that comes with things, so the first question they ask is, "What went wrong?'
"When you say, "Absolutely nothing,' it's beyond their concept. "No, really, tell me what went wrong?' they'll say. Absolutely nothing. I mean this is a choice I've made. People can't really understand that. That's the thing that amazes me. This is one of those go from an unbelievable situation to another unbelievable situation.
"Is one better than the other? It's just a choice I made. That's it."
Hess' newest "unbelievable situation" is, as he calls it, "a dream" – perhaps more accurately, "a vision."
"I was sitting on the couch one day," Hess recounts, "and I said to my wife, "I have this vision.' And I explained the vision, and she said to me, "Yeah, you want to go see that psychologist.'
"Then I said, "Here's what I'm telling you – I think they may like this vision!' And she once again told me, "I'll make the appointment.'"
They were the doctors who own and operate Panorama Orthopedics and Spine Center. They were the ones who could take a formal arrangement, one that showed Hess as a consultant and part owner (along with former Nugget Chauncey Billups and former Broncos Brandon Stokley and Chris Kuper) of "The Panorama Wellness and Sports Institute" – essentially the "training" division of Panorama – and turn it into so much more. They could take the vision Hess revealed to his wife, the one that caused her to rethink her husband's sanity, and turn it into reality.
Even so, Hess still had the ultimate job. He was one of – if not the – most highly regarded strength and conditioning coaches in the NBA. And he had seniority, 21 years of it. He was the guy that Denver Broncos would secretly go visit when something didn't quite feel right. He was the strength coach players flew in from all over the NBA, NFL and MLB to see during the offseason. It didn't matter what team Hess worked for, he could help cure their ills, give them the best training advice, and keep them from getting injured.
His vision had stemmed from his experiences with the Nuggets. An organization like the Nuggets, he observed, took great care of its players. There was never a shortage of effort or resources to make sure every player on the roster was functioning at the highest level. When someone was injured, only the best surgeons were used. When it was time to recover, they'd let Hess go to work. He could tap into any expert, obtain any piece of equipment, use any method he thought would get the job done. The team provided the tools and Hess masterfully kept its players in tip-top shape. It was a strength and conditioning coach's dream. Never was there a player who came through Denver that didn't love him; they'd work hard for Steve Hess.
His vision, perhaps not so ironically, was to create that same exact opportunity for anyone – not just NBA players. Young or old. Active or idle. Elite or recreational. Hurt or healthy. It didn't matter.
When someone gets hurt, they need to get better, maybe even better and stron- ger than they were before. When someone who isn't hurt wants to be a better form of themselves, they should be able to do that, too.
Oh, and it would be nice if the entire process all took place under one roof, under the guidance of one team, whose expert members all had one – and only one – goal in mind: Do whatever is best for that particular individual.
That was his vision.
When Hess, who at the time was still with the Nuggets and just a part owner of and consultant for The Institute, proposed this idea to Eric Worthan, the Panorama Orthopedics and Spine Center CEO, Worthan texted back with one word.
Interesting.
Hess sat at the table inside Capitol Grille on Larimer Street.
He was flanked by Worthan, Dr. Pat McNair, Dr. Doug Foulk, Dr. Mitch Seemann and Dr. Mark Conklin. This was the brass – the "big red engine" as Hess called it – that powered Panorama.
"I am absolutely, unequivocally the dumbest guy in the room," he thought.
Yet, they were listening to every word he had to say. Worthan had shared Hess' vision with the group and it had piqued their interest. They would pepper him for the next two – maybe three – hours. He answered every question. They considered his words, and challenged him more. They had ideas, too. They bounced them off him. It was the greatest meeting he'd ever had.
"Do it correctly. Do it through science. As we progress through research, we'll have a program that's not only for rehab, but also for performance," the doctors said over the course of the meeting, ex- panding further upon Hess' vision as the night wore on. "But it starts at that realm – everything is research based. We've got an entire research department that helps us. We have doctors in the specialties within their field that can help us."
And they had Hess.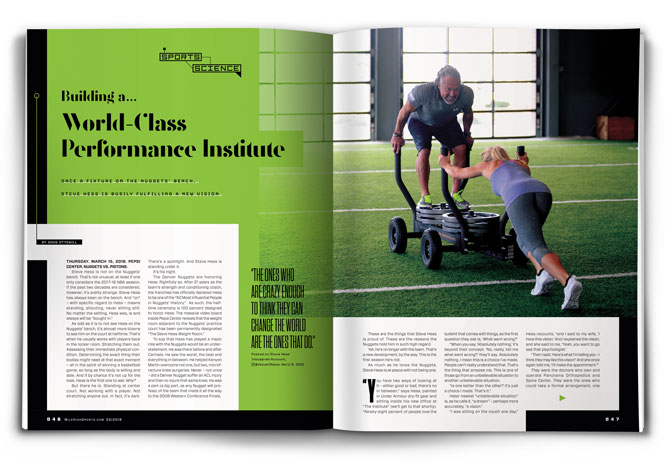 "Would this type of thing interest you at all?" they asked.
"This isn't "kind of' my dream," he thought. "This is my dream. This is freaking unbelievable."
But he also thought of that job he'd had for 21 years.
"Now they say, "Look, this is a possibility.' But now you have to decide. I mean I'm in an unbelievable situation [with the Nuggets]. Do I want to do this? And then I'm like, "With their support, this truly is my dream – to build this thing with amazing people.'
"It's an opportunity to grow as an individual, by putting myself on the spot. Like a lot of the things I do in life, I don't really want to do them, but I do it because it takes me out of my comfort zone."
So he took the leap of faith, thanked the Nuggets for everything, cleaned out his office at Pepsi Center and set up shop just south of C-470 and Lucent.
This newly scripted vision, complete with buy-in from everyone involved, couldn't happen overnight. The plans they'd etched would take time if they were to be done right. This was to be an integrative system, an integrative facility, an integrative effort from top to bottom, start to finish.
The doctors said they didn't care about hype or fluff. They wanted meat and pota- toes results. Everything was to be based in science and data with results that could be delivered again and again. They asked the energetic Hess, who can talk and think a mile a minute, to implement just one thing at a time.
"It wasn't like, "Here are the keys to the Ferrari, good luck,'" says Hess, whose business card now reads CPO, or Chief Performance Officer.
At the root, everything was still about the individual. And that's where every plan at The Institute begins.
"What is our plan?" Hess asks rhetorically. "Our plan is to create a system where we can get objective data to decide a correct pathway for an individual."
This can best be defined by what the group dubs "Your Performance Profile."
"We're going to introduce to you a way to discover Your Performance Profile," Hess thunders on a YouTube video that explains the process. "That's your fingerprint! Your exact fingerprint to design a program for you. The program is going to match your needs precisely. And we have objective ways to look at your system that
are non-invasive… high-tech… amazing!"
The system Hess implemented provides a pathway to the necessary, objective data. Whether someone is going into surgery, coming out of a surgery performed by one of Panorama's world-class surgeons, or simply coming in healthy and trying to improve their vertical leap, lose weight or become better at the game of their choice, they all start with this collection of data, which ultimately yields the performance profile.
It begins in the DARI Lab. Picture a room, roughly 12 feet by 12 feet, with multiple cameras set up on all sides. There's a bright green floor and a monitor on one wall. The individual steps into the center of the room. After a series of motions are performed, the DARI system has an unbelievable understanding of the body standing on the green floor. On the monitor, the individual being tested can see the alignment of their spine and joints, but more impressive yet is the data DARI spits out.
In layman's terms, DARI tells Hess' group how that particular body is working. Are things aligned? Are there deficiencies in muscles or joints? Does the athlete favor one side or the other. Is there symmetry or asymmetry? Does their range of motion have room to improve? And why?
Next, each individual is examined through MuscleSound, an ultrasound technology that determines muscle health. What is the size and asymmetry of the muscles? How much fuel can each muscle hold? How efficiently is that fuel being utilized? What is the exact body composition? The body fat percentage?
Then the questions are asked: What do you want to become? What are your personal performance goals?
Answers can range from the basic – "I want to move without pain" – to the aggressive. Return to an elite level. Be stronger after surgery than before it. Do or be something never done before.
"You want to climb Kilimanjaro? I'll get you there," Hess says. "I 100 percent, unequivocally, guarantee they will be in the best shape of their lives they could ever possibly dream for. Why? Because it's not one person saying, "I've got all the answers.'"
Imagine an individual who's injured. They'll first consult a surgeon. They might work with Hess and his trainers for "pre-hab." Then they undergo surgery by one of the best in the business. After that, they'll work with the experienced physical therapy team. From there, they'll begin getting stronger thanks to Hess and his trainers.
They might mix in Muscle Activation Therapy or chiropractic along the way. They spend time in the state-of-the-art weight room, on the 40-yard turf field or on the hardwood of the Chauncey Billups Big Shot Basketball Academy. Or have consultations with the on-site nutritionist.
The Panorama team tests progress – objectively, scientifically. Every person involved in the process communicates at every step.
"We don't talk to the doctors once a week," Hess says. "We talk to them every day."
Recovery and performance plans are designed, implemented, evaluated and tweaked. From training to treatment to nutrition, the process is ever-evolving, based on the needs of the individual and the wisdom of crowd – or in this case, "the entire team," as Hess calls it.
"I've heard it a thousand times," says Hess. "I've been in situations where everyone says they're working together, but they're trying to hold on to what it is they know.
"Not here."
To observe Hess is to witness living, breathing, shouting, whirling, smiling excitement. Mile High Sports Magazine once dubbed him "The Energizer Bunny". It's true; he keeps going and going and going. His enthusiasm is unparalleled; that's not an opinion, it's a fact.
But don't be fooled. Getting his clients to meet their goals is far more than
rah-rah speeches and weight-room challenges. It's all based in science.
"Everything we do has to be based in science," he says, "and it has to be smart, and we have understand the why of every single thing we do.
"Bodies dictate to us what it is we're going to do."
He is a scientist. A trainer. An artist. A motivational force. And he has surrounded himself with a group that checks all those same boxes.
"Don't get us wrong – we're fully aware that 90 percent of what we do is training," says Hess. "Ten percent is the information we get, but if we can't have a plan to utilize it, we're screwed. I can be the greatest data collector on the planet, but if I don't have a plan of action, my 90 percent won't work.
"There's absolutely an art form to this. I would love to say it's "just a science.' It's not. But it's all based in science."
Hess has story after story of successful journeys where the broken become fixed. As he rattles them off, his days in the NBA seem like a distant memory. Yes, he cherishes that time and those relationships, but the promise that lies with the days ahead is what gets him out of bed every morning.
He lights up when talking about a recent client, a man who had his cervical vertebrae fused, his lumbar vertebrae fused and was 40 pounds overweight coming out of it all. After time with Hess, he's better than ever.
"The dude rolls with me like three times a week, two hours at a time, and it's like I can't keep him away. He's here before the session starts, ready to roll, and every time I see him, he's like, "Bring it on.' To be a part of something that he's done – coming in, it was difficult for him to walk. He didn't have full extension in his spine; [now he's] like this monster man – is freaking sick."
He hopes the 14-year-old who just tore his ACL will have an experience that's not unlike one that LeBron James would go through if he were to suffer the same injury.
"We want to do that. One-hundred percent," he says.
For those who wonder where Hess is these days, or more specifically, why he's no longer on the Nuggets' bench, the answer can easily be found in The Institute's new corporate performance program, a training opportunity that has nothing to do with surgeries, physical therapy or elite-level athletics.
"We had one individual who left [the session] in tears; I thought there was an issue," Hess says. "So I called her up afterwards, and I'm like, "Are you okay?' She said, "Yes, I'm just upset that the program's coming to an end.'
"That's why I do it."
***
*For more from Mile High Sports Magazine, subscribe here!