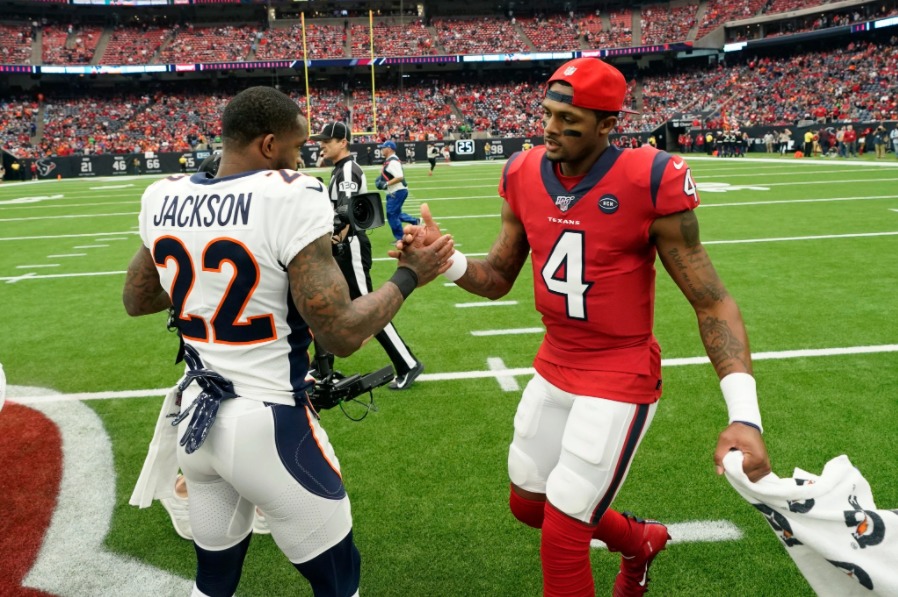 Could Deshaun Watson be convinced to play in the Mile High City?
At this point, it seems like a definite long shot.
According to Woody Paige, the superstar quarterback has "zero interest in Denver" per his sources. That would leave the Broncos looking at signing veteran free agent quarterbacks like Gardner Minshew, Nick Foles or possibly Andy Dalton to come in and compete with Drew Lock.
But, what if the Broncos have a secret weapon?
Last Thursday, Kareem Jackson reacted to the news that Watson had finally, formally asked for a trade away from the Houston Texans just like most every other NFL fan, with surpsise:
— Kareem Jackson (@ReemBoi25) January 28, 2021
A lot of Broncos fans jumped into his mentions, asking — no, begging — Jackson to somehow convince Watson to come to the Mile High City.
So, on Saturday, Jackson tweeted he's working on it:
I see all the tweets!! Just know I'm working on it 😁

— Kareem Jackson (@ReemBoi25) January 31, 2021
Now, of course, Jackson isn't the GM. That's newcomer George Paton, who reportedly was in talks with the Detroit Lions about trading for Matthew Stafford, but the Broncos weren't really buyers in that scenario. It seems the team was just feeling it out before Stafford went to the LA Rams for two first-round picks and QB Jared Goff.
The price for Watson will be much more than what the Rams sent for Stafford; three first-round picks only gets the talks started per those in the know.
Having Jackson, a friend of Watson, trying to recruit the star gun-slinger may be Denver's secret weapon. But, that leaves the Broncos still as very, very long shots to land the star gun-slinger.
Or, maybe Jackson was saying he's "working on it" because he's going to restructure his deal. The safety is currently the highest-paid Broncos player going into 2021, with a $13 million cap hit. Of course, if the Broncos re-sign Justin Simmons, his safety mate, Simmons will likely make more.
Watson would, too.
Speaking of Jackson and Simmons, they were the best safety duo in the NFL last year. And outside of somehow landing Watson, re-signing Simmons should be the biggest priority for the Broncos.