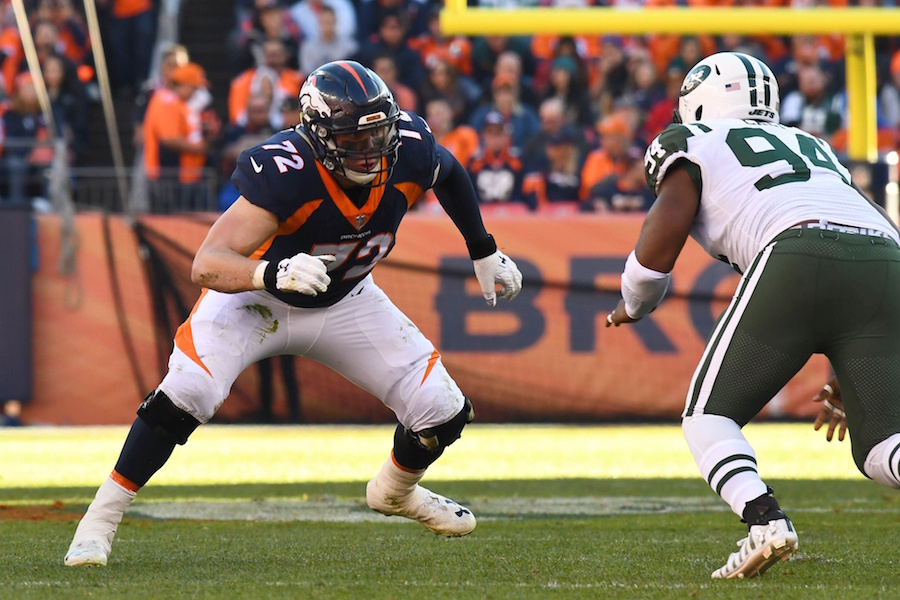 The 2017 Denver Broncos turned in just the sixth losing season the franchise has experienced since Pat Bowlen assumed ownership of the team in 1984, but there were still several positives despite their 5-11 finish.
The Denver defense again proved to be one of the best in the league, finishing third in total defense. Linebacker Von Miller earned a second-team All-Pro nomination and his sixth Pro Bowl nomination. Running back C.J. Anderson rushed for 1,000 yards. And the team extended its NFL-record regular-season home sellout streak to 373 consecutive games in a single city.
Those are the flashy highlights from the 2017 season, but there were many others worth noting that make the disappointing final record a little easier to swallow.
These four highlights / points of interest from the 2017 season should give the Broncos' reason for excitement heading into next season.
Center Matt Paradis has played every possible snap in each of the three years he's been on Denver's active roster (2015-17), the second-longest active streak in the NFL.
Only Cowboys center Travis Frederick (five seasons) can boast more consecutive active snaps than the captain of the Broncos offensive line.
What's perhaps most impressive about Paradis' streak is that during the 2017 offseason he underwent surgery to repair damage in both of his hips. He had only a slightly lighter workload during the preseason as he recovered, then was back to his "Iron Man" status by playing every snap of the regular season.
The Broncos are being smart in the long-term, grooming Connor McGovern as a possible replacement if Paradis has another health scare, but all indications from 2017 are that Paradis hasn't missed a beat and should be taking every snap at center for years to come.
Outside linebacker Von Miller is the only player in franchise history with six 10-sack seasons. He entered the 2017 season tied with Broncos all-time sacks leader Simon Fletcher with five. Miller is also one of just three players in NFL history (since 1982) to record 10 sacks in at least six of his first seven seasons. He passed Karl Mecklenburg this season for second on the franchise's all-time sacks leaderboard and is now 14 behind Fletcher in first place.
Miller's prowess at getting to the quarterback isn't just notable from a Broncos perspective, he's also among the NFL's all-time elite at sacking QBs. He ranks second in NFL history (since 1982) in sacks per game (0.80) among players who have appeared in 100 or more contests during that span. Only Reggie White, with 0.85, ranks higher all-time.
After failing to make the playoffs for two consecutive years, you can bet the Super Bowl 50 MVP comes back even more hungry for sacks in 2018.
Cornerback Bradley Roby finished in the Top 10 in the NFL with a career-best 17 passes defensed in 2017. Despite starting only four games and playing less than 70 percent of the team's defensive snaps, his 17 passes defensed tied for the most in a single season by a Broncos player in the last 10 years.
Roby tied teammate Chris Harris Jr. (2014) and former Bronco Andre Goodman (2009), passing Champ Bailey's 15 (2009) and Aqib Talib's 16 (2014) along the way. That's some pretty impressive company.
With Talib due a big payday in 2018 and his age increasing (he'll be 32 in February), Roby could be looking at becoming the No. 2 corner behind Harris sooner than later. His strong performance in 2017 should give the Broncos plenty of confidence moving forward.
Garett Bolles – Learning Fast, Playing Hard
Tackle Garett Bolles, who was selected by Denver in the first round (20th overall) of the 2017 NFL Draft from the University of Utah, became just the fifth rookie to start every game at left tackle for the Broncos since starting lineups were tracked beginning in 1968.
Bolles joined Claudie Minor (1974), Dave Studdard (1979), Russell Freeman (1992) and Ryan Clady (2008) on that list. Minor started 123 of his 125 games for the Broncos; Studdard made 133 starts over 10 seasons in Denver; Freeman started 38 games; and Clady started all 16 games in six of his seven seasons in Denver, earning four Pro Bowl nominations and two All-Pro nods during that time.
Bolles struggled with penalties as a rookie and the (rotating) cast of quarterbacks behind him didn't help his sacks allowed totals, but he did show flashes of why the Broncos drafted him with their first pick in last year's draft. Playing what was really just his second season of "elite" level football (he spent just one year at Utah), Bolles had a steep learning curve.
All that extra time on the field paid off in valuable experience, and the Broncos expect big things from Bolles in year number two. There's no denying his intensity or work ethic. It's only a matter of time before Bolles is a force on the blind side for whoever is playing quarterback for the Broncos.