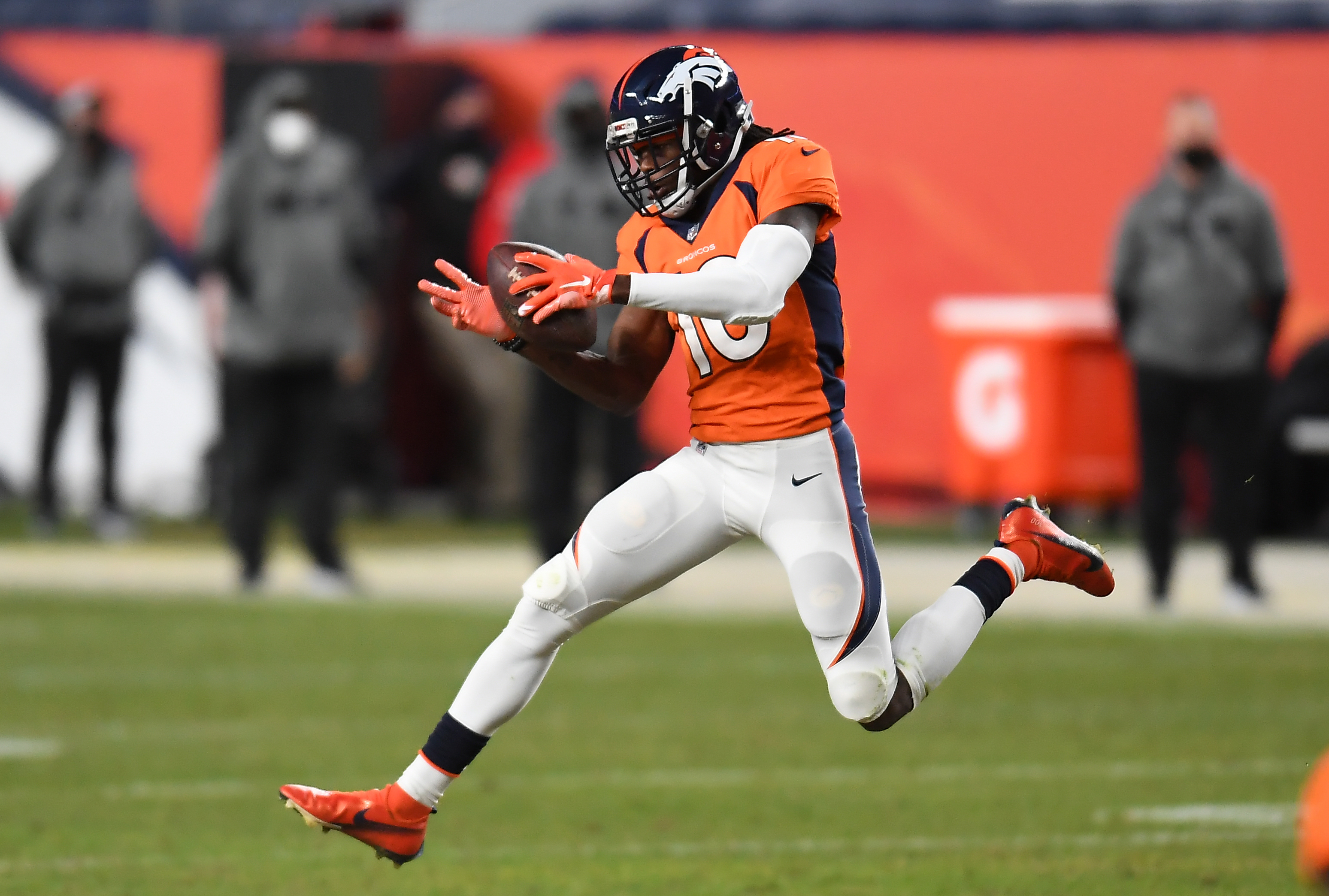 Expectations for the year were the highest they have been since 2016, the Denver Broncos' last winning season.
A solid offseason and stellar draft brought the Broncos an array of talent. On paper, this was the team's most complete unit since their Super Bowl roster of 2015.
The Broncos are all but eliminated from postseason play following their loss to the Las Vegas Raiders. The sting of another early exit is hitting Broncos Country harder than years past.
At 7-8, the Broncos are getting an early start on planning for their 2022 offseason but the Broncos still have two more games on their docket.
First, Denver travels to Las Angeles to play spoiler versus the Chargers then hosts conference favorite Kansas City Chiefs in the final week of the season.
Fans invest so much every week. Each loss seems to tear at the fabric of those who give so much emotion (and money) to the team on a weekly basis.
Yet, fans cannot lose sight of what can be. With less than a 1 percent chance at the postseason, it may be hard to find reasons to watch the Broncos. However, there is always something to look for.
Like a baseball fan that stops watching their team in September, a Broncos fan could be missing out on the rise of a young player as they ascend to something great.
Denver has a ton of young talent, many are in line to be major contributors next season.
Could these final two games give further disappointment as there was in 2018 and 2020? Or can the last few games give Broncos fans hope, like the end of 2019?
The Broncos will not make the playoffs, but there are still a few things to watch as the team finishes the 2021 season.
Reason 1 to watch: Is Jerry Jeudy's okay?
Jerry Jeudy has not had the season many hoped. From his injury to lack of targets, Jeudy's role has been confusing, to say the least.
Often sent in motion, Jeudy is rarely utilized correctly in this offense.
So what should Jeudy's role be?
Jeudy came with all the fanfare of a top-flight draft talent, the No. 15 overall pick in the 2020 draft.
Jeudy showed in his rookie season that he can be a dangerous weapon in the NFL.
So why hasn't he?
Injuries, below-average quarterback play plus bad play calling have made Jeudy's presence almost non-existent.
The last two games can go a long way in giving Jeudy some confidence heading into the offseason.
Jeudy's ability to separate is important to the offense and a big selling point to the team's next play caller assuming Pat Shurmur does not return.
Additionally, a productive Jeudy along with Courtland Sutton, Tim Patrick, and the return of K.J. Hamler, should help in the recruitment of a big-time quarterback on the Broncos wishlist in Russell Wilson or Aaron Rodgers.
If Jeudy gets right, he is a big asset to this team. If not, there is already speculation he could be a part of a deal to land a quarterback. How he plays these last two weeks will fuel the fire either way.
Reason 2 to watch: Does the offensive line need to be rebuilt or retooled?
Despite Sunday's performance against the Raiders, the offensive line should provide the fans with a reason to watch.
Four of the five starters are certain to return in 2022, and the fifth could find his way back potentially.
Garett Bolles has continued to play well this season and should do so for years to come.  Left guard Dalton Risner has not performed as well as hoped but is a solid player and has upside.
Center Lloyd Cushenberry has improved this season but must continue to show well for job security. Injured starting guard Graham Glasgow is under contract for the next few seasons and his return is up in the air with the emergence of rookie Quinn Meinerz. Lastly, The well-rounded play of Bobby Massie at right tackle could entice the Broncos to bring him back as well.
According to 
Football Outsiders
, this offensive line ranks ninth overall. The run game has been terrific and should give the team some stability on offense heading into next season.
With the help of coach Mike Munchak, how the group finishes will say a lot about the version 2022 will bring.
Overall, the Broncos have a batch of young talent upfront. Now George Paton must decide who is going to be a building block long-term.
Reason 3 to watch: Did the Broncos find their future at ILB?
When the offseason began, the Broncos had seasoned veterans Alexander Johnson and Josey Jewell at both starting inside linebacker positions.
Shortly into the season, Jewell was lost to injury as was Johnson.
The Broncos made several moves, utilizing 2020 draft pick Justin Strnad, rookie Baron Browning, mid-season acquisition Kenny Young, and under-the-radar pick-up Jonas Griffith.
Jewell and Johnson have formed a solid duo and helped keep the Broncos a top defense in the league. Jewell performed above expectation, and Johnson has seemed to maintain his play from 2019. However, both are unrestricted free agents, as is Young.
Denver certainly will not bring everyone back. Will they bring back any of the veterans? Who is the team's best pairing moving forward?
Over the past few games, the tandem of Griffith and Browning has offered a tremendous amount of upside and both are cost controlled. In his limited play, Griffith has earned a Pro Football Focus grade of 87.0. His speed is evident as he makes plays all over the field. To get the nod next year, Griffith needs to do it over larger sample size.
Could the two do enough to sow up the positions in 2022 and have Denver look elsewhere? Or does Paton try and bring back a veteran and push Griffith into a depth piece?
How the two fair over the final two weeks may influence that decision some.
Reason 4 to watch: Can the Broncos end the season with a winning record?
The Broncos have not had a winning record since 2016. Though many may call for the team to lose in hopes of securing a higher draft position, there is an argument to be made winning is more important.
Many players on the Broncos do not know what it is to be labeled a 'winner' in the NFL.
To get over the hump would go a long way in building back the credibility for this once well-regarded franchise.
Furthermore, having a winning team is an attractive piece in presenting a potential new coach or future hall of fame quarterback.
What makes a winning record even more special is how it will need to happen, and who the Broncos must beat to make it so.
For the Broncos to finish their season at 9-8 and above .500, they must play spoiler to the Chargers first. Then, the team must end their dubious streak of losing 12 in a row to the AFC West Champion Chiefs.
A win against Las Angeles and Kansas City will not get Denver into the postseason, but it would be a nice cancellation prize heading into the 2022 offseason.