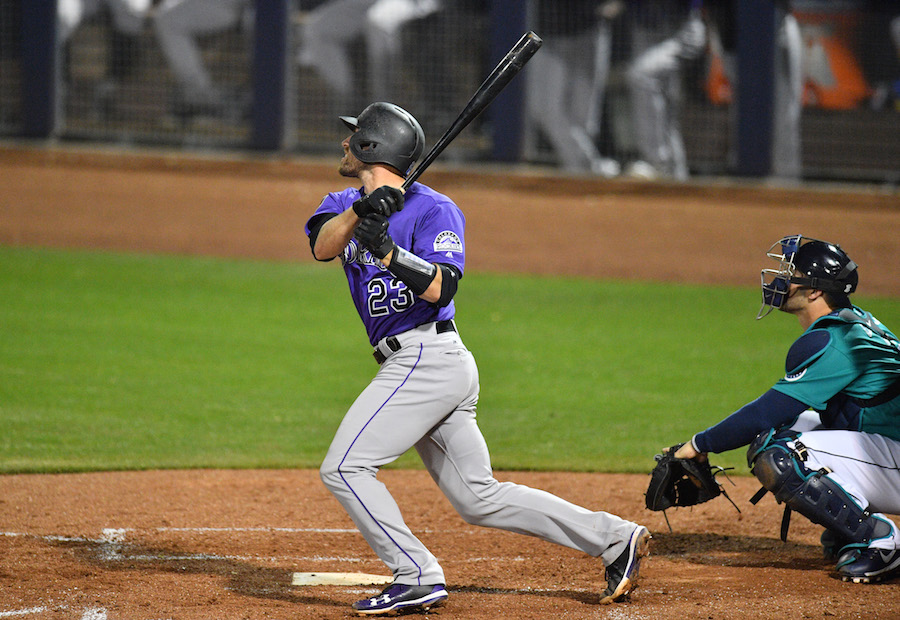 Prospects are the future for any MLB team. The depth of an organization starts with the talent within their Minor League system.
The Rockies have had their fair share of stars come up through the system. Todd Helton, Matt Holliday and Nolan Arenado highlight the list of players to come through the Rockies farm system. Each had or are having impressive careers in the major leagues. This current Rockies team is full of young, talented, home-grown players including Arenado and Charlie Blackmon in the lineup and a bevy of promising young starting pitchers.
With all of that talent already on the big league roster, there are a few names that will be making themselves known sooner than later. There are some holes to fill for the 2018 season, first base chief among them. Here are some names to look out for that could help the Rockies thrive this season and make a strong playoff push.
The 23-year-old infielder was drafted in the second round in 2013. He came up as a third baseman but made the move over to first base last season and showed he could handle the position well. Last season McMahon batted .355 with 20 home runs and 39 doubles in Double- and Triple-A combined.
The glaring hole in the Rockies roster going into 2018 this season is first base. Who will be taking the daily role as Colorado's first baseman? Yes, Ian Desmond could play the position. But with the Rockies (likely) moving on from Carlos Gonzalez, that opens up a corner outfield position that Desmond will most likely take; in comes McMahon.
McMahon's early Spring Training performance suggests that he is major league ready; look for the youngster to take over the position in 2018.
Rodgers was drafted in the first round, out of high school, in 2015. Listed as a shortstop Rodgers can play both of the middle infield positions, which could help the Rockies both in the short- and long-term. Second baseman DJ LeMahieu is a free agent next year, and shortstop Trevor Story has struggled to maintain offensive consistency. Rodgers could be an option at either position. Last season he had a very respectable year playing in both Single- and Double-A ball, batting .336 with 18 home runs.
Offensively, he can hit for both power and average. Defensively, Rodgers has had some problems with range at the shortstop position which could push for a switch over to second. He probably won't reach the big leagues until September at the earliest, but be ready to see Rodgers at Coors Field sooner than later.
This left-handed, 24-year-old pitcher has been in the system since 2014. Howard pitched to a 3.32 ERA splitting time in Double- and Triple-A last season. In 127 innings pitched, he had 104 strikeouts with just 43 walks. With a fastball that can reach up to 95 mph, Howard pounds the strike zone and follows up the power with a good change-up.
He has posted a 3.00 ERA over 6.0 innings so far in Spring Training. As Bud Black looks for his "No. 8" starter Howard could make an appearance sometime in 2018.
Murphy missed most of last season behind the plate with a broken arm but had an impressive 2016 season in the minors and flashed some potential at the big-league level. He has showcased his power at the plate in Triple-A (19 home runs in '16) and figures to be a promising could backup catcher for the Rockies after call ups in September or if Tony Wolters or Chris Iannetta are injured.
Long-term Murphy profiles as a starter, so how quickly he can press Iannetta for that job will be something to keep an eye on.
The Rockies already have a stacked lineup along with promising young pitching. These prospects could be in for something very special when given the chance to contribute.