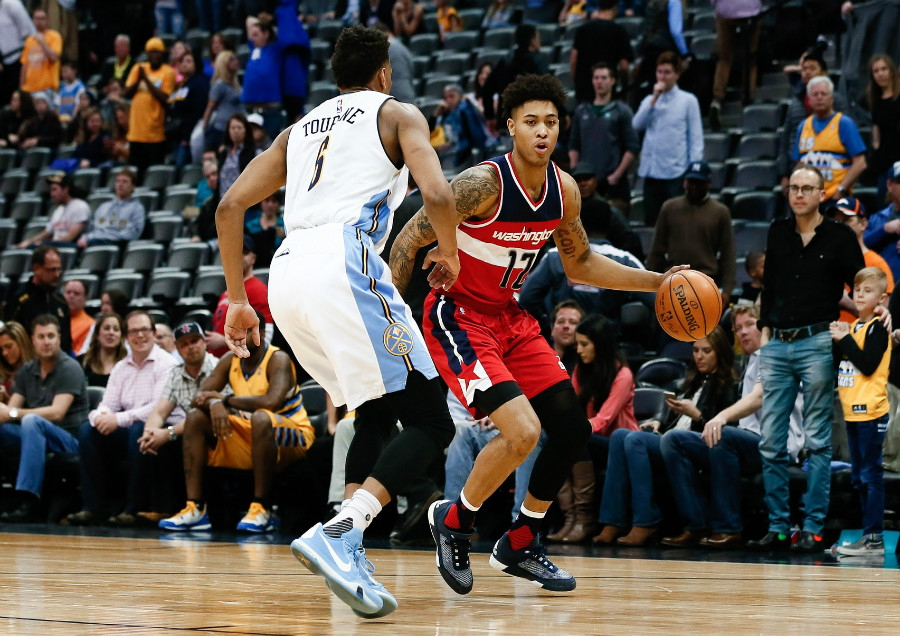 Through the first two games of Summer League, the Denver Nuggets have a comeback win against the Minnesota Timberwolves — highlighted by Emmanuel Mudiay's 23 points, eight rebounds and six assists, as well as Gary Harris' 22 points and two steals — and an utter decimation of the Memphis Grizzlies, sparked by Jimmer Fredette's offensive explosion.
Tonight, when the young squad takes on the Miami Heat, here are five things you should be watching for:
Nuggets need to run significantly more plays for Jamal Murray
The biggest negative of Summer League has to be Jamal Murray. In his first game, Murray played significantly more minutes off ball and struggled to find his rhythm. He struggled to find space to get his shot off and did not seem to be able to shake defenders on the perimeter. Considering that it was Murray's first taste of NBA competition, it's easy to give him a pass for game one.
Game two, against the Memphis Grizzlies, the Nuggets announced that Emmanuel Mudiay and Gary Harris would not be participating, so the lead guard duties fell upon Murray. He answered with a dismal shooting performance (2-11 from the field) and a 4:5 assist-to-turnover ratio.
Likewise, he continued to struggle getting open from behind the arc and did not show the quickness to get around defenders and get to the rim. He was visibly frustrated and seemed lost at times. Seeing Jimmer Fredette get all of the offensive sets built for him probably didn't help, either.
With a sub-par showing so far from Jamal Murray, look for Nuggets Summer League coach Micah Nori to start running Murray through more off-ball actions, much like he did for Jimmer against the Grizzlies.
If Murray isn't the focal point of the Nuggets offense tonight, I'd be stunned.
Which Juancho Hernangomez will we see?
Juancho Hernangomez looked poised and controlled during game one, to the tune of 13 points and seven rebounds. He showed his offensive versatility and played positions three through five. Throughout the game, his presence was felt and his motor was strong. He was bullied quite a bit down low, but he was competing on every possession.
In game two he opened up with a three-point basket but mostly disappeared from then on out, only accumulating six points and six rebounds in 13 minutes of game time. The sudden emergence of Petr Cornelie had a lot to do with the lack of minutes, but, as we saw in game one, his offensive game is NBA ready, and he did not come out nearly as aggressive in game two.
So which Juancho will the Nuggets fans get to see tonight? Will he be the offensive swiss-army knife that took 10 free-throw attempts in game one or will he be a ghost like he was in game two? Only time will tell.
Is Petr Cornelie as NBA ready as he looked in game two?
The biggest surprise for the Nuggets so far was the offensive explosion from frenchman Petr Cornelie. After going scoreless in his first game, he loudly responded with a line of 19 points and seven rebounds, adding a block, steal and three-pointer, too. Cornelie shot 7-11 and rolled to the rim hard, as requested by Micah Nori.
Add in one beautiful possession where Cornelie was switched onto the perimeter to be matched with a guard, and, as Tim Connelly has stated before, he seemed to move his feet effortlessly and was able to keep containment. If Cornelie bulks up overseas and continues to work on his footwork, he could project as a modern-day power forward in time.
With the Nuggets currently sporting four small forwards on their roster, it seems that there is one too many. Being that two of the four small forwards are on the Nuggets' Summer League roster, and both contracts are only partially guaranteed, it may mean that the Nuggets are currently looking to choose only one of the two young wings.
So far Axel Toupane has been named the starter, but both he and Sampson have had nice moments. Against the Grizzlies each player was on full display. Axel Toupane was ultra-versatile, doing everything. He played the best defense on the team, acted as a point-forward at times when Murray was struggling with on-ball pressure, was hitting jump shots, and showing his effortless ability to glide to the rim. He was playing with a skill-set that looked a lot like Wilson Chandler.
JaKarr Sampson was playing in his usual chaotic way. He was slicing to the rim with power, was cutting off ball very well, and even hit a three-pointer.
Overall it seems that Sampson has a more athletic, physical profile and is a tad longer. For what Axel misses in athletic ability, though, he makes up with an extremely high basketball IQ and a knack for always making the right play. Toupane is much more polished and seems ready to contribute right away.