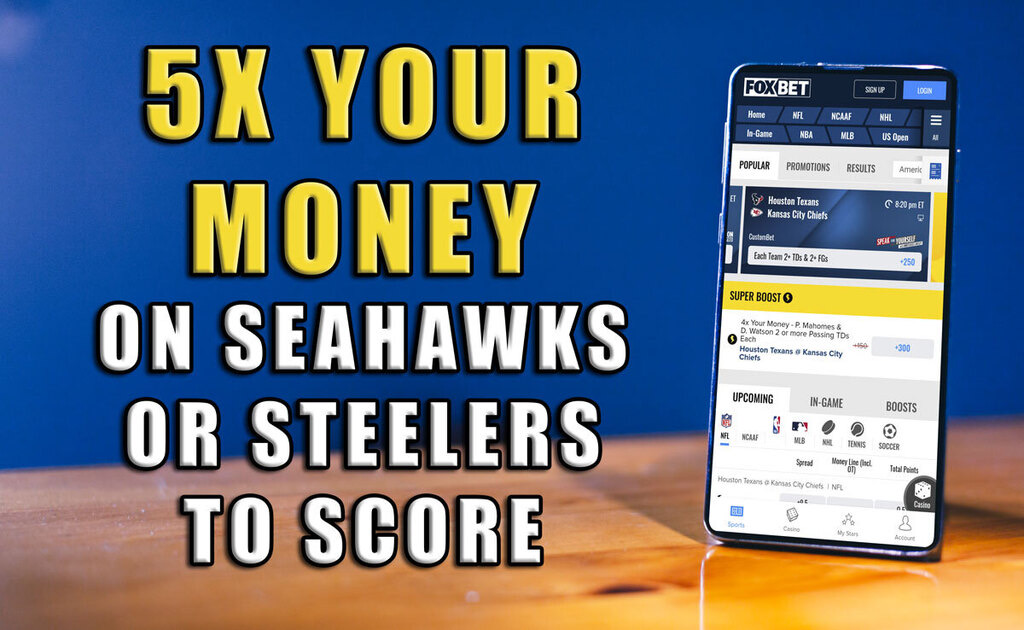 FOX Bet is going big for Wild Card Weekend in states such as Colorado with a massive offer for new users. Bet up to $20 on the Seahawks or Steelers and win $100 if they manage to score at least one point. That's a boost to +500 odds on a bet that is almost guaranteed to hit.
The Seahawks and Steelers will both host division rivals this weekend. Seattle will square off with the Los Angeles Rams on Saturday while Pittsburgh faces a rematch with the Cleveland Browns on Sunday night. Anything can happen in the playoffs, but that doesn't change the fact that FOX Bet is offering fantastic odds with one of the best weekend deals for Colorado sports bettors (as well as those in NJ and PA).
Sign up with FOX Bet Sportsbook right here and win 5X your money on Wild Card Weekend.
FOX Bet 5X Your Money Terms & Details
This deal is as much of a "no-brainer" as bettors in Colorado (and NJ/PA) will find this weekend. With a $20 wager, you can win $100 as long as your team scores at least a single point. Whether or not you choose the Seahawks or Steelers for this offer should not matter. Neither team has been shut out this season and we don't expect that to change this weekend. Of course, betting on the Seahawks provides a quicker win, allowing bettors to more quickly utilize their winnings.
Here are the full terms and details on FOX Bet Colorado's 5X Your Money Promo:
Bet up to $20 on either the Seahawks or Steelers to score at least one point.
If your team manages to score a touchdown, field goal, or safety, win up to $100 in free bets.
This offer is only available to new users who make a first-time deposit with FOX Bet Sportsbook.

We recommend depositing at least $20 so you can take full advantage of this ridiculous offer.

Free bets will be credited within 24 hours of the end of your game.
The maximum bet per new user is $20.
Bet must be placed as a single wager.
No opt-in required.
Users must be 21 years of age or older to play.
It's that simple. The team you pick doesn't need to cover, win, or even score a touchdown. All that team needs to do is score a single point and you can cash in on these +500 odds. Once that happens, you will have $100 in free bets to play with on your account. It doesn't get much better than this.
Getting Started With FOX Bet Colorado
Signing up with FOX Bet Sportsbook is a breeze. You can get it done from a computer or a mobile device. The user-friendly FOX Bet Sportsbook app is available on iOS and Android devices. You can start the sign-up process by clicking right here.
Once you input some basic information to set up your account, the next step is depositing funds to play with. Again, we recommend dropping at least $20 into your account so you can win the full $100 in free bets.
Now that you have an account with funds, the final step (and the fun part) is placing your first bet. Look for the 5X Your Money promo at the top of the page or app and place your wager as a single bet. Make sure this is your first bet with FOX Bet Sportsbook.
There's nothing else to it. Sign up and win big on NFL Super Wild Card Weekend.
Sign up with FOX Bet right here and win 5X your money on Wild Card Weekend.