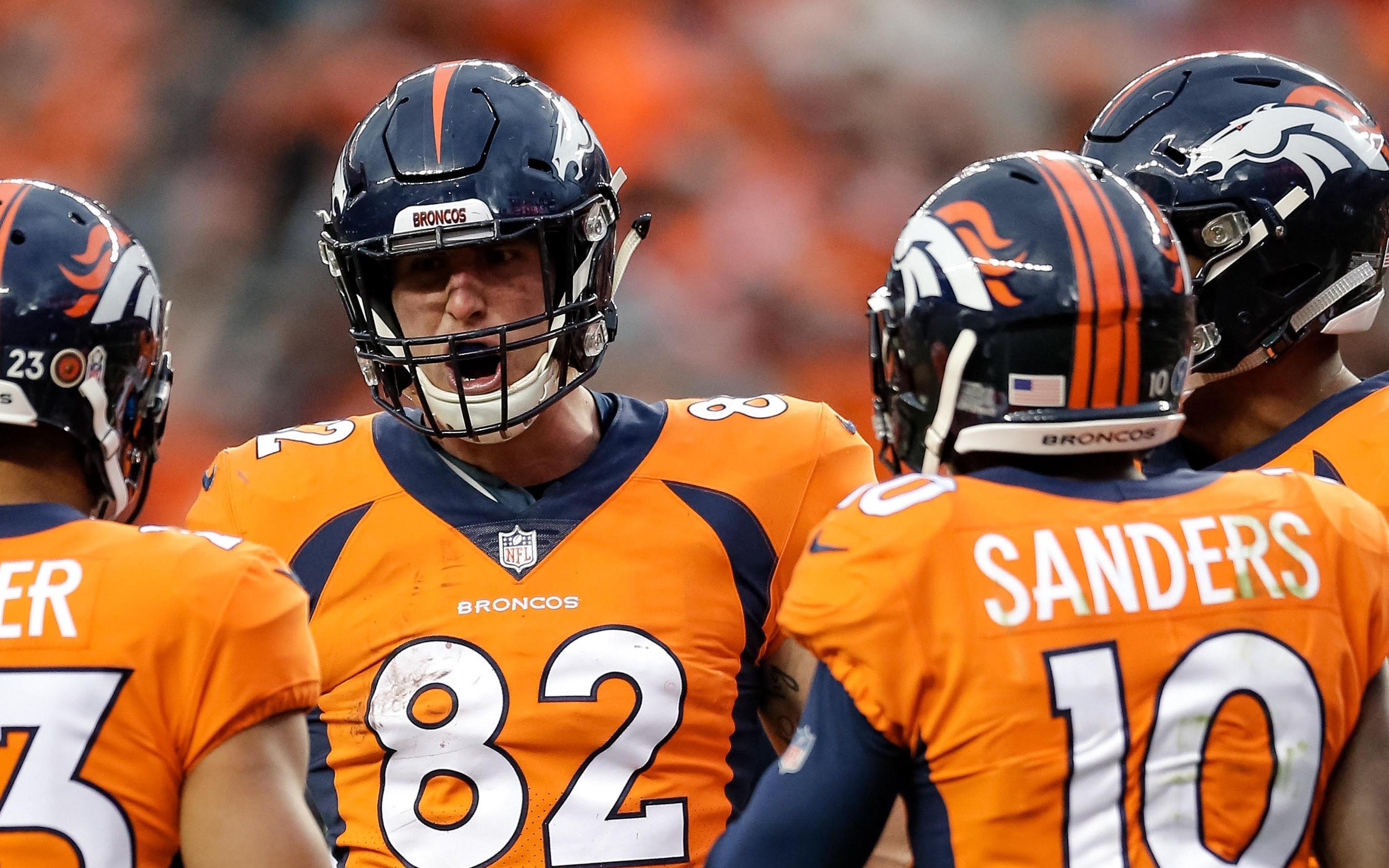 The Broncos' tight ends are currently one of the biggest enigmas swirling around the team.
Since Julius Thomas' departure, Denver's tight ends have been in a constant state of flux. They've tried acquiring veterans like Owen Daniels and Vernon Davis, with mixed results, and most recently they've been targeting tight ends in the draft like Jake Butt and Jeff Heuerman.
Heuerman is coming off a career year with the Broncos and Butt has the potential to be an above-average starting tight end in the league, plus both are under the age of 27.
So, why is tight end such a mystery for the Broncos? Because of constant injury concerns, and Heuerman's expiring contract. Butt will only be 24 at the start of next season, yet he has already suffered three torn ACLs. Heuerman isn't much better, as he has suffered a torn ACL of his own and missed the last five games of this season with broken ribs. Heuerman and Butt have missed an astonishing 54 percent of their games with an injury since entering the NFL.
Considering their injury history, Denver cannot go into the 2019 season without a better backup plan than Matt LaCosse and Brian Parker. LaCosse was a pleasant surprise for the Broncos in 2018, but he isn't enough of a difference maker. Once Heuerman left the lineup, the Broncos went 1-4 and saw their offense go from 254.7 passing yards to 217.6 per game, and quarterback Case Keenum's passer rating dropped from 84.1 to 76.8. Re-signing Heuerman makes plenty of sense, but his injury concerns could scare Denver's front office off.
How do the Broncos address this problem? Do they choose to bank on Heuerman and Butt's potential while adding a more reliable veteran in case of injury, or do they move on from Butt after just two years and look for another young tight end in the draft?
Free Agency:
If the Broncos choose to address their need at tight end through free agency, their options will be limited. Denver could let Heuerman walk, and if they do, they likely won't be able to find a viable replacement on the open market. The best tight end with an expiring contract is likely Jared Cook, who will almost definitely be retained by the Raiders. From there the only other above-average starter available is Tyler Eifert, and he certainly wouldn't mend any of the Broncos' injury concerns.
Whether or not Heuerman walks, the Broncos should look for depth at tight end in free agency rather than a starter, as there likely isn't one. Though, there are plenty of options that could add depth behind Butt and whoever starts at tight end for the Broncos. Richard Rodgers and C.J. Uzomah are some top options, though it remains unclear if they'll be available come March.
Rodgers' athleticism would be a great fit for the Broncos and could allow for some mismatches. He is coming off a disappointing season in Philadelphia, but considering his lack of usage behind Zach Ertz and Dallas Goedert, along with his previous production in Green Bay, a scenery change could help. Rodgers' athleticism would be a good fit next to Heuerman and could create mismatches. Also, the Broncos would likely get Rodgers at a nice discount as his disappointing season with the Eagles happened on a one-year deal worth just $880,000.
Uzomah is the safer option, but also has less upside. He isn't quite the athlete that Rodgers is, but looking at the last two seasons, he has been far more reliable playing backup to Tyler Eifert. Uzomah would likely be a little more expensive than Rodgers, but his contract would still be unlikely to surpass more than $1M annually. The problem is Uzomah might not hit the market as the Bengals will likely let Eifert walk and keep Uzomah as his replacement.
NFL Draft:
The options the draft presents to the Broncos are far more attractive. Not only could they find some great depth behind Heuerman and Butt, but they could also find replacements for those two.
The three elite tight end prospects in this draft are Iowa's Noah Fant and T.J. Hockenson, as well as Alabama's Irv Smith Jr. If the Broncos are looking for depth at tight end, they should target Stetson's Donald Parham, LSU's Foster Moreau or Washington's Drew Sample.
Most of the rankings available have Fant as the best tight end in the class, and with good reason. Fant is the best receiving tight end in the draft but would likely cost the Broncos a first-round pick, making him a less likely option. Both Hockenson and Smith Jr. could see their names called on Day One but they will more likely go in the top half of the second round. For as good as Fant is, Hockenson should be preferred because of what he provides in the run game. Part of the reason the Patriots were able to bulldoze their way to a sixth ring was that they could use Rob Gronkowski as an extra blocker. Hockenson seems to have a lot of that and so does Smith Jr. which is why either of them should be favored over Fant.
If the Broncos decide to hold off on tight ends until the later rounds, Drew Sample should be at the top of the list. Sample was excellent for Washington this season, and more importantly, was among the best players at the Senior Bowl. That led to him being named as the best tight end to attend. If Sample climbs too high up the boards after his impressive Senior Bowl to make sense for the Broncos, Foster Moreau would be a great backup plan with high upside. It's seemingly too risky, but Donald Parham could be an interesting name to keep an eye on. Parham's mountainous 6'8″ frame would be near impossible to cover in the red zone but injury is a concern and the Broncos likely don't want another oft-injured tight end.