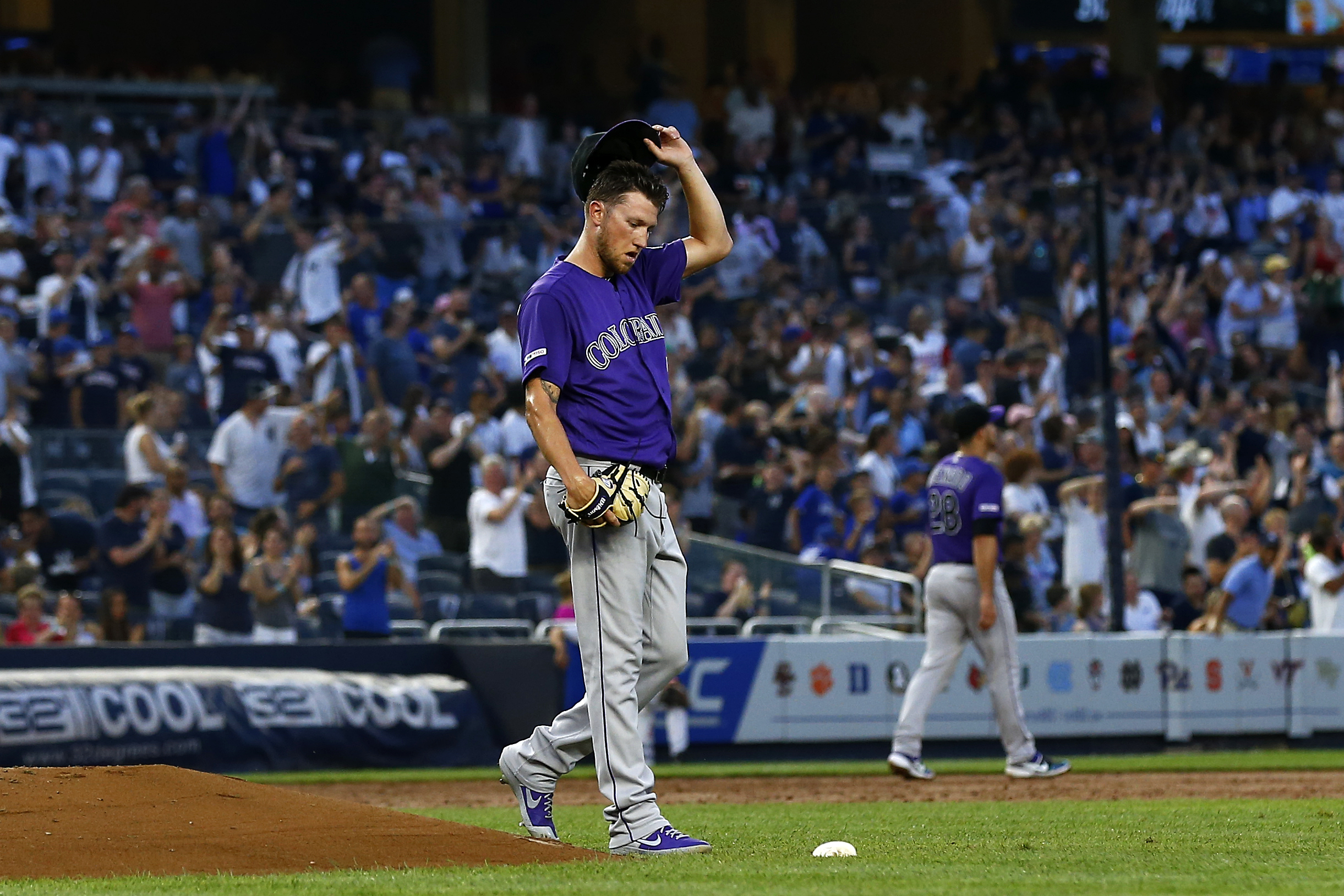 The 2019 season has not gone as planned by any means for the Colorado Rockies, especially starting pitcher Kyle Freeland. 
Update: After an early stint on the 10-day injured list, Freeland has been sent there again, this time with a groin sprain. The Rockies announced the move and their recalling of Wes Parsons from triple-A Albuquerque.
To put it simply, Freeland was dominant in 2018. He was the Rockies "ace" in their second consecutive run to the postseason. Between finishing the year within the top-five of Cy Young voting and willing Colorado to a wild-card win versus Chicago, Freeland was expected to be the anchor of the Rockies' rotation in 2019. 
Freeland was supposed to lead his team into the fire and help Colorado contend for a championship. 
Unfortunately, 2019 turned into a whirlwind of a season for Freeland, littered with shortcomings, frustrations and doubts.
Freeland struggled out of the gate and was placed on the 10-day injured last after a blister affected his ability to grip the ball. Aside from being injured, the time away from the game was thought to be beneficial, as it would hopefully allow Freeland to clear his mind and reset upon his return. 
The time off had little effect on Freeland's performance as the southpaw continued to struggle, pitching to a 7.13 earned run average in the first half the season. 
He was subsequently shipped to Triple-A Albuquerque to work on his craft. 
Freeland posted an 8.80 ERA while striking out 28 batters and giving up 16 walks in six games with the Isotopes. Colorado proceeded to reinsert Freeland into the rotation following the All-Star break. 
While he has been better since his return, there have been numerous outside factors that have continued to rain down on Freeland this season. 
Towards the tail end of June, one of Freeland's starts was delayed nearly two hours due to rain, resulting in a poor outing against the Reds. Cincinnati shelled Freeland for five runs in four innings of work. 
However, Freeland had actually shown signs of improvement recently before an injury sidelined him Tuesday in Arizona. 
During the sixth inning of his start versus the Diamondbacks, Freeland grabbed his groin in discomfort. He was then pulled from the game and diagnosed with a left groin strain. Freeland experienced a similar injury in 2017 and returned with no problem after ample time to rest and recover. 
"It felt the same, as far as I can tell," Freeland told MLB.com. "Same thing happened then, it was on a full extension throwing the ball where I felt it grab and then release. But right now, we'll see how it feels after a few days."
The injury came at an unfortunate time for Freeland due to his improvement on the mound. Freeland had allowed three-or-fewer runs in four of his last six outings. 
"It sucks, I felt like I was pitching pretty well, keeping the team in the ballgame," Freeland said. "I want to be out there fighting with my brothers. This is a setback, been struggling all season, been grinding trying to get better and then this kind of sucks. But I've got to take it for what it is and move on."
Colorado's rotation is thin as is between recent injuries to Freeland and Jon Gray. It is unknown if Freeland will pitch again this season.
"In the short-term, he's going to miss some time. How much? We don't know. We'll see how it sets up the next few days," Black said to MLB.com. "He threw the ball great. I caught up with Kyle after the game in the training room, and I told him as far as his stuff, his delivery, making pitches to both sides of the plate, slider, fastball command – everything looked in order."
Should the Rockies want to return to the postseason in 2020, Freeland's performance must improve. He does not necessarily have to be in award conversations, but if he pitches like he did Tuesday in Arizona, simply keeping the Rockies in ballgames, the club will have a much brighter outlook.
Freeland has shown flashes of returning to form in the second half. Although the injury will undoubtedly halt his progress, he'll continue to take everything as it comes in the hope of a brighter future beyond 2019.