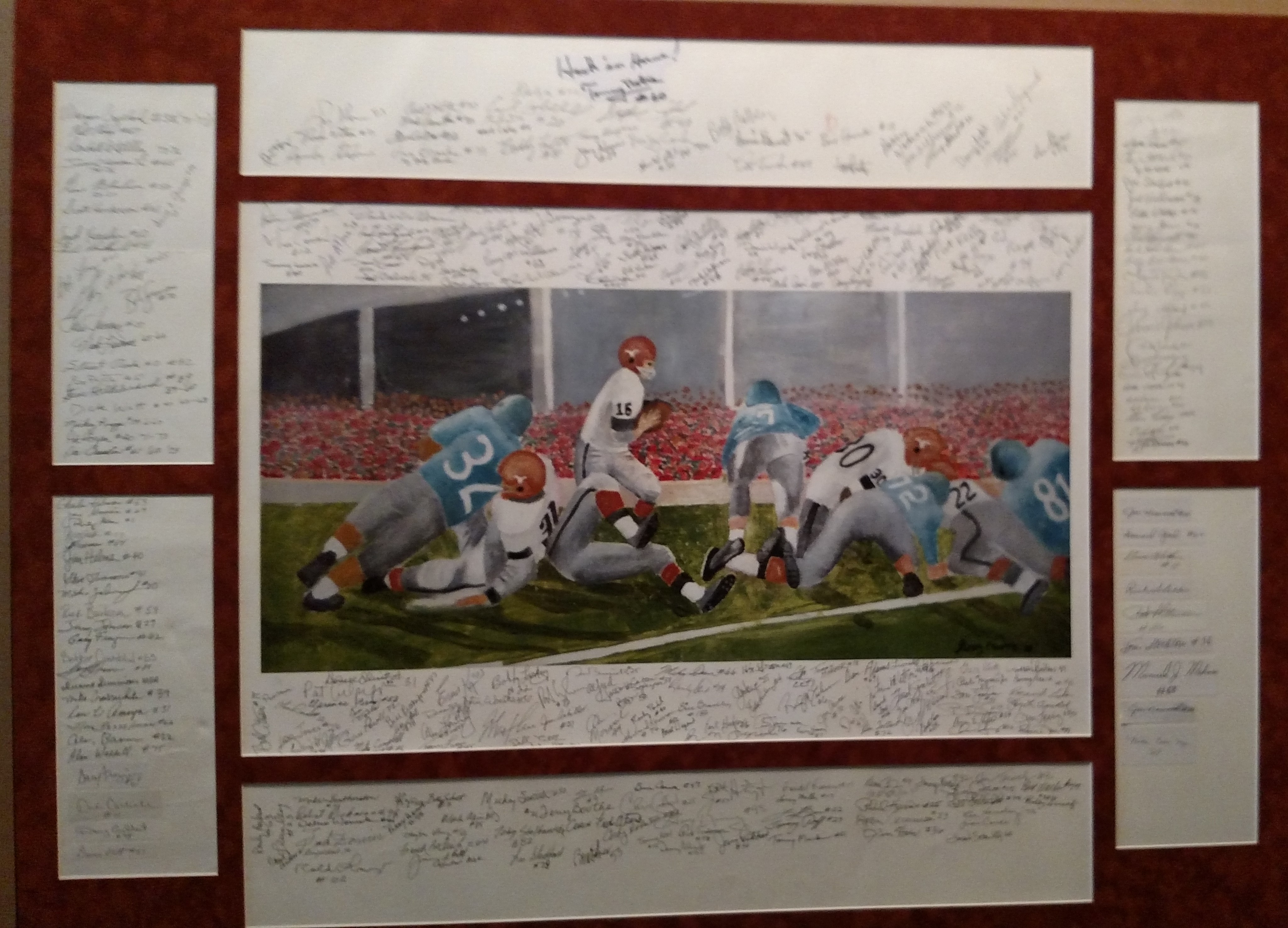 A potentially monumental Chronic Traumatic Encephalopathy-related lawsuit — Ploetz vs. NCAA — is scheduled to go to trial on June 11 in Dallas.
I'm connected to the CTE case in several ways, including because the NCAA subpoenaed me and asked for materials pertaining to my research for my 2002 book, Horns, Hogs, and Nixon Coming, about the landmark 1969 Texas vs. Arkansas football game and the previously undisclosed or underplayed events going on around it in a tumultuous time on campuses around the country. It could affect NCAA football as we know it, including at Colorado, Colorado State, Air Force, Northern Colorado … and more.
Greg Ploetz, whose widow, Deb, is the plaintiff in the lawsuit, was a starting defensive tackle on the '69 Longhorns. As I sought out the starters on both teams and interviewed most of them, either in person on several research trips, or on the phone, I spoke with Greg on September 15, 2001.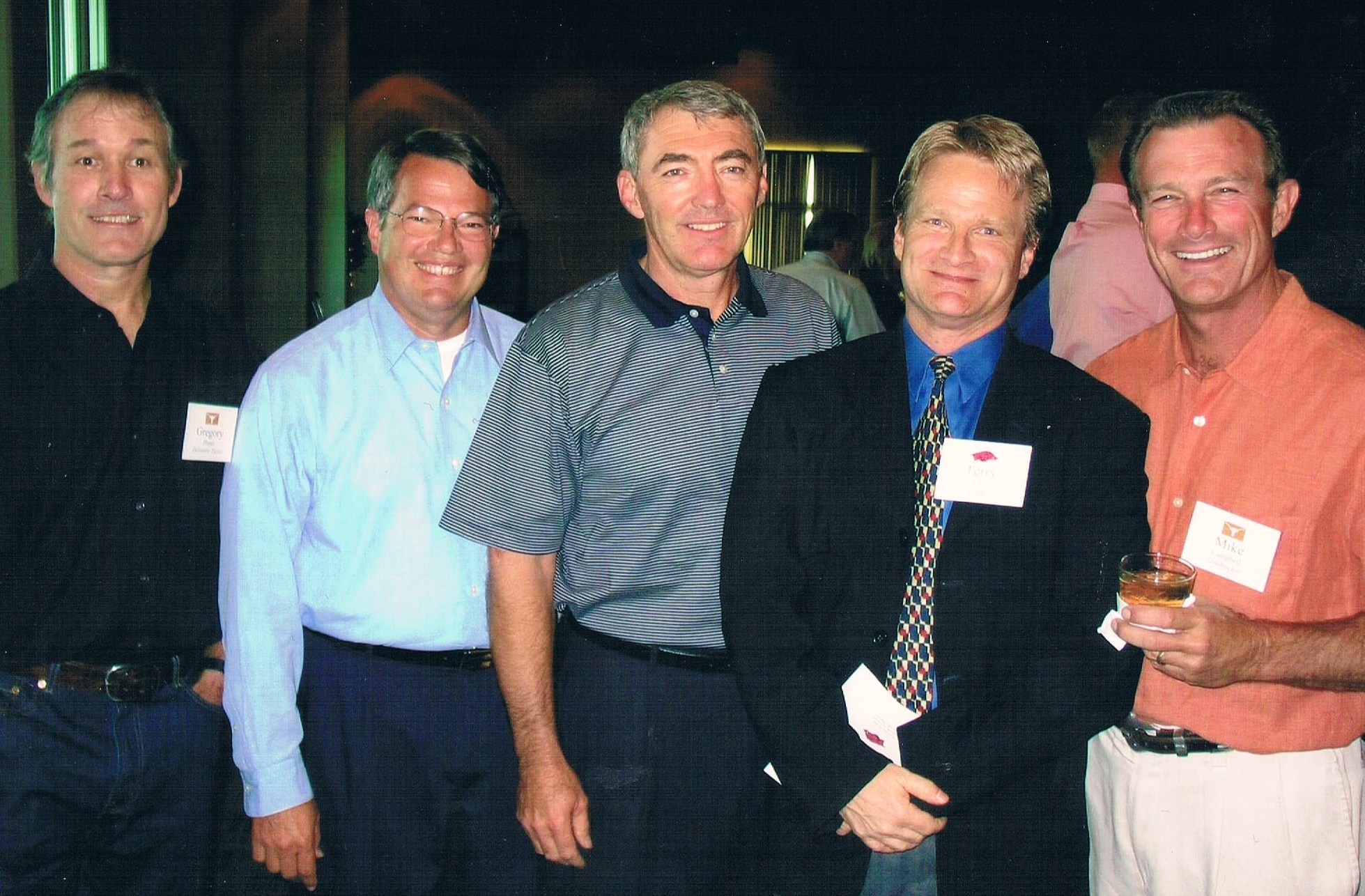 Greg and Deb later attended the joint reunion of the 1969 Texas and Arkansas teams in Fayetteville in 2004, and as a neutral who had written the book that helped them appreciate even more their common place in college football lore, I was the keynote speaker. Then the microphone was passed around for impromptu remembrances from the players. As you can see, I was in pictures with both Greg and Deb. (Check out Greg. He looks like a punter. Yes, he played defensive tackle. It was a different time.)
A few years later, Greg was diagnosed with frontal brain lobe damage and mixed dementia.
He died in 2015.
In my journalist role, I chronicled Greg's struggles.
In January of 2014, as Greg deteriorated, he looked at wife and said: "Deb, please help me. I don't want to be like this." She took him to Colorado, where Greg had lived as a kid. The goal was to be able to use marijuana products to ease his suffering.
"In 30 to 40 minutes, Greg is calm," Deb told me when I visited her and Greg at the memory care assisted living facility in the Denver area. "I'm not trying to get Greg high. I'm trying to give him peace of mind. He's almost off all other medications. He's allowing other people to shower him. He's saying full sentences this week. He looked at me the other day and said, 'You look nice.' "
Deb and Greg soon after left Colorado because of red tape tied to the use of marijuana-based products in regulated facilities. Greg was an artist and the painting above was one of his later-life works, after his problems had started, and his former teammates gathered signatures of ex-Longhorns who had played for iconic coach Darrell Royal on strips and put them around the painting before auctioning it for Alzheimer's research.
After Greg died, his brain was donated to the Concussion Legacy Foundation at Boston University, and he was found to have had Stage 4 CTE.
Deb told me she wanted to influence adults to keep their children out of football, even noting that when she drove by kids playing the sport, she wanted to pull over, get out of the car and lecture both the players and the parents.
"I wanted so bad to go tell them, 'Do not let your son play football,' " Deb told me. "It's sad. It's a wonderful sport, but if you lived through this, what we've lived through, you wouldn't want it for your grandchild. We have a new grand-baby — he's 16 months — and I hope to God he doesn't play football."
In advance of the CTE diagnosis, she told me: "I've never been a litigious person. I've never believed in that. Greg chose to play football. He loved football. He would tell you his best years were with his brothers in football. He wouldn't take that back."
But she changed her mind.
"After watching Greg's last years of decline, I can say with all confidence, he would not choose to play football if he knew he was going to suffer and die like he did," Deb told me after the lawsuit was filed. "He did not die from any other physical malady like a stroke, pneumonia, heart attack, he died from CTE. He literally lost his mind and his life."
Deb went to Washington in 2016 to help lobby Congress for the "Save Your Brain" movement, and she said a congressman told her "the best way to get anything done is through a lawsuit, unfortunately."
I'be gotten to know Deb over the years in writing about Greg, and I know she genuinely is trying to additionally bring to light what she believes to be the perils of the game and discourage young people from playing it.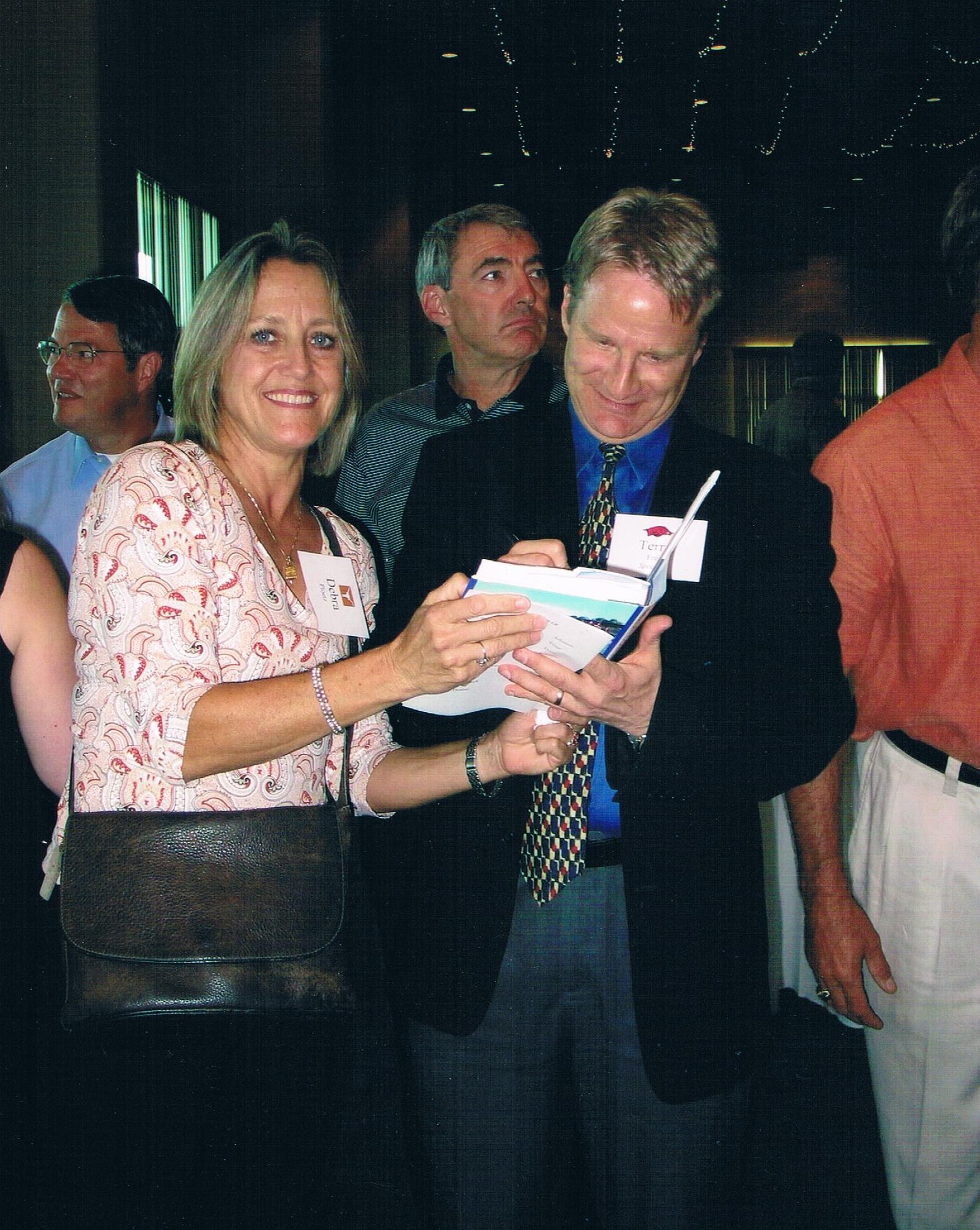 The lawsuit, filed in January 2017, charges the NCAA with a "failure to take effective action" to protect the former defensive tackle "from the long-term effects of concussions and subconcussive blows to the head" he suffered while he played for the Longhorns in 1968, 1969 and 1971.
It says the NCAA "failed to educate its football-playing athletes, like Gregory Ploetz, on the long-term, life-altering risks and consequences of head trauma in football." And the suit charges the NCAA "failed to address and/or correct the coaching of tackling or playing methodologies that cause head injuries" and didn't educate coaches, trainers and schools about concussion symptoms. And it argues that the NCAA "failed to implement systemwide 'return to play' guidelines."
NCAA attorneys sought the tape of my 2001 interview with Greg, and after some soul-searching and legal checking, I turned over a copy. I was operating as an author, not a newspaper journalist able to cite a shield law, and after listening to the tape, I realized I had used most of the material in the book — and that's on the record, anyway. Plus, Greg's remembrances in my mind seem to be more retroactively pertinent to the plaintiff's case than the NCAA's, but I could be wrong. The many UT players I interviewed for the book also talked about the standards of the time, and this is not dismissal: The fact is, it was just different. The lawsuit involves retroactively applying the standards of today, involving heightened vigilance, to the past, and that's always a slippery slope. In short: You got your bell rung. If you were able to, you went back in. There were no concussion protocols except informal assessments. The players thought that way, too. I've even dealt with that mentality in my long-time coverage of the National Hockey League, before the adoption of more vigilant standards.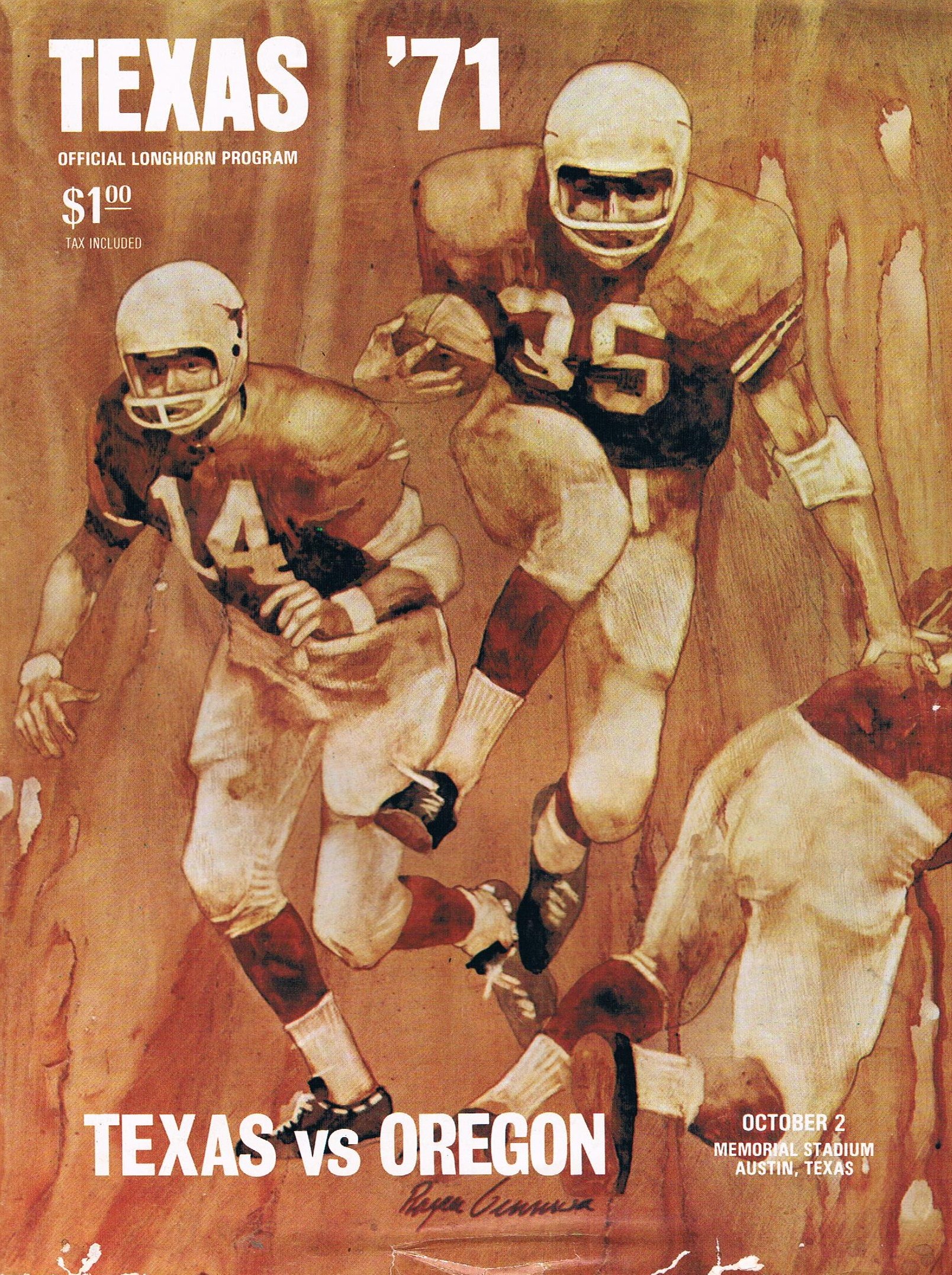 The second part: My father, Jerry Frei, whose college football career at Wisconsin ended in his 1947 senior season because of repeated concussions (the newspaper story said he had headaches because of sinus infections), was the head coach at Oregon during the era involved in the lawsuit. He had the headaches dating back to at least his sophomore year, but he hadn't bothered to mention them to military physicians and flew 67 missions as a P-38 fighter pilot during the four years between his sophomore and junior seasons. Greg, also the son of a decorated World War II pilot, played for the Longhorns against the Ducks in 1971 in Austin.
Tom Graham, the co-captain and spiritual leader of that 1971 Oregon team, died a year ago of brain cancer. Later, it was determined that he was afflicted with CTE, too. Here's my tribute to Tom, a great man. He went on to have a long career in the NFL with the Broncos, Chiefs, Chargers and Bills, and his son, Daniel, was a star at Thomas Jefferson High, CU and at several stops in the NFL, including Denver.
Two years ago, before the Ploetz suit was filed, news of a different CTE-related lawsuit filed by an unquestionably ill former Oregon offensive lineman made headlines in the state. The suit, against the NCAA and the Pac-12 Conference, claimed the Oregon coaches were irresponsible in pushing players with concussions back on the field. The years mentioned in the suit — 1971-73 — led careless members of the Oregon media to say the player in question had played for my father and Dick Enright, the assistant who succeeded him as head coach when he left for the Broncos in 1972. The stories said the player blocked for Dan Fouts. The only problem was the players of my father's era had no idea who this guy was. And they also pointed out that my father was enlightened on the concussion issue, leading the Eugene Register Guard's Austin Meek to set the record straight with this terrific column, headlined: "Frei had his head in the game early."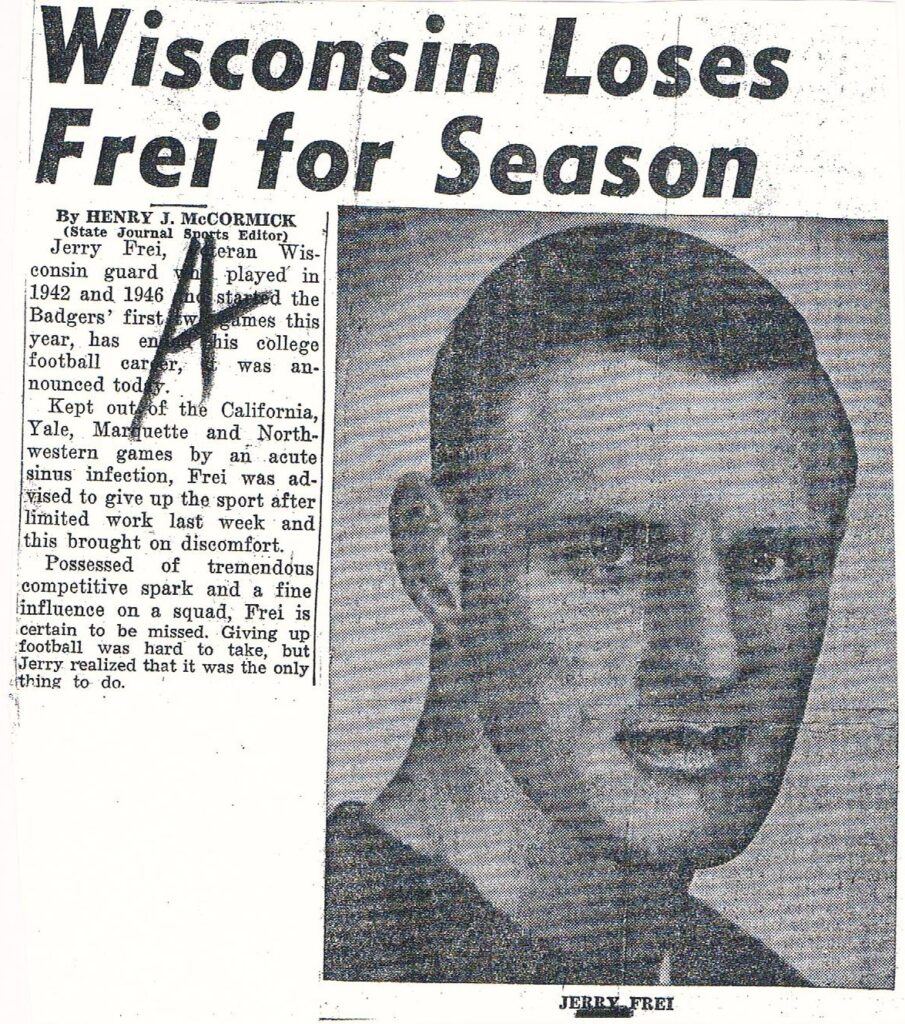 It turned out that the lineman in question had played for the Ducks in the late 1970s, after my father's tenure, and he also was clearly a marginal player. I'm still angry about the lack of concern at least one Portland writer showed about parroting an ineptly researched lawsuit and his casual attitude about correcting the mistakes.
I won't even mention the Oregon head coach at the time, because I know and respect him and believe the lawsuit was, well, shaky. If they can't even get the years right when the plaintiff played, how can it have merit? Plus, I will have a hard time going along with any attempts to demonize coaches — any coaches — for the standards of the time, except in cases of shamefully egregious cavalier attitudes about the safety of the players.
Interestingly, the Ploetz lawsuit doesn't seem to specifically target Royal and his coaches. Royal also was very cooperative for the book, hosting me at his home, and I believe part of that was that players by then had let him know they enjoyed the interviews and I could be trusted, and he knew my father as a coaching compatriot. After the book was published, in fact, he called me. Oh, oh, I thought. He told me that he didn't know the players had feared him that much, but since everything else in the book was right, he'd accept that, too. And he congratulated me and thanked me for being fair.
While HHNC was a solid seller, received terrific reviews and remains in print after 16 years, I also know — and I think Royal and Frank Broyles did, too — that there were things I could have jumped on and blown out of proportion to make this a "controversial" book. And tnat includes attitudes about injuries.
Concussions, brain injuries and CTE are very real problems — in more sports than football, which despite precautions taken always will be a violent sport and potentially perilous to players' long term health. I'm flabbergasted at times by players' widespread denial of that. They marginally concede the possibility of injury and eventual physical problems, but there still is a more dominant worry-about-it-later attitude, a feeling of invulnerability among modern NFL players.
This case is about college football, of course, and about past, not current, players. In that light, the heightened standards of today are irrelevant. But they shouldn't be. We've learned. We're smarter. That's just the way it is, and to say that we've moved on isn't to dismiss the mistakes of the past.
Michael McCann of Sports Illustrated examines the possible impact of the case here. My belief long has been that the death of football will begin at the grassroots level, with insurance costs and liability issues threatening the survival of high school football. The costs for settling other CTE-related lawsuits possibly could indirectly affect today's NCAA game.
I'm not taking sides. To re-emphasize, I'm uneasy about the potential for opportunistic, insincere, lawyer-driven copycat cases. But I can vouch for Deb Ploetz's sincerity.
So as Ploetz vs. NCAA move forward, many might ask: Just who was Greg Ploetz, anyway?
The following is adapted from HHNC and my subsequent coverage.
* * *
Really, Longhorns defensive tackle Greg Ploetz — a behemoth at 5-foot-10 and 185 pounds — was an artist. He didn't try to hide it, either, and his teammates learned to appreciate it when he came back from his life drawing classes, with his sketches of nude women models. The boys would be waiting for him.
"Let's take a look at them!"
They grabbed his pad and flipped through.
You get to look at naked women every morning?
You get credit for this stuff?
You get her phone number?
Ploetz's father, Frederick, was awarded the Distinguished Service Cross for heroism as a P-40 Warhawk fighter pilot in the Pacific Theater during World War II and remained in the military afterward. The family spent much of Greg's childhood in Colorado Springs. There, his first football experience was in the Young America League and he was on the verge of entering Wasson High School when his father was transferred to Perrin Air Force Base in Sherman, Texas. Greg soon was a star guard and linebacker in high school in Sherman, and a visit from Darrell Royal convinced him to head to Austin.
He was leaning toward going to Oklahoma after some heavy recruiting pitches from Sooners assistant Barry Switzer, but he and guard Mike Dean ended up a Sherman-to-Austin package deal. (When Greg told me about this in 2001, he couldn't come up with Switzer's name. You know, the guy who ran the Cowboys for a time? Barry Switzer? Yeah, Barry Switzer. He joked that he was beginning to have a difficult time coming up with names.)
Angry when he was listed as the fifth-team defensive end on the freshman team depth chart during the no-pads workouts, Ploetz had passion to burn when the Longhorn freshmen players finally put on pads.
"I thought, 'God, I'm going to have to kill somebody,'" Ploetz told me. "Sure enough, there's a tackling drill called 'eye-opener,' when they set four bags on the ground in a line. The [ballcarrier] can run in the first hole or the second hole or the third hole, but if he fakes into one hole, he has to run into the next hole. I think this kid's name was Bobby White, he never played much for Texas, but he got the ball and I just tried to kill him. They picked him up and I got up and somebody asked me, 'Now what's your name again?' The next day, my little ring is hung at starting linebacker."
During the infamously difficult 1968 spring practices, when Royal was trying to test his players after a substandard '67 season, Ploetz also had the "good" fortune to get a reprieve because of an injury. He got caught in a pile and got up hobbling.
"I think I hurt my ankle," he told assistant coach Pat Patterson. In fact, it was broken.
"All right," Patterson said, "go in and dip it in something and get back out there."
Ploetz didn't come back out to practice the rest of the afternoon. The next day, he pointed to the cast and told Patterson, "I dipped it in plaster."
In the art department, Ploetz looked as out of place as a Haight-Ashbury refugee on Jester Center's football floors. "I was pretty sympathetic with the antiwar movement, but I was required to wear my hair short and I never participated in any rallies or walks," Ploetz said. "I had lots of friends who did in the art department. It was kind of a joke over there. I only weighed about 205, but I was pretty hulked up. With short hair, I'd go into a painting class
and people would look and say, 'Who's that?'"
After practice sometimes, Ploetz would head back over to the art department to paint, which was his homework and release. It was as crowded as football practice. "Your class was just a staging zone for painting," Ploetz said. "Typically, I'd leave [the canvases] on the floor to dry and then in the morning, when I got up, I'd run over there and roll them up and put them in the rack. One time I forgot a painting on the floor. Mr. Spruce, a teacher I had, came in and said, 'What the hell's this?' He started to grab it, and the kids said, 'Do you know whose that is? That big guy with short hair!' And he said, 'Oh really?' And he put it to the side very carefully."
During the 1969 season, Ploetz suffered a cracked ankle against Oklahoma. He missed one game and wasn't expected to play in the next one, either, against SMU on November 1. But Leo Brooks, the star defensive tackle, went out with a season-ending knee injury, and in the shuffling, Ploetz soon went back in. "On the film, during a pass play, you could see me
hopping on one leg," Ploetz said.
He kept playing. "They kind of said, 'Well, you played on it, how's it feel?' It was kind of sore, but I played," he said,
So in the Longhorns' thrilling 15-14 win over the Razorbacks, with Richard Nixon and George Bush in the stands and Rhodes Scholar Bill Clinton listening to the play-by-play on a short-wave radio in London, Greg Ploetz had a cracked bone in his ankle.
Ploetz decided not to play in 1970—much to the chagrin of the coaching staff. He married a girl from back home in Sherman and managed an apartment complex as he continued school and awaited the birth of the couple's child. "The baby was real premature and had to stay in the hospital," Ploetz said. "They didn't know if he was going to make it, so I called
Fred Bomar."
Father Fred Bomar quickly came to the hospital to baptize the baby, Chris.
Freddie Steinmark, the Longhorns' defensive back from Wheat Ridge High in the Denver area whose cancer-ridden leg was amputated a week after playing against Arkansas, came with the priest and was Chris's godfather in the baptism ceremony.
Chris survived; the doctors were shocked.
Ploetz still can't talk about Chris, his baptism, and his godfather without choking up.
(Freddie Steinmark, whose courageous struggle drew national attention, died in 1971. After my father joined the Broncos' staff, I also attended Wheat Ridge, several years behind him, and succeeded Freddie as a captain of the Farmers' baseball team. Freddie was a legend in the halls of my high school, and it was a major reason for my fascination with the '69 Texas-Arkansas game.)
Ploetz was named the outstanding artist in UT's class of '71 and also earned a master's of fine arts. A movie buff—he credits those free movie tickets the Longhorns received—he managed a movie theater, and taught art at several schools, including the University of Arkansas–Little Rock. He then bought, refurbished, and resold homes, but decided he missed teaching. He has been on the faculty of Trimble Tech High School in Fort Worth since 1995.
Chris Fry, Greg's son and Freddie Steinmark's godson, is a train supervisor in Omaha.
Greg remarried in 1978, and his wife, Deb, is an Arkansas graduate who attended the Big Shootout as a student.
Greg and Deb had two children: Beau and Erin. Greg took Beau fishing and Erin on butterfly expeditions. They lived on an 11-acre spread in Weatherford, Texas, where Greg had done much of building of the house himself, and they were happy.
Then Greg started having problems.
In 2005, when Greg was teaching at Trimble Tech in Fort Worth, he couldn't learn to work his new cellphone. He couldn't remember what the green button was for. Greg also was struggling to adapt to new computer technology and handle television remotes.
Deb initially wrote it off as an artist's quirkiness, or the common tendency to be brilliant at some things, inept at others.In early 2009, Greg couldn't fathom the school's computer system to enter grades. The principal told Greg she was placing him on probation. Deb, by now aware something serious was wrong, said no, Greg was taking a medical leave.
Deb said a Fort Worth neurologist told her that Greg's memory issues probably were related to head injuries from football. That was the first of several doctors' similar diagnoses. Greg still painted and was able to ride bikes with Deb. By March 2013, Greg was slipping and they had sold their Weatherford spread. Greg spent four days in a psychiatric ward as doctors determined what medications he should be taking.
Deb tried placing him in several facilities, but Greg couldn't handle the one she liked best because of the noises around him. Eventually she made the call to bring him to Colorado, but the fogginess over whether his treatment with marijuana products was permissible sent them back to Texas. His deterioration continued.
"It breaks my heart," Deb told me. "It was totally helping him. If he was with me, I'd give it to him four times a day. I fully believe it's all he would need to get through the day."
When I spoke with Deb after their return to the southwest, she said she already was considering moving Greg again.
"They have him drugged so heavily, he's drooling. It's awful," she said.
She said Greg shuffled when he walked, resisted help — even from Deb — in the most basic of physical tasks and hung his head.
"I'm with him four to five hours a day, just because I want to be there to make him feel safe," Deb said. "He has a lot of fear. He's afraid. He's very protective of himself and of me."
Deb removed Greg from that facility and took him with her to Little Rock.
For a lot of reasons, many of them unpleasant, monitoring Greg was a monumental, around-the-clock job.
In his final days, former Longhorn fullback Bobby Callison visited Greg.
Ploetz fell, as he often did as he deteriorated.
Helping Ploetz up, Callison said softly, "Buddy, there's going to be a time you're not going to want to get up."
"It was like Bobby, his best friend, gave him permission to die," Deb told me. "I guess all great athletes are fighters. He did not want to give up."
He died three weeks later.
* * *
Terry Frei of the Greeley Tribune writes two commentaries a week for Mile High Sports. He has been named a state's sports writer of the year seven times, four times in Colorado (including for 2016) and three times in Oregon. He's the author of seven books, including "Third Down and a War to Go," about the national champion 1942 Wisconsin Badgers and their wartime heroics, and "'77: Denver, the Broncos, and a Coming of Age." His web site is terryfrei.com and his additional "On the Colorado Scene" commentaries are at terryfrei/oncolorado.
E-mail: terry@terryfrei.com
Twitter: @tfrei
Terry Frei's MHS Commentary/Story Archive:
Don't let Nuggets off the hook of expectations
A great season? Sure, if it's a forecast of things to come
It ain't over 'til … it's over
Avs' best shot is Bernier stealing a game … or three
Nashville hitting all the right notes as NHL city
The man from Saskatchewan has paid his dues … a lot of dues
Remember when making the playoffs wasn't so monumental?
The obligations of stardom for MacKinnon, line
An Avs' playoff berth can be flashback
Here come the Knights … now and maybe in postseason
Nathan MacKinnon's MVP talk becoming more legit
Amid March Madness, how the NBA should emulate the NHL
Nathan, good intentions, bad idea
Fourteen years ago, Steve Moore played his final game for the Avalanche
Avalanche going into final month in control of own destiny
Is Duncan Siemens becoming more than an "organization" guy?
At least here, NHL trading deadline was much ado about very, very little
Avalanche standing pat wouldn't be irresponsible inertia
If the NHL stays away again, USA Hockey should be all-collegians
Just your average Harvard guy from West Vancouver
As MacKinnon skates closer to return, Avs have stayed in the playoff hunt
Bowman Brothers Reunion with the Colorado Eagles in final season as Avs' ECHL affiliate
The longer Bernier can hold the net, the better off the Avalanche will be
Magazine: Interview with DU local product — and Olympian — Troy Terry
Magazine: Nordic Combined ace Bryan Fletcher beat childhood cancer
Magazine: Arvada-raised Olympic snowboarder Chris Corning
Magazine: Mikaela Shiffrin can add Olympic glory in amazing season
Magazine: Lindsey Vonn shooting to stay healthy, go for gold
Magazine: Lakewood's Nicole Hensley is USA's backup goalie
Magazine: Gateway High Olympian Stephen Garbett
Don't let MacKinnon injury knock the Avalanche off course
NHL, Avs heading back to work, not Olympics
A Tale of Avalanche All-Stars, past and present
All Aboard! Avalanche bandwagon gains momentum
A kid in Long Beach and his first stick
Jonathan Bernier on taking over the Avalanche net
Nathan MacKinnon doesn't mind not being recognized … at the mall
Glory Days … Now get Springsteen out of your head
Sakic/Bednar and Elway/Joseph: Eerie parallels
Carl Soderberg goes from albatross to asset
Magazine: Jim Montgomery is Mile High Sports' college coach of the year
Magazine: Will Butcher is Mile High Sports' college athlete of the year
Varlamov playing better than the numbers might indicate
At the Christmas break, Avalanche is last — but still a turnaround story
Tyson Barrie isn't pictured, but he's in the Avalanche picture
On this (unnamed) line, Gabe Landeskog amps up the scoring
Avalanche rushing game involves Girard and Jost
And the Nathan MacKinnon answer is…
Noted hockey pundit Yogi Berra would call this deja vu all over again
MacKinnon and O'Reilly meet again
Gabe Landeskog has to be smarter, and he's the first to say so
For Avalanche, winning back fans isn't easy, either
Horseman/defenseman Erik Johnson up to playing marathon minutes
Ring of Famer Red Miller, Part One: Coal Miner's son
Ring of Famer Red Miller, Part Two: About those %$#@ Raiders…
This time a year ago, the wheels fell off
Post-trade: On Girard and Kamenev
Stockholm is a Homecoming for Landeskog
Why Can't MacKinnon do that every night?
At the Pepsi Center, you'll think you're in Chicago
Is Zadorov ready to be – and stay – a top-pairing "D"?
For this is to work, Bernier has to be better
This isn't just Jared Bednar's second season. It's his second chance.
Sven (The Reindeer) Andrighetto speedily skating into Avalanche forefront
With Avalanche off to another 3-1 start, leadership is a "core" issue
Magazine: Colorado Eagles' class act in Northern Colorado

Magazine: Avalanche convinced a turnaround is possible