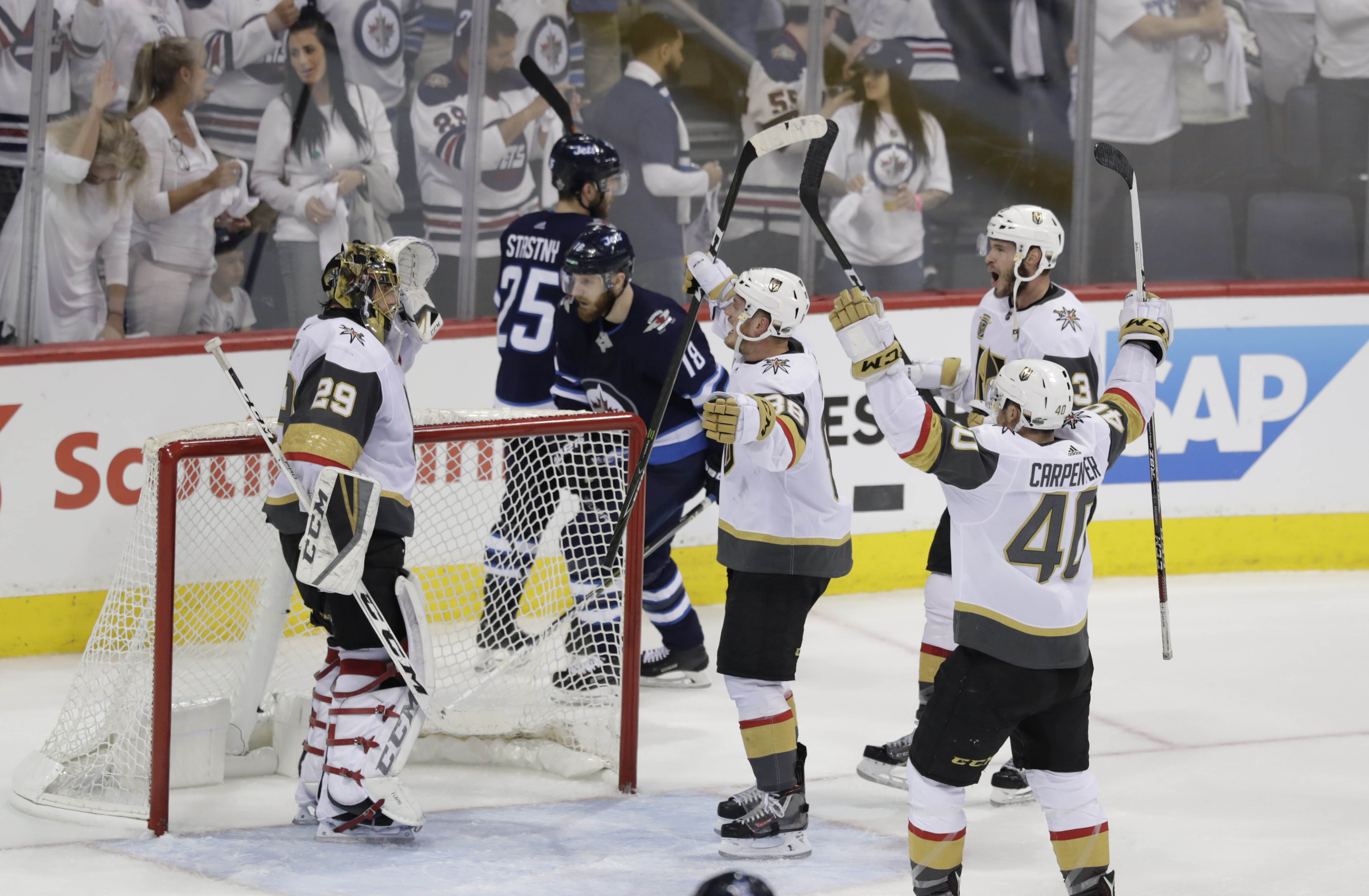 An expansion team — the Vegas Golden Knights — has made the Stanley Cup Finals against Alex Ovechkin and the Washington Capitals.
I tried to say that matter-of-factly.
It's mind-boggling. Don't let anyone tell you that it isn't. Or if they do, tell them to knock it off.
What's next? Elvis entering the building to sing the national anthem and confessing that he had been hiding out in the Graceland basement for the past 41 years? And that he's always been a Marc-Andre Fleury fan?
The only thing aggravating about this has been the attempts of those conditioned to be contrarian, contrive controversy and concoct conspiracy theories to portray this as some sort of embarrassing negative for the NHL. And it has been hard to hear those who in bursts of selective memory try to tell us they saw this coming, perhaps citing tortuous, 20-20 hindsight about the conditions of the first expansion draft in the league's salary cap era.
Spare us.
OK, maybe it should be embarrassing to the other teams.
Case in point: How does William Karlsson go from scoring 15 goals in two seasons with the Blue Jackets to pouring in 43 in the Golden Knights' inaugural season?
Maybe it's because once the NHL decides what players are, and plugs them into niches, it can be difficult to break out … short of a completely fresh start.
Look at how enthusiastically trumpeted the Avalanche's improvement from 48 to 95 points as if it was darned near worthy of a parade.
How do you explain a team with pockets of elite talent, the Dallas Stars, again not even making the playoffs?
And here are the Golden Knights in the Finals after an amazing regular season that shows this is no fluke, not just a product of a hot goaltender stealing not just games, bit also rounds. When Patrick Roy did that for the Canadiens in 1993, nobody discounted the Habs' worthiness. Fleury has been terrific, but not to the point that this will go down as a Cup solely stolen by a goaltender with his teammates as gritty accomplices.
Fact is, I'm like almost everybody else.
When the Golden Knights got off to a good start, I thought it was a nice little story. Amid the excitement and the glitz and the glamor of a major-league sports franchise landing in Las Vegas, the Golden Knights fooled those of us expecting them to struggle from the start. Fleury's presence couldn't fend off the inevitabilities.
Then, with rare exceptions, the Knights just kept on going. Again, the most amazing thing about this isn't that an expansion team has made the Finals, it's that an expansion team didn't rely on playoff magic to make the Finals. This isn't the eighth-seeded Kings awakening in the postseason. This is one of the best teams in the league kicking it up a notch in the postseason.
The wall they were supposed to hit never got constructed. Or it kept moving back.
And now they're in the Finals.
They're in the Finals against a team seeking to erase the years of postseason disappointment, trying to give Ovechkin the opportunity to finally raise the Cup. This is not Ray Bourque territory, but similar enough so that even those watching without a rooting interest could be gratified to see it happen.
Enjoy.
* * *
Terry Frei of the Greeley Tribune writes two commentaries a week for Mile High Sports. He has been named a state's sports writer of the year seven times, four times in Colorado (including for 2015 and 2016) and three times in Oregon. He's the author of seven books, including "Horns, Hogs and Nixon Coming," and "'77: Denver, the Broncos, and a Coming of Age." His web site is terryfrei.com. His additional "On the Colorado Scene" commentaries are here and his Greeley Tribune columns and major features can be accessed here.   
E-mail: [email protected]
Terry Frei's MHS Commentary/Story Archive:
It wasn't a question of if Jim Montgomery was leaving …
Just don't drink the vile mint juleps
A Longhorn, a subpoena, a cassette, a CTE lawsuit against the NCAA
Don't let Nuggets off the hook of expectations
A great season? Sure, if it's a forecast of things to come
It ain't over 'til … it's over
Avs' best shot is Bernier stealing a game … or three
Nashville hitting all the right notes as NHL city
The man from Saskatchewan has paid his dues … a lot of dues 
Remember when making the playoffs wasn't so monumental?
The obligations of stardom for MacKinnon, line
An Avs' playoff berth can be flashback 
Here come the Knights … now and maybe in postseason
Nathan MacKinnon's MVP talk becoming more legit
Amid March Madness, how the NBA should emulate the NHL 
Nathan, good intentions, bad idea 
Fourteen years ago, Steve Moore played his final game for the Avalanche
Avalanche going into final month in control of own destiny
Is Duncan Siemens becoming more than an "organization" guy?
At least here, NHL trading deadline was much ado about very, very little
Avalanche standing pat wouldn't be irresponsible inertia
If the NHL stays away again, USA Hockey should be all-collegians
Just your average Harvard guy from West Vancouver
As MacKinnon skates closer to return, Avs have stayed in the playoff hunt
Bowman Brothers Reunion with the Colorado Eagles in final season as Avs' ECHL affiliate
The longer Bernier can hold the net, the better off the Avalanche will be
Magazine: Interview with DU local product — and Olympian — Troy Terry  
Magazine: Nordic Combined ace Bryan Fletcher beat childhood cancer 
Magazine: Arvada-raised Olympic snowboarder Chris Corning  
Magazine: Mikaela Shiffrin can add Olympic glory in amazing season
Magazine: Lindsey Vonn shooting to stay healthy, go for gold 
Magazine: Lakewood's Nicole Hensley is USA's backup goalie
Magazine: Gateway High Olympian Stephen Garbett
Don't let MacKinnon injury knock the Avalanche off course
NHL, Avs heading back to work, not Olympics
A Tale of Avalanche All-Stars, past and present
All Aboard! Avalanche bandwagon gains momentum
A kid in Long Beach and his first stick
Jonathan Bernier on taking over the Avalanche net
Nathan MacKinnon doesn't mind not being recognized … at the mall
Glory Days … Now get Springsteen out of your head
Sakic/Bednar and Elway/Joseph: Eerie parallels
Carl Soderberg goes from albatross to asset
Magazine: Jim Montgomery is Mile High Sports' college coach of the year
Magazine: Will Butcher is Mile High Sports' college athlete of the year 
Varlamov playing better than the numbers might indicate 
At the Christmas break, Avalanche is last — but still a turnaround story  
Tyson Barrie isn't pictured, but he's in the Avalanche picture 
On this (unnamed) line, Gabe Landeskog amps up the scoring
Avalanche rushing game involves Girard and Jost
And the Nathan MacKinnon answer is… 
Noted hockey pundit Yogi Berra would call this deja vu all over again
MacKinnon and O'Reilly meet again
Gabe Landeskog has to be smarter, and he's the first to say so
For Avalanche, winning back fans isn't easy, either
Horseman/defenseman Erik Johnson up to playing marathon minutes
Ring of Famer Red Miller, Part One: Coal Miner's son
Ring of Famer Red Miller, Part Two: About those %$#@ Raiders… 
This time a year ago, the wheels fell off 
Post-trade: On Girard and Kamenev
Stockholm is a Homecoming for Landeskog
Why Can't MacKinnon do that every night?
At the Pepsi Center, you'll think you're in Chicago
Is Zadorov ready to be – and stay – a top-pairing "D"?
For this is to work, Bernier has to be better
This isn't just Jared Bednar's second season. It's his second chance.
Sven (The Reindeer) Andrighetto speedily skating into Avalanche forefront
With Avalanche off to another 3-1 start, leadership is a "core" issue
Magazine: Colorado Eagles' class act in Northern Colorado
Magazine: Avalanche convinced a turnaround is possible