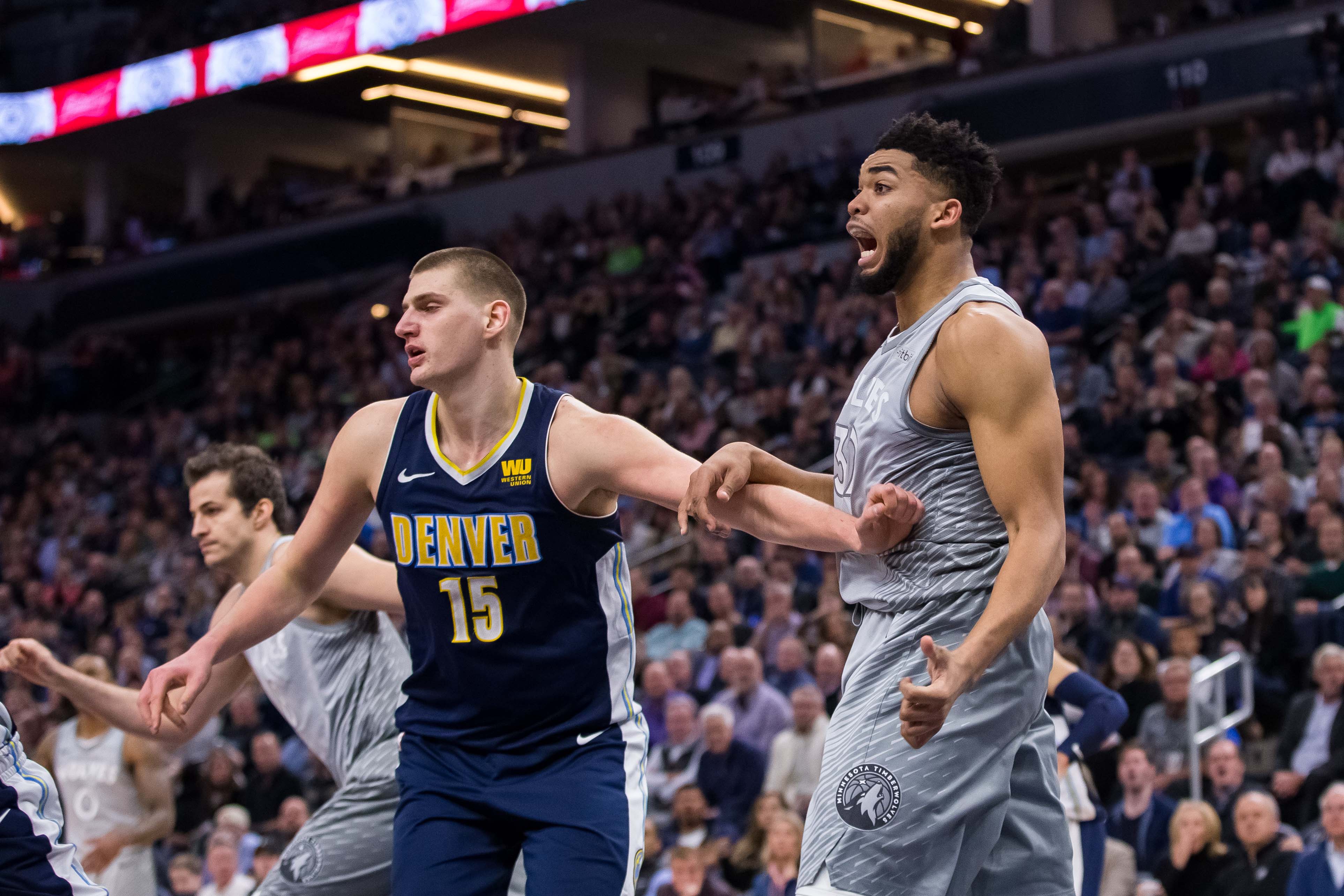 Funny how perception works.
Both the Nuggets and Avalanche went into the final game of the 2017-18 regular-season knowing that a win in what amounted to a play-in game would get them a playoff berth as the No. 8 Western Conference seed.
A loss would send them into the off-season.
At home, the Avalanche beat St. Louis and advanced to the first-round series against Nashville. The Blues were done.
On the road, the Nuggets lost to Minnesota in overtime, with the unforgettable summarizing image of 6-foot-10 Nikola Jokic being forced to the corner rather than fighting to move in the general direction of the hoop in the final seconds of regulation.
The Timberwolves got the No. 8 seed and went on to face the Houston Rockets in the first round. (They're down 3-1 in the series heading into Wednesday's Game 5.)
So the Stan Kroenke empire at least had one team in the NBA or NHL playoffs, for the first time since 2014. The Avalanche getting the series to six games also maxed-out the possible home dates for a one-round-and-done team without the home-ice advantage.
It seems as if the Predators-Avalanche handshake line just ended.
Rather, though, it's been a few days, and the reasonable consensus is that — stop me if you've heard this before — that the Avalanche had a terrific season, falling just one point short of doubling its total from the horror show that was 2016-17. They have no shot of pulling off duplicating that feat, since it would require piling up 189 points — a mathematical impossibility.
The bar is set for next season for the Avalanche.
Playoffs or bust.
Go deeper, perhaps to the Western Conference finals, or be considered disappointing.
Continue the progress.
No regression.
Reward the cadre of loyal fans who stuck with this franchise through thick and thin, and retain and add to allure for those being brought back or diving in for the first time.
To their credit, that's how the Avalanche  players are thinking, too. The league's youngest team got a taste of the playoffs in the franchise's first appearance since Nathan MacKinnon's rookie season, and MacKinnon and others addressed the point of heightened expectations — accepting that they are inevitable and even welcome.
Cut through all the small-print disclaimers about the Nuggets' season — mainly the inexplicable losses to horrible teams. They ended up 46-36, similar to and even arguably better than the Avalanche's 43-30-9 record. (An overtime or shootout loss is worth one point in the standings and is nudged to a third column, but it's still a loss.)
As maddening as the Nuggets' mercurial play was, they staged a stirring stretch run — one that was far better than the Avalanche's closing weeks — and came up only seconds short of essentially duplicating the hockey team's accomplishment. They had won six in a row going into that night at Minneapolis. The younger Jokic is at the same sort of crossroads MacKinnon faced before responding with a validating season. The challenge is to play like a star every game-night — and not only often enough to tantalize. Jamal Murray is the real deal and Gary Harris, when used, is a difference-maker, too.
There's hope.
So in a way, I don't think the Nuggets have gotten enough credit for getting above .500 for the first time in five seasons and coming so close to making the post-season. Absolutely, much of the reaction to the Avalanche season is based on the magnitude of the recovery. The Nuggets didn't have as far to climb.
OK, I've handed out the orange slices.
The point is, the Avalanche and Nuggets should face similar expectations next season.
Don't just make the playoffs, advance in them.
Otherwise, the Nuggets essentially will be rewarded for fouling up in the final seconds at Minnesota.
* * *
Terry Frei of the Greeley Tribune writes two commentaries a week for Mile High Sports. He has been named a state's sports writer of the year seven times, four times in Colorado (including for 2016) and three times in Oregon. He's the author of seven books, including "Third Down and a War to Go," about the national champion 1942 Wisconsin Badgers and their wartime heroics, and "'77: Denver, the Broncos, and a Coming of Age." His web site is terryfrei.com and his additional "On the Colorado Scene" commentaries are at terryfrei/oncolorado. 
E-mail: [email protected]
Twitter: @tfrei
Terry Frei's MHS Commentary/Story Archive:
A great season? Sure, if it's a forecast of things to come
It ain't over 'til … it's over
Avs' best shot is Bernier stealing a game … or three
Nashville hitting all the right notes as NHL city
The man from Saskatchewan has paid his dues … a lot of dues 
Remember when making the playoffs wasn't so monumental?
The obligations of stardom for MacKinnon, line
An Avs' playoff berth can be flashback 
Here come the Knights … now and maybe in postseason
Nathan MacKinnon's MVP talk becoming more legit
Amid March Madness, how the NBA should emulate the NHL 
Nathan, good intentions, bad idea 
Fourteen years ago, Steve Moore played his final game for the Avalanche
Avalanche going into final month in control of own destiny
Is Duncan Siemens becoming more than an "organization" guy?
At least here, NHL trading deadline was much ado about very, very little
Avalanche standing pat wouldn't be irresponsible inertia
If the NHL stays away again, USA Hockey should be all-collegians
Just your average Harvard guy from West Vancouver
As MacKinnon skates closer to return, Avs have stayed in the playoff hunt
Bowman Brothers Reunion with the Colorado Eagles in final season as Avs' ECHL affiliate
The longer Bernier can hold the net, the better off the Avalanche will be
Magazine: Interview with DU local product — and Olympian — Troy Terry  
Magazine: Nordic Combined ace Bryan Fletcher beat childhood cancer 
Magazine: Arvada-raised Olympic snowboarder Chris Corning  
Magazine: Mikaela Shiffrin can add Olympic glory in amazing season
Magazine: Lindsey Vonn shooting to stay healthy, go for gold 
Magazine: Lakewood's Nicole Hensley is USA's backup goalie
Magazine: Gateway High Olympian Stephen Garbett
Don't let MacKinnon injury knock the Avalanche off course
NHL, Avs heading back to work, not Olympics
A Tale of Avalanche All-Stars, past and present
All Aboard! Avalanche bandwagon gains momentum
A kid in Long Beach and his first stick
Jonathan Bernier on taking over the Avalanche net
Nathan MacKinnon doesn't mind not being recognized … at the mall
Glory Days … Now get Springsteen out of your head
Sakic/Bednar and Elway/Joseph: Eerie parallels
Carl Soderberg goes from albatross to asset
Magazine: Jim Montgomery is Mile High Sports' college coach of the year
Magazine: Will Butcher is Mile High Sports' college athlete of the year 
Varlamov playing better than the numbers might indicate 
At the Christmas break, Avalanche is last — but still a turnaround story  
Tyson Barrie isn't pictured, but he's in the Avalanche picture 
On this (unnamed) line, Gabe Landeskog amps up the scoring
Avalanche rushing game involves Girard and Jost
And the Nathan MacKinnon answer is… 
Noted hockey pundit Yogi Berra would call this deja vu all over again
MacKinnon and O'Reilly meet again
Gabe Landeskog has to be smarter, and he's the first to say so
For Avalanche, winning back fans isn't easy, either
Horseman/defenseman Erik Johnson up to playing marathon minutes
Ring of Famer Red Miller, Part One: Coal Miner's son
Ring of Famer Red Miller, Part Two: About those %$#@ Raiders… 
This time a year ago, the wheels fell off 
Post-trade: On Girard and Kamenev
Stockholm is a Homecoming for Landeskog
Why Can't MacKinnon do that every night?
At the Pepsi Center, you'll think you're in Chicago
Is Zadorov ready to be – and stay – a top-pairing "D"?
For this is to work, Bernier has to be better
This isn't just Jared Bednar's second season. It's his second chance.
Sven (The Reindeer) Andrighetto speedily skating into Avalanche forefront
With Avalanche off to another 3-1 start, leadership is a "core" issue
Magazine: Colorado Eagles' class act in Northern Colorado

Magazine: Avalanche convinced a turnaround is possible