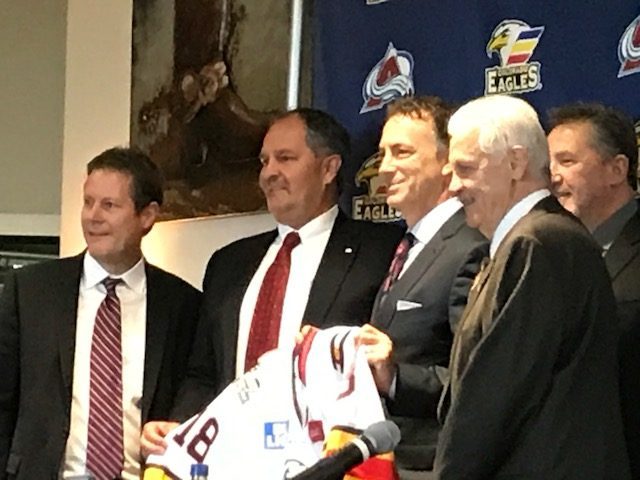 LOVELAND — Brett Clark is a former Avalanche defenseman who now works as a player development consultant for the NHL team. As such, he often is charged to check in with the Avalanche prospects, whether they already have been signed and are playing in the AHL or ECHL; or have been drafted and still are in major junior or college hockey.
It's a tough job, but somebody has to do it. Besides, Case Keenum doesn't have the time.
Clark is looking forward to next season, when the Avalanche will shift their American Hockey League affiliation from the San Antonio Rampage to the Loveland-based Colorado Eagles.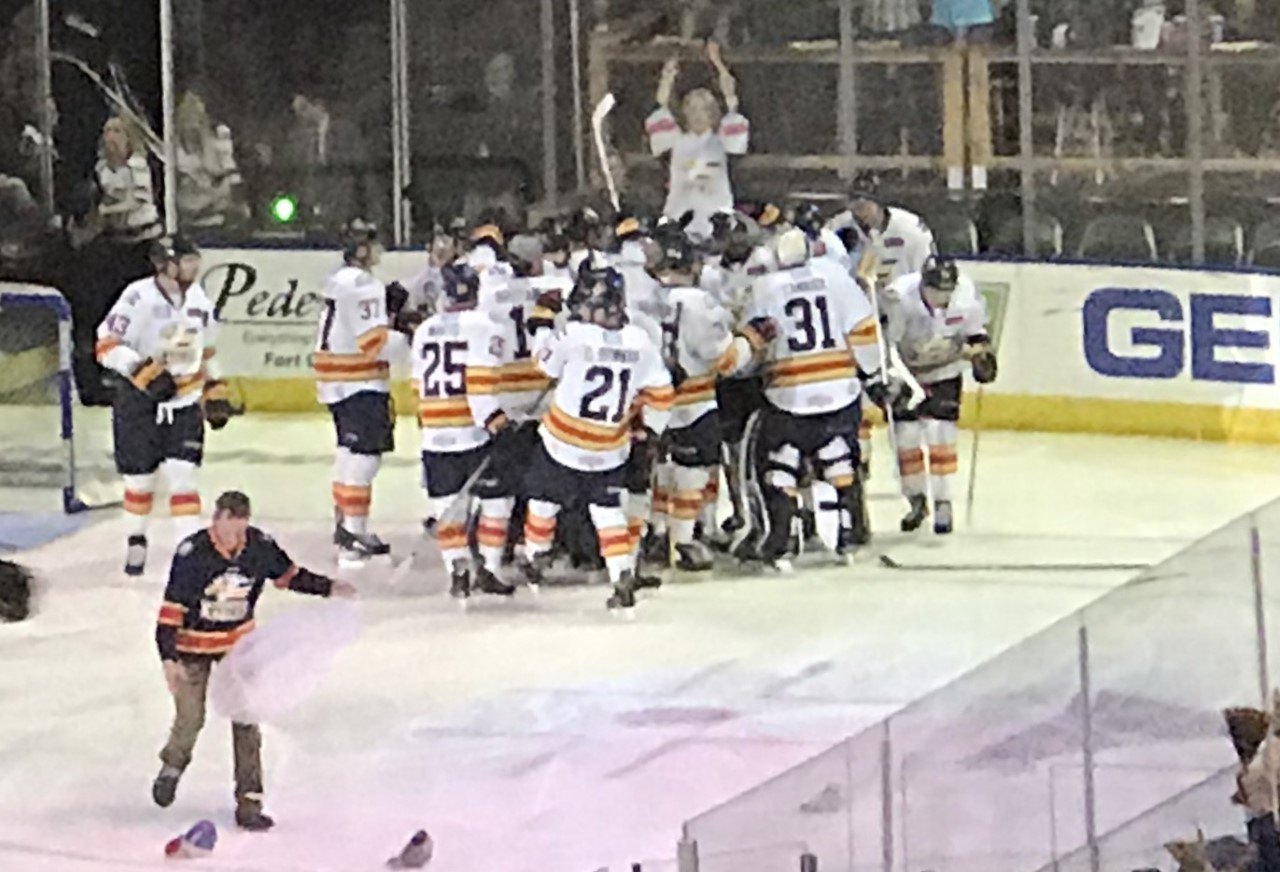 This is the second season the Eagles have been the Avalanche's second-tier minor-league affiliate, and they're seeking to close out their ECHL tenure with a second consecutive league title and hoisting of the Patrick J. Kelly Cup.
Then it all changes in 2018-19, whether Paxton Lynch is still with the Broncos by then or not. The Eagles move up.
"It's going to be a whole new scheme of things," Clark said when I ran in into him at the Budweiser Events Center at Game 1 of the ECHL's Western Conference finals recently. "You can't ask for more for us to be in the AHL, for our players to be close to Joe Sakic and the coaching staff."
This will be what amounts to to a middle ground in the NHL movement toward teams buying and operating their own AHL franchises and having them as close geographically as is practical. The most extreme examples are the AHL San Jose Barracuda playing in the same arena as the Sharks and the AHL Toronto Marlies playing in an arena within a short drive of the Air Canada Centre, home of the parent Maple Leafs.
The plan is for Martin Lind, the Eagles' majority owner from the time the Eagles hit the ice running as a Central Hockey League expansion franchise in 2003, to continue to own the franchise and for the current Eagles business side to market the AHL product.
Beyond that, there's no doubt about who's the boss. And it isn't Chad Kelly.
The Avalanche will be in charge of everything hockey.
The operation will be a cooperative venture, symbolized by the above picture I took at the October news conference at the Budweiser Events Center that confirmed the Eagles' move to the AHL. Pictured are Avalanche assistant GM Craig Billington, Lind, Avalanche GM Joe Sakic, Eagles co-founder Ralph Backstrom and Eagles president/GM Chris Stewart. Nick Stevens wasn't too far away, in Fort Collins, but had to go to class, so he couldn't attend.
That's going to be quite a departure from the successful formula that has made the Eagles a major hit as Northern Colorado's professional hockey franchise.
For the past 15 years, through the runs in the CHL (2003-11) and ECHL (2011-on), the Eagles — with Stewart in charge — mainly built the roster and signed their own players under their leagues' strict salary cap constraints (currently $12,600 a week).
Official "affiliations" with other NHL teams, and then the Avalanche, usually meant that at most a handful of the NHL team's prospects trickled down to the Eagles from AHL rosters. Even when they claim to have NHL affiliations, ECHL teams are far more like independent franchises than farm clubs. And if there's sandbagging involved, as when the Avalanche sent several players from the non-playoff-bound Rampage last season to the playoff-bound — and eventual ECHL champion — Eagles late in the season, that's just working the system. Then this season, the Avalanche took additional advantage of the Eagles, leaving the ECHL roster roughly a 50-50 mix of: a) players under contracts to the Avalanche or the Avalanche/Rampage organization; and, b) players under ECHL deals with the Eagles organization.
The ECL Eagles have to play only the first $525 a week on players supplied by the Avalanche. And that's worked well in the ECHL, since the Eagles have a 3-2 lead over Fort Wayne in the conference semifinals and can close out the series with a win at home Tuesday.
"Absolutely, we want to walk out of here with that Kelly Cup," Stewart said.
Once this run ends, though, the Eagles become the Avalanche AHL affiliate — a true farm club — and will be out of the player procurement business themselves. Even players said to be under AHL contracts with the Eagles will be Avalanche controlled.
The negative?
Just between us, the Avalanche doesn't have a great record as an AHL parent. The Rampage didn't make the playoffs in any of its three seasons as an Avalanche affiliate.
So now the Denver NHL team will face the challenge of providing Northern Colorado with a product that will be as fun to watch as the ECHL Eagles. (Note, I didn't say "better than…" That's a given. The AHL is better than the ECHL. By a mile. But I said "more fun than…")
The Avalanche's past two AHL affiliates, the Lake Erie Monsters and Rampage, have been owned and operated on the business and marketing sides by NBA ownerships and played in major-league arenas shared by those NBA teams.
But intimate crowds in big-league arenas can dampen enthusiasm.
Now, the virtually guaranteed sellouts in the 5,289 in the Budweiser Events Center are likely to produce a more electric atmosphere in an arena that, despite early speculation, will undergo some renovation — but no expansion.
"We're inheriting a fan base that's great for any hockey team." Clark said. "The way they run things here, promote and do things for the fans, it's a great fan-friendly organization. When I come to games here, it's such an electric atmosphere. It's sometimes like I feel I'm playing."
Stewart jokes that the Front Range hockey corridor — with Colorado College in Colorado Springs, the University of Denver and the Avalanche in Denver, and the Eagles in Loveland — will lead to NHL executives "hanging their hat for a week here." He added, "And then they might take their families to the mountains."
Plus, there's that familiarity factor. These are Avalanche prospects who in theory could be playing in the NHL the next night. That said, the most overrated aspect of this is how much easier it's going to be to send players and down. Really? Both the Avalanche and Eagles will play half their games on the road, meaning it's far from a sure thing that players called up or sent down will be simply making a drive to report.
But the geographic closeness can come in handy in other ways.
"You're seeing most teams trying to get their affiliations close," Clark said. "There's the emergency callups, but I think it's more that the NHL coaches can come out if there's a game (in Loveland) and we're not playing, and vice versa, the coaches from here can come down to Denver. Everybody's on the same pag, you're not going 1,000 miles away, trying to get to the game. It's a lot easier development-wise."
And an end-zone seat costs less than parking at an Avalanche game.
* * *
Terry Frei of the Greeley Tribune writes two commentaries a week for Mile High Sports. He has been named a state's sports writer of the year seven times, four times in Colorado (including for 2015 and 2016) and three times in Oregon. He's the author of seven books, including "Third Down and a War to Go," about the national champion 1942 Wisconsin Badgers and their wartime heroics, and "'77: Denver, the Broncos, and a Coming of Age." His web site is terryfrei.com. His additional "On the Colorado Scene" commentaries are here and his Greeley Tribune columns and major features can be accessed here.   
E-mail: [email protected]
Twitter: @tfrei
Terry Frei's MHS Commentary/Story Archive:
It wasn't a question of if Jim Montgomery was leaving …
Just don't drink the vile mint juleps
A Longhorn, a subpoena, a cassette, a CTE lawsuit against the NCAA
Don't let Nuggets off the hook of expectations
A great season? Sure, if it's a forecast of things to come
It ain't over 'til … it's over
Avs' best shot is Bernier stealing a game … or three
Nashville hitting all the right notes as NHL city
The man from Saskatchewan has paid his dues … a lot of dues 
Remember when making the playoffs wasn't so monumental?
The obligations of stardom for MacKinnon, line
An Avs' playoff berth can be flashback 
Here come the Knights … now and maybe in postseason
Nathan MacKinnon's MVP talk becoming more legit
Amid March Madness, how the NBA should emulate the NHL 
Nathan, good intentions, bad idea 
Fourteen years ago, Steve Moore played his final game for the Avalanche
Avalanche going into final month in control of own destiny
Is Duncan Siemens becoming more than an "organization" guy?
At least here, NHL trading deadline was much ado about very, very little
Avalanche standing pat wouldn't be irresponsible inertia
If the NHL stays away again, USA Hockey should be all-collegians
Just your average Harvard guy from West Vancouver
As MacKinnon skates closer to return, Avs have stayed in the playoff hunt
Bowman Brothers Reunion with the Colorado Eagles in final season as Avs' ECHL affiliate
The longer Bernier can hold the net, the better off the Avalanche will be
Magazine: Interview with DU local product — and Olympian — Troy Terry  
Magazine: Nordic Combined ace Bryan Fletcher beat childhood cancer 
Magazine: Arvada-raised Olympic snowboarder Chris Corning  
Magazine: Mikaela Shiffrin can add Olympic glory in amazing season
Magazine: Lindsey Vonn shooting to stay healthy, go for gold 
Magazine: Lakewood's Nicole Hensley is USA's backup goalie
Magazine: Gateway High Olympian Stephen Garbett
Don't let MacKinnon injury knock the Avalanche off course
NHL, Avs heading back to work, not Olympics
A Tale of Avalanche All-Stars, past and present
All Aboard! Avalanche bandwagon gains momentum
A kid in Long Beach and his first stick
Jonathan Bernier on taking over the Avalanche net
Nathan MacKinnon doesn't mind not being recognized … at the mall
Glory Days … Now get Springsteen out of your head
Sakic/Bednar and Elway/Joseph: Eerie parallels
Carl Soderberg goes from albatross to asset
Magazine: Jim Montgomery is Mile High Sports' college coach of the year
Magazine: Will Butcher is Mile High Sports' college athlete of the year 
Varlamov playing better than the numbers might indicate 
At the Christmas break, Avalanche is last — but still a turnaround story  
Tyson Barrie isn't pictured, but he's in the Avalanche picture 
On this (unnamed) line, Gabe Landeskog amps up the scoring
Avalanche rushing game involves Girard and Jost
And the Nathan MacKinnon answer is… 
Noted hockey pundit Yogi Berra would call this deja vu all over again
MacKinnon and O'Reilly meet again
Gabe Landeskog has to be smarter, and he's the first to say so
For Avalanche, winning back fans isn't easy, either
Horseman/defenseman Erik Johnson up to playing marathon minutes
Ring of Famer Red Miller, Part One: Coal Miner's son
Ring of Famer Red Miller, Part Two: About those %$#@ Raiders… 
This time a year ago, the wheels fell off 
Post-trade: On Girard and Kamenev
Stockholm is a Homecoming for Landeskog
Why Can't MacKinnon do that every night?
At the Pepsi Center, you'll think you're in Chicago
Is Zadorov ready to be – and stay – a top-pairing "D"?
For this is to work, Bernier has to be better
This isn't just Jared Bednar's second season. It's his second chance.
Sven (The Reindeer) Andrighetto speedily skating into Avalanche forefront
With Avalanche off to another 3-1 start, leadership is a "core" issue
Magazine: Colorado Eagles' class act in Northern Colorado
Magazine: Avalanche convinced a turnaround is possible