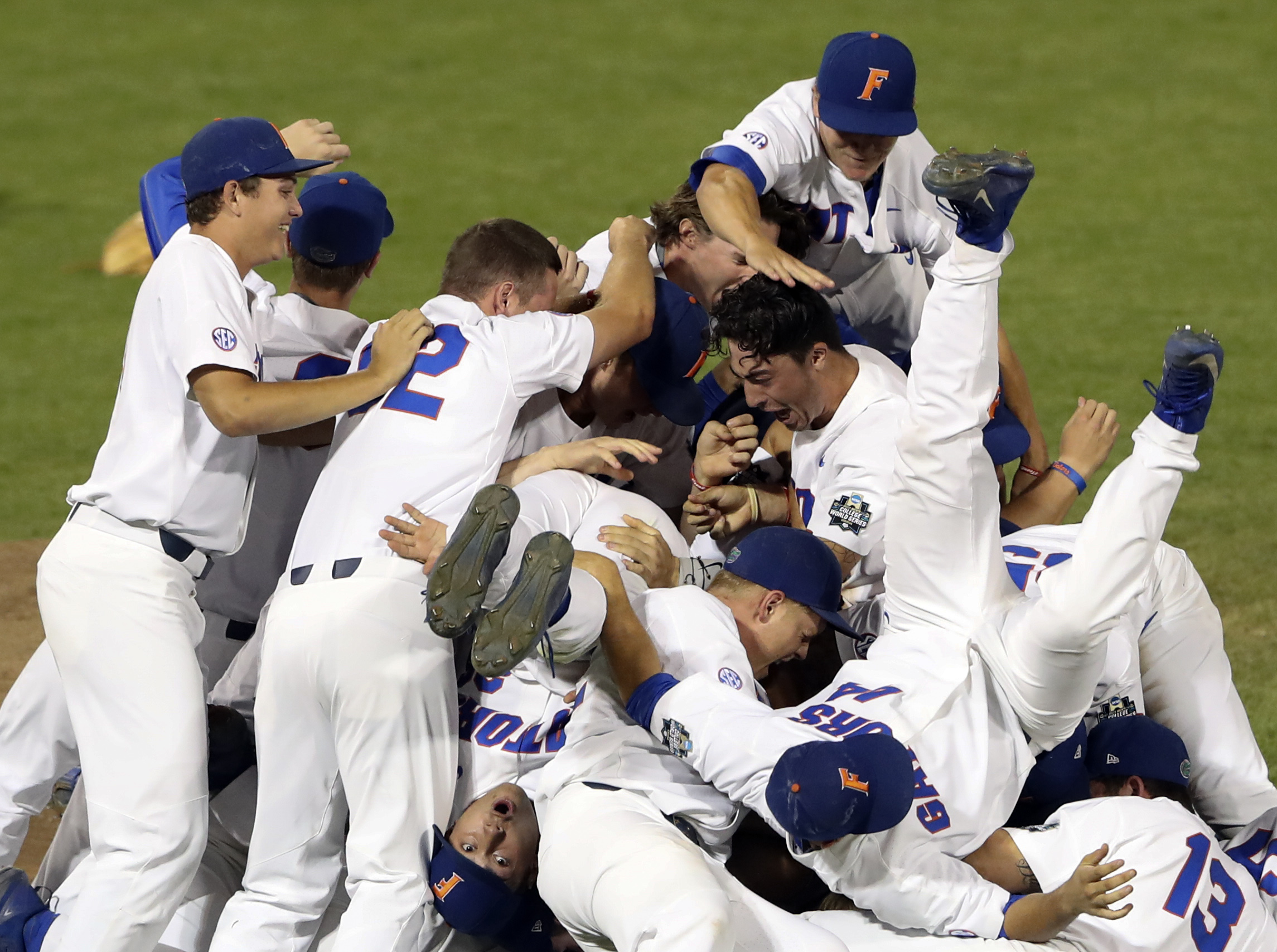 Our digital photo archives only go back 25 years … so we don't have a shot of either the CU Buffs or the CSU Rams playing this thing called "baseball" as an official NCAA sport.
(I say "official NCAA sport" is because the ardent proponents of the schools' club programs bristle when they're disregarded. OK, their participation is noted … but it isn't Division I NCAA baseball.)
This absence of baseball at CU and CSU has gotten ridiculous. And even embarrassing.
As the 2018 NCAA College World Series begins, with teams shooting to make the final eight-team field at Omaha and possibly succeed the Florida Gators — above, celebrating a year ago — as the national champions, the Rams and the Buffs don't even get participation ribbons.
The following Pac-12 Conference schools don't have baseball programs:
The league actually could have done all of us a favor by requiring the return of baseball at CU as a condition of admission in 2011.
The following Mountain West Conference schools don't have baseball programs:
Colorado State.
Utah State.
Wyoming.
Boise State.
The catches are that Hawaii is a football-only league member, but does have a baseball program; and that Boise State is scheduled to resume baseball in 2020.
Boise State … can … do … it.
CU dropped baseball in 1980.
The axe fell on the baseball program at CSU in 1992.
The positives of restoring the sport, especially in intangible terms of alumni goodwill and  giving Colorado prep products a chance to attend the state's two best-known public schools and play NCAA Division I baseball, outweigh the negatives.
The negatives all involve cost and the need to adhere to Title IX standards.
That said, I'll recoil at any reflexive attempt to blame gender parity in athletic opportunity for the absence of baseball at CU and CSU.
Baseball at CU and CSU was a non-revenue sport, like golf and gymnastics. Folks who at least implicitly oppose equal opportunity for men and women in non-revenue sports on the college level are riding dinosaurs as they enter the discussions.
The point is, other schools pull it off in 2018.
Hell, almost all Division I schools pull it off. They have baseball and they manage to pass Title IX muster.
I get it. Athletic directors Rick George at CU and Joe Parker at CSU aren't to blame here for the state of affairs.
This predated their tenures and bringing the sport back is harder — a lot harder — than keeping it alive.
They had other higher-priority missions: George was charged to find a way to get new football program facilities built, even if it meant doing it before all the money raised, something previous AD Mike Bohn wasn't allowed to do. Parker had to prioritize shepherding through the on-campus stadium project that was Jack Graham's baby, and he did a terrific job.
Beyond that, both feel the need to get the existing programs on solid ground and perhaps add a women's program to provide Title IX breathing room.
But both could be heroes for finding a way to bring back baseball.
There's just something distasteful and even disgustingly small-time about the lack of chances for Colorado high school graduates to play a traditional and popular sport at the  Division I, not club, level. Yes, Northern Colorado's underfunded program plays in the Western Athletic Conference. Air Force is in the Mountain West. And the state's Division II programs in the Rocky Mountain Athletic Conference actually benefit from the lack of Division I competition and are, well, pretty good.
Yet excellent baseball players who would be amenable to attending CU and CSU for four years and majoring in business, engineering, or anything else, while playing Division I baseball should have that opportunity.
It would be costly to build new baseball stadiums on the CU and CSU campuses.
So what?
Students should be able to walk out of CU's Muenzinger Auditorium after a tough exam and be within walking or campus shuttle distance of being able to sit in the sun at the baseball park.
The similar experience should be available at CSU.
This should not be done on a shoestring. In my travels around the country — to the University of Arkansas, for example — what's noticeable on the baseball front is that many campus baseball stadiums are little gems that look like the best of the spring-training parks or the new minor-league parks.
The final objection you hear about spring college baseball in Colorado is this: Gee, what about the weather? That's absurd. Yes, in some Colorado springs, high school schedules get backed up and games are squeezed in. But one of the most underplayed accomplishments in recent NCAA history was Oregon State's back-to-back College World Series championships in 2006 and 2007. And the Beavers have remained a national power since.
Has anyone checked the spring weather in the Willamette Valley? It ain't exactly Palm Springs. And the Beavers' success caught the attention of the school down the road in Eugene, and — with Phil Knight and Nike money supporting it — the Ducks revived their baseball program in 2009.
Colorado can do that, too.
So can Colorado State.
Both schools need to find a way.
* * *
Terry Frei of the Greeley Tribune writes two commentaries a week for Mile High Sports. He has been named a state's sports writer of the year seven times, four times in Colorado (including for 2015 and 2016) and three times in Oregon. He's the author of seven books, including "Third Down and a War to Go" and "'77: Denver, the Broncos, and a Coming of Age." His web site is terryfrei.com. His additional "On the Colorado Scene" commentaries are here and his Greeley Tribune columns and major features, including his Memorial Day tribute to another Dick Monfort, can be accessed here.   
E-mail: [email protected]
Terry Frei's MHS Commentary/Story Archive:
The most glaring Ring of Fame omission is Otis Armstrong
You can't make the Golden Knights too big of a deal  
It wasn't a question of if Jim Montgomery was leaving …
Just don't drink the vile mint juleps
A Longhorn, a subpoena, a cassette, a CTE lawsuit against the NCAA
Don't let Nuggets off the hook of expectations
A great season? Sure, if it's a forecast of things to come
It ain't over 'til … it's over
Avs' best shot is Bernier stealing a game … or three
Nashville hitting all the right notes as NHL city
The man from Saskatchewan has paid his dues … a lot of dues 
Remember when making the playoffs wasn't so monumental?
The obligations of stardom for MacKinnon, line
An Avs' playoff berth can be flashback 
Here come the Knights … now and maybe in postseason
Nathan MacKinnon's MVP talk becoming more legit
Amid March Madness, how the NBA should emulate the NHL 
Nathan, good intentions, bad idea 
Fourteen years ago, Steve Moore played his final game for the Avalanche
Avalanche going into final month in control of own destiny
Is Duncan Siemens becoming more than an "organization" guy?
At least here, NHL trading deadline was much ado about very, very little
Avalanche standing pat wouldn't be irresponsible inertia
If the NHL stays away again, USA Hockey should be all-collegians
Just your average Harvard guy from West Vancouver
As MacKinnon skates closer to return, Avs have stayed in the playoff hunt
Bowman Brothers Reunion with the Colorado Eagles in final season as Avs' ECHL affiliate
The longer Bernier can hold the net, the better off the Avalanche will be
Magazine: Interview with DU local product — and Olympian — Troy Terry  
Magazine: Nordic Combined ace Bryan Fletcher beat childhood cancer 
Magazine: Arvada-raised Olympic snowboarder Chris Corning  
Magazine: Mikaela Shiffrin can add Olympic glory in amazing season
Magazine: Lindsey Vonn shooting to stay healthy, go for gold 
Magazine: Lakewood's Nicole Hensley is USA's backup goalie
Magazine: Gateway High Olympian Stephen Garbett
Don't let MacKinnon injury knock the Avalanche off course
NHL, Avs heading back to work, not Olympics
A Tale of Avalanche All-Stars, past and present
All Aboard! Avalanche bandwagon gains momentum
A kid in Long Beach and his first stick
Jonathan Bernier on taking over the Avalanche net
Nathan MacKinnon doesn't mind not being recognized … at the mall
Glory Days … Now get Springsteen out of your head
Sakic/Bednar and Elway/Joseph: Eerie parallels
Carl Soderberg goes from albatross to asset
Magazine: Jim Montgomery is Mile High Sports' college coach of the year
Magazine: Will Butcher is Mile High Sports' college athlete of the year 
Varlamov playing better than the numbers might indicate 
At the Christmas break, Avalanche is last — but still a turnaround story  
Tyson Barrie isn't pictured, but he's in the Avalanche picture 
On this (unnamed) line, Gabe Landeskog amps up the scoring
Avalanche rushing game involves Girard and Jost
And the Nathan MacKinnon answer is… 
Noted hockey pundit Yogi Berra would call this deja vu all over again
MacKinnon and O'Reilly meet again
Gabe Landeskog has to be smarter, and he's the first to say so
For Avalanche, winning back fans isn't easy, either
Horseman/defenseman Erik Johnson up to playing marathon minutes
Ring of Famer Red Miller, Part One: Coal Miner's son
Ring of Famer Red Miller, Part Two: About those %$#@ Raiders… 
This time a year ago, the wheels fell off 
Post-trade: On Girard and Kamenev
Stockholm is a Homecoming for Landeskog
Why Can't MacKinnon do that every night?
At the Pepsi Center, you'll think you're in Chicago
Is Zadorov ready to be – and stay – a top-pairing "D"?
For this is to work, Bernier has to be better
This isn't just Jared Bednar's second season. It's his second chance.
Sven (The Reindeer) Andrighetto speedily skating into Avalanche forefront
With Avalanche off to another 3-1 start, leadership is a "core" issue
Magazine: Colorado Eagles' class act in Northern Colorado
Magazine: Avalanche convinced a turnaround is possible