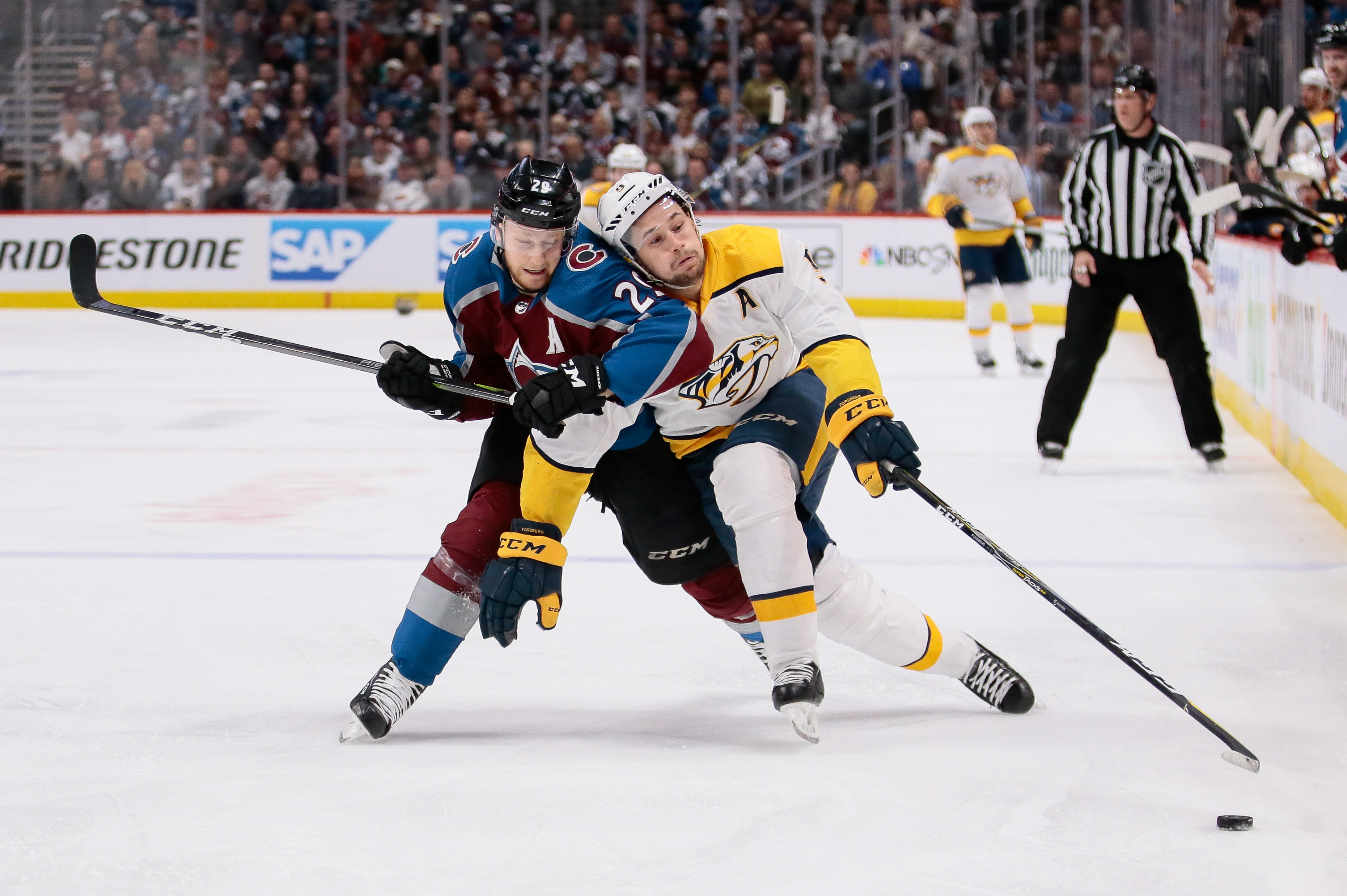 And so a turnaround season came to an end Sunday night.
I'm not sure I've even been around such a thud of an ending — in this case, the 5-0 Game 6 loss to the Predators at home that ended the Western Conference first round series — that was greeted so philosophically, accepted for what it was, even cheered as the final seconds wound down.
The picture was bigger than Game 6.
This was progress, monumental and surprising progress, after one of the most dreadful full-season performances in the modern NHL era.
As overmatched as the Avs appeared Sunday night, the thrilling 2-1 Game 5 win in Nashville in the first elimination game Friday night might be more memorable and perhaps even defining.
So how should this team be remembered?
"To answer that question, there's got to be an end," captain Gabe Landeskog told me after the game. "But I just feel like it's the beginning, to be honest with you. So it's hard to want to be remembered for something when you're still growing. This season should be rememered as a hard-fought year and an underdog story, but also as a team that earned everything they got. Even when people didn't want to give us credit for being where we were, we just kept growing and kept fighting.
"So I'll go back to how I started this. This is just the beginning. Hopefully we'll keep trending upwards and keep learning and keep growing as a group."
Nathan MacKinnon ended up with three goals and three assists in the series. He got a nice congratulatory in-passing salute from Predators coach Peter Laviolette — the former Colorado/Denver Rangers defenseman — in the handshake line, and that reflects the major increase in his stature this season.
He has gone from No. 1 overall underachiever to bona fide Hart Trophy candidate. And short of eating too many donuts in his annual offseason Tim Hortons commercial shoots with fellow Nova Scotian Sidney Crosby, MacKinnon seems destined to stay among the elite.
"Good bounceback year," MacKinnon said. "It's a cool story that we went from last to the playoffs, but we're trying to win the Cup, but we showed up like this and lost 5-0 in an elimination game … There are positives of a young team going forward. We showed a lot of fight this season, had a lot of adversity that we overcame and hopefully we can use some of that next season."
An aside: Despite, or perhaps because of, the sharp-edged play as P.K. Subban was on the ice much of the time when MacKinnon's line was out, the Predators' defenseman after the game endorsed the Avalanche star for the Hart. This comes via Tracey Myers of NHL.com.
"You guys know I'm biased about [Pekka Rinne],but in my opinion he [MacKinnon] was the best player in the league this year," Subban said. "That's not to take anything away from other guys like Taylor Hall who have had great years. But I think for him and what he's done with this team, a team that's been up and down … he's just come into his own and he's a phenomenal hockey player. He's so tough to handle, so fast, strong and shifty. My expectations for him as a player is to be a Hall of Famer by the end of his career. He understands that. Just tremendous respect for him. I told him I hope he takes home that trophy that he deserves as the MVP. He deserves it."
MacKinnon was the leader in the improvement, no question. Another huge step forward was second-year coach Jared Bednar showing an adept touch that validated Sakic sticking with him after the horrible 2016-17.
"I'm proud of this team, for what they accomplished, for how hard they worked all year, how coachable they were," Bednar said. "It's a great group, fun group to coach. That's what I'll take out of that. They were respectful, responsive, hard-working, close-knit group from Day One, really. Great leadership and a fun season. It was a lot of fun, especially for a lot of our guys that went through probably their worst season, myself included, last season."
What can't happen now is that the Avalanche, from ownership and the front office on down, basks in the deserved praise, gets too cocky about additional incremental progress being inevitable next season for what now is the NHL's youngest team, and excessively trusts the process.
That's a formula for regression, more so than for rejoining the NHL's upper tier and threaten to bring Denver its third Stanley Cup celebration.
I'm not going to go through an entire rundown here. That's for another time, perhaps after Joe Sakic meets with the media Monday.
But the first issue is goaltending. The Avalanche has learned two things about Semyon Varlamov:
1, When he's healthy, he's still pretty good.
2, You can't count on Number 1 happening often enough.
That has to be shored up.
Somehow.
The Avalanche needs reliable goaltending, and that's on all levels, and at least in terms of being available an entire season or close to it, Varlamov isn't capable of providing it.
You can come to that conclusion without trashing the guy.
From all indications, he has been dedicated in trying to overcome the groin muscle issues that led to him undergoing two hip surgeries a year ago and his latest mishap — a knee injury — came after a collision. But at some point, you have to concede the data is hard to dispute.
He's out of the lineup too often.
He has one season, at year, at $5.5 million (with a $5.9-million cap hit), remaining on his long-term contract.
After the game, I asked Varlamov how confident he was that he could return at 100 percent next season.
"Pretty confident," he said. "This is not a major injury and I have lots of time to recover and heal up, then get ready for next year."
Both Jonathan Bernier and Andrew Hammond — the "Hamburglar" was a nice story while it lasted — playing under expiring contracts and about to become unrestricted free agents, the likelihood of either being brought back seems slim. Yes, Bernier had his streaks — including when Varlamov was out in January — but the ultimate answer was that he's not going to be the No. 1 goalie, whether by design or default, to take the Avalanche to the next level.
The Avalanche lost to the Presidents Trophy winner, the best team in the Western Conference — and a team that a year ago was the No. 8 seed and surprisingly advanced to the Cup Finals. That clearly was part of an upward curve for the Predators organization, and while the situations weren't completely analogous, the Avalanche is backing on a similar climb..with a slightly different timetable.
This set the stage for higher expectations next season.
There should be no ovations for one-round and done in the 2019 postseason … if that happens.
But, yes, this will go down as one of the more entertaining seasons among the franchise's stay in Denver. It will become even more noteworthy if it becomes the season that foreshadowed a return to greatness.
  *    *    *
Terry Frei of the Greeley Tribune writes two commentaries a week for Mile High Sports. He has been named a state's sports writer of the year seven times, four times in Colorado (including for 2016) and three times in Oregon. He's the author of seven books, including "Third Down and a War to Go," about the national champion 1942 Wisconsin Badgers and their wartime heroics, and "'77: Denver, the Broncos, and a Coming of Age." His web site is terryfrei.com and his additional "On the Colorado Scene" commentaries are at terryfrei/oncolorado. 
E-mail: [email protected]
Twitter: @tfrei
Terry Frei's MHS Commentary/Story Archive:
It ain't over 'til … it's over
Avs' best shot is Bernier stealing a game … or three
Nashville hitting all the right notes as NHL city
The man from Saskatchewan has paid his dues … a lot of dues 
Remember when making the playoffs wasn't so monumental?
The obligations of stardom for MacKinnon, line
An Avs' playoff berth can be flashback 
Here come the Knights … now and maybe in postseason
Nathan MacKinnon's MVP talk becoming more legit
Amid March Madness, how the NBA should emulate the NHL 
Nathan, good intentions, bad idea 
Fourteen years ago, Steve Moore played his final game for the Avalanche
Avalanche going into final month in control of own destiny
Is Duncan Siemens becoming more than an "organization" guy?
At least here, NHL trading deadline was much ado about very, very little
Avalanche standing pat wouldn't be irresponsible inertia
If the NHL stays away again, USA Hockey should be all-collegians
Just your average Harvard guy from West Vancouver
As MacKinnon skates closer to return, Avs have stayed in the playoff hunt
Bowman Brothers Reunion with the Colorado Eagles in final season as Avs' ECHL affiliate
The longer Bernier can hold the net, the better off the Avalanche will be
Magazine: Interview with DU local product — and Olympian — Troy Terry  
Magazine: Nordic Combined ace Bryan Fletcher beat childhood cancer 
Magazine: Arvada-raised Olympic snowboarder Chris Corning  
Magazine: Mikaela Shiffrin can add Olympic glory in amazing season
Magazine: Lindsey Vonn shooting to stay healthy, go for gold 
Magazine: Lakewood's Nicole Hensley is USA's backup goalie
Magazine: Gateway High Olympian Stephen Garbett
Don't let MacKinnon injury knock the Avalanche off course
NHL, Avs heading back to work, not Olympics
A Tale of Avalanche All-Stars, past and present
All Aboard! Avalanche bandwagon gains momentum
A kid in Long Beach and his first stick
Jonathan Bernier on taking over the Avalanche net
Nathan MacKinnon doesn't mind not being recognized … at the mall
Glory Days … Now get Springsteen out of your head
Sakic/Bednar and Elway/Joseph: Eerie parallels
Carl Soderberg goes from albatross to asset
Magazine: Jim Montgomery is Mile High Sports' college coach of the year
Magazine: Will Butcher is Mile High Sports' college athlete of the year 
Varlamov playing better than the numbers might indicate 
At the Christmas break, Avalanche is last — but still a turnaround story  
Tyson Barrie isn't pictured, but he's in the Avalanche picture 
On this (unnamed) line, Gabe Landeskog amps up the scoring
Avalanche rushing game involves Girard and Jost
And the Nathan MacKinnon answer is… 
Noted hockey pundit Yogi Berra would call this deja vu all over again
MacKinnon and O'Reilly meet again
Gabe Landeskog has to be smarter, and he's the first to say so
For Avalanche, winning back fans isn't easy, either
Horseman/defenseman Erik Johnson up to playing marathon minutes
Ring of Famer Red Miller, Part One: Coal Miner's son
Ring of Famer Red Miller, Part Two: About those %$#@ Raiders… 
This time a year ago, the wheels fell off 
Post-trade: On Girard and Kamenev
Stockholm is a Homecoming for Landeskog
Why Can't MacKinnon do that every night?
At the Pepsi Center, you'll think you're in Chicago
Is Zadorov ready to be – and stay – a top-pairing "D"?
For this is to work, Bernier has to be better
This isn't just Jared Bednar's second season. It's his second chance.
Sven (The Reindeer) Andrighetto speedily skating into Avalanche forefront
With Avalanche off to another 3-1 start, leadership is a "core" issue
Magazine: Colorado Eagles' class act in Northern Colorado

Magazine: Avalanche convinced a turnaround is possible