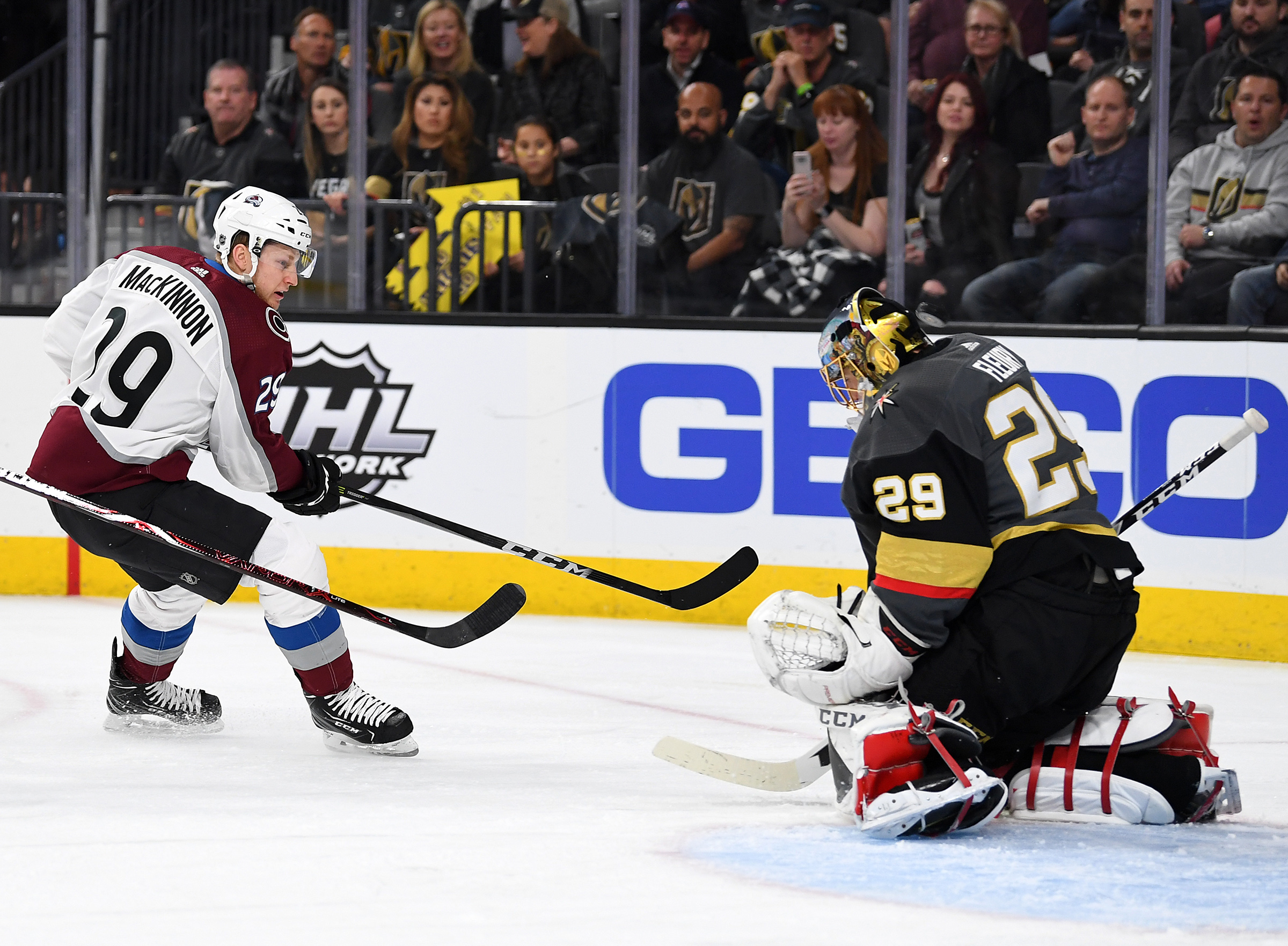 The Avalanche has been here 23 years, since the summer relocation from Quebec City after the Nordiques' first-round playoff loss to the Rangers.
And, yes, the long-suffering Colorado fans — who witnessed the NHL Colorado Rockies' farcical trials and tribulations for six seasons, plus various minor-league ventures on either side — then had to wait months (months!) to celebrate a Stanley Cup championship.
The Avalanche again won the Cup in 2001 with a roster that represented a Hall of Fame roll call.
The NHL team was the primary influence in turning Colorado into one of the nation's youth hockey hotbeds. In fact, that has been the Avalanche' most underplayed accomplishment.
It isn't just Troy Terry, the World Juniors hero and U.S. Olympian from Highlands Ranch and DU who signed a three-year deal with the Anaheim Ducks after the Pioneers' loss in the NCAA regional finals.
There have been and there will be many more athletic young Coloradans who turned to the sport because of the Avalanche's influence, sparking a rink building boom in the state.
So why the history lesson? Why the belaboring of the obvious as the Avalanche continues to attempt to nail down a playoff spot as it heads into a Wednesday night home game against the Flyers? And Nathan MacKinnon continues his quest to lead this team to its first appearance in the postseason in four years and possibly win the Hart Trophy as the league's most valuable player?
Because sometimes it just seems as if we're starting all over again every time the Avalanche experiences a resurgence.
I'm not talking about the Avalanche fan base, as hearty of a group as there is in Colorado professional sports. They've stuck with the sport and, more significant, with the franchise in this market through ups and downs.
Sometimes it seems as if Joe Sakic's touch pass to Ray Bourque was yesterday; but the truth is, that was 17 years ago.
The grade schoolers in the Avalanche's glory years now are in their early 30s. The fascination with the instant champions has lingered, though the Colorado media doesn't seem to have grasped that.
The problem there is that among the largely evolving Colorado media, institutional memory has become more rare every year. It's too easy to pounce on the easy story, and that most often means, yes, the Broncos quarterback competition. Or non-competition. And when the Avalanche gets to the postseason, the challenge will be not just to know the story, but to do it, about the Hispanic kid from Long Beach who got a mini-stick from his grandfather and first played roller hockey.
I'm on record, and have been for the many years I've covered the NHL off and on. The knowledgeable and loyal fan base's proprietary attitude — "It's our sport, dammit" — is both a strength and a weakness. No other sport's constituency acts as if "new" fans shouldn't be welcomed.
The funny thing here is that the Avalanche's glory years created a fan base that stretches far beyond Colorado and for some reason hasn't disappeared. Sakic posters. Forsberg jerseys. Foote photos. Roy videos.
I am truly convinced that there is a significant part of the hockey fan base — whether in Littleton or Mississauga — that wants the Avalanche to be good again, to be able to both enjoy it and flash back.
The 112-point season in in 2013-14 was a tease. With the Avalanche on pace for about 98 points and a wild-card playoff spot a year after a 48-point embarrassment, this in a different experience, a recognition that a marquee franchise can rebound … several times.
And with the iconic GM, Sakic, watching from the press box and handy for the television shots at opportune times in the playoffs, the cuing up of the flashback videos become easy.
The Avalanche's playoff run — however long it lasts — will turn out to be a fun flashback, too.
And there's nothing wrong with that.
As long as someone covering the series doesn't say "quarter."
*   *   *
Terry Frei writes two commentaries a week for Mile High Sports. He has been named a state's sports writer of the year seven times, four times in Colorado (including for 2016) and three times in Oregon. He's the author of seven books, including "March 1939: Before the Madness," about the first NCAA basketball tournament and its champions; and "Horns, Hogs, and Nixon Coming," about the landmark 1969 Texas-Arkansas football game and the events swirling around it. His web site is terryfrei.com and his additional "On the Colorado Scene" commentaries are at terryfrei/oncolorado. 
E-mail: [email protected]
Twitter: @tfrei
Terry Frei's MHS Commentary/Story Archive:
Here come the Knights … now and maybe in postseason
Nathan MacKinnon's MVP talk becoming more legit
Amid March Madness, how the NBA should emulate the NHL 
Nathan, good intentions, bad idea 
Fourteen years ago, Steve Moore played his final game for the Avalanche
Avalanche going into final month in control of own destiny
Is Duncan Siemens becoming more than an "organization" guy?
At least here, NHL trading deadline was much ado about very, very little
Avalanche standing pat wouldn't be irresponsible inertia
If the NHL stays away again, USA Hockey should be all-collegians
Just your average Harvard guy from West Vancouver
As MacKinnon skates closer to return, Avs have stayed in the playoff hunt
Bowman Brothers Reunion with the Colorado Eagles in final season as Avs' ECHL affiliate
The longer Bernier can hold the net, the better off the Avalanche will be
Magazine: Interview with DU local product — and Olympian — Troy Terry  
Magazine: Nordic Combined ace Bryan Fletcher beat childhood cancer 
Magazine: Arvada-raised Olympic snowboarder Chris Corning  
Magazine: Mikaela Shiffrin can add Olympic glory in amazing season
Magazine: Lindsey Vonn shooting to stay healthy, go for gold 
Magazine: Lakewood's Nicole Hensley is USA's backup goalie
Magazine: Gateway High Olympian Stephen Garbett
Don't let MacKinnon injury knock the Avalanche off course
NHL, Avs heading back to work, not Olympics
A Tale of Avalanche All-Stars, past and present
All Aboard! Avalanche bandwagon gains momentum
A kid in Long Beach and his first stick
Jonathan Bernier on taking over the Avalanche net
Nathan MacKinnon doesn't mind not being recognized … at the mall
Glory Days … Now get Springsteen out of your head
Sakic/Bednar and Elway/Joseph: Eerie parallels
Carl Soderberg goes from albatross to asset
Magazine: Jim Montgomery is Mile High Sports' college coach of the year
Magazine: Will Butcher is Mile High Sports' college athlete of the year 
Varlamov playing better than the numbers might indicate 
At the Christmas break, Avalanche is last — but still a turnaround story  
Tyson Barrie isn't pictured, but he's in the Avalanche picture 
On this (unnamed) line, Gabe Landeskog amps up the scoring
Avalanche rushing game involves Girard and Jost
And the Nathan MacKinnon answer is… 
Noted hockey pundit Yogi Berra would call this deja vu all over again
MacKinnon and O'Reilly meet again
Gabe Landeskog has to be smarter, and he's the first to say so
For Avalanche, winning back fans isn't easy, either
Horseman/defenseman Erik Johnson up to playing marathon minutes
Ring of Famer Red Miller, Part One: Coal Miner's son
Ring of Famer Red Miller, Part Two: About those %$#@ Raiders… 
This time a year ago, the wheels fell off 
Post-trade: On Girard and Kamenev
Stockholm is a Homecoming for Landeskog
Why Can't MacKinnon do that every night?
At the Pepsi Center, you'll think you're in Chicago
Is Zadorov ready to be – and stay – a top-pairing "D"?
For this is to work, Bernier has to be better
This isn't just Jared Bednar's second season. It's his second chance.
Sven (The Reindeer) Andrighetto speedily skating into Avalanche forefront
With Avalanche off to another 3-1 start, leadership is a "core" issue
Magazine: Colorado Eagles' class act in Northern Colorado

Magazine: Avalanche convinced a turnaround is possible