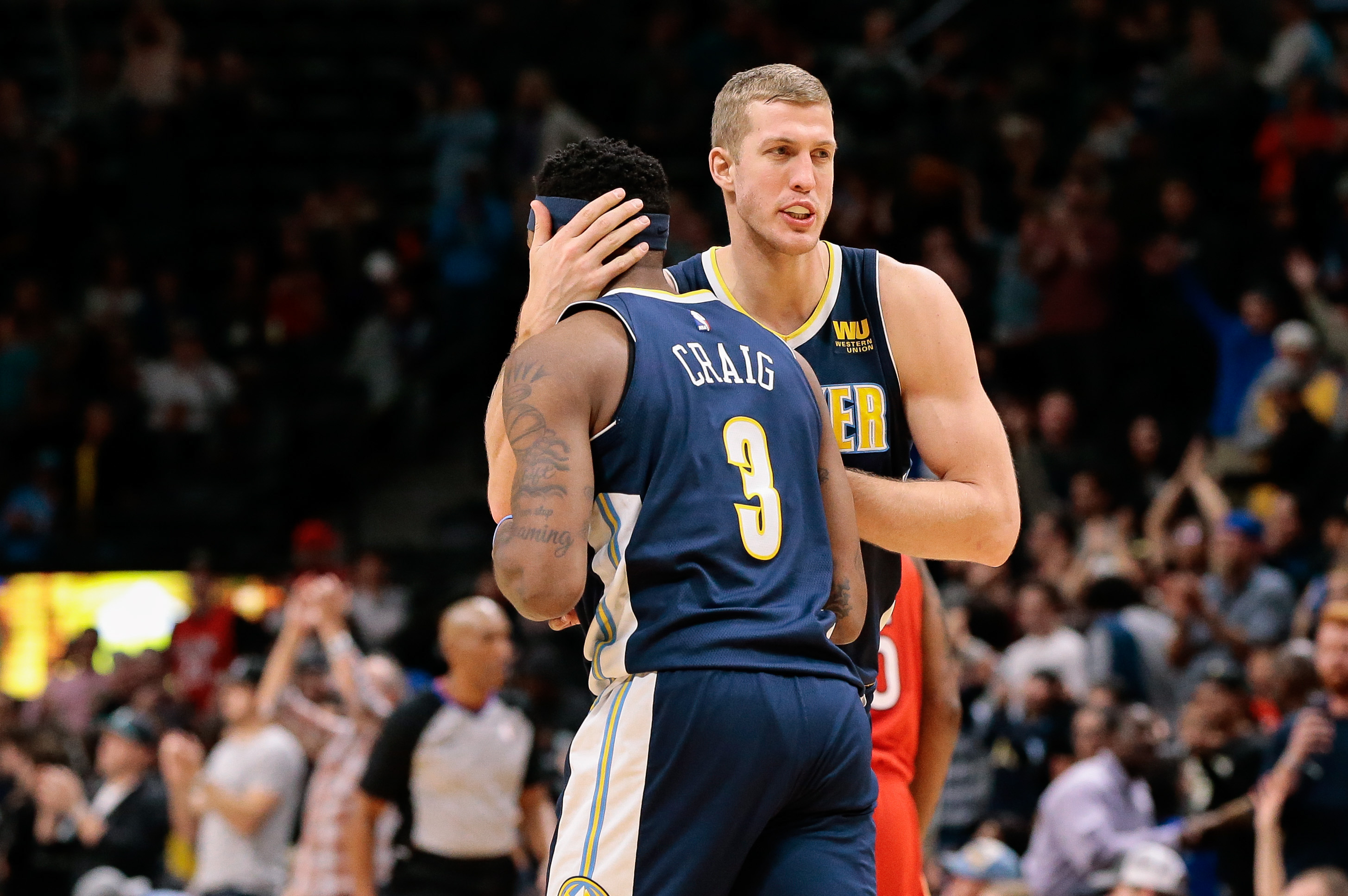 The Denver Nuggets franchise is looking for their first playoff berth in five years. Could the Nuggets' second unit be the group that helps them reach the promised land after failing them on multiple occasions last year?
After four preseason games worth of solid play, the answer to that question is looking more and more like a resounding 'yes'.
Denver's starting unit is still searching for any sort of chemistry, but the Nuggets second unit has picked up the slack this preseason. So far, that has been the most surprising revelation throughout Denver's four exhibition games. The Nuggets' bench unit has been their biggest strength and they have six solid role players — Monte Morris, Malik Beasley, Torrey Craig, Trey Lyles, Juancho Hernnagomez, and Mason Plumlee — chomping at the bit for playing time. The most productive and dominant player to emerge from the second unit has been none other than Lyles.
Going into his second season with the Nuggets, Lyles is excited for what the 2018-19 season has in store and is looking forward to showcasing his talents with an increased role off the bench.
"My excitement for this season is probably 100 times what it was last year and I am looking forward to it," Lyles told Mile High Sports at Nuggets media day.
After playing in 73 games for the Nuggets last season, Lyles averaged 9.9 points and 4.8 rebounds while playing a career-high 19.1 minutes per game. Now that Lyles is not having to fight for minutes off of the bench, all three of those numbers should go up this season. Last year, Lyles had to fend off Kenneth Faried for playing time and never obtained a consistent role in head coach Michael Malone's rotation. This year, all of the backup power forward minutes are his and he will also be featured as a small forward from time to time as well. For the first time in Lyles' career, he will have a consistent role from the first night of the regular season.
With an increased role comes increased responsibility. Lyles fully comprehends that the Nuggets will need him more than ever before and he is ready to produce for his team. A big reason why Lyles' confidence is so high is also that he knows what his minutes will be on a nightly basis. That consistency is something that Lyles values greatly.
"When you know that you are getting a certain amount of minutes, it helps you out a lot from a mindset state to being able to go onto the floor and know when you are going in and when you are coming out," Lyles told Mile High Sports. "It helps out a lot for a player."
In addition to Lyles, it seems like Craig and Plumlee are firmly cemented into a role on Nuggets' bench unit. Like Lyles has done through four preseason games, Plumlee and Craig have shined off the bench and have done an admirable job of filling in the gaps. Most of the offensive creation has stemmed from Morris and Lyles, but without Plumlee rolling to the rim with authority and Craig doing a little bit of everything, the production level would not be nearly as high.
Most people already have a pretty good idea of what Lyles, Plumlee, and Craig can bring off the bench, but another surprise from the Nuggets second unit has been the emergence Morris as the backup point guard. After spending most of last season in the G-League, Morris had an outstanding offseason that ended with him earning a three-year contract worth $4.8 million. Isaiah Thomas is still recovering from offseason hip surgery so it has been Morris who has been slotted in as the Nuggets backup point guard for the foreseeable future.
One thing Morris talked about since media day is wanting to be a pest on the defensive end of the floor. Throughout the preseason, he has done a tremendous job through four games. Morris already has six steals in four games and has complimented his defensive play by also thriving on the offensive end of the floor. Morris has posted double-figure scoring numbers in each of the Nuggets first four games, while also leading the team with 23 assists. If Morris is able to keep that up, he's due for a strong 2018-19 season.
Now for the biggest battle for playing time on the Nuggets. Both of Hernangomez and Beasley were selected by the Nuggets in the first round of the 2016 NBA Draft. Now, it seems that one of them will emerge as the 10th man in Malone's rotation while the other falls out.
After missing almost all of last season due to mononucleosis, Hernangomez is fighting to fill the role as the Nuggets sharp shooter off the bench. In the Nuggets first preseason game against the Los Angeles Lakers, Hernangomez went for 19 points on 6-11 from the field and 5-8 from behind the three-point line. After his strong performance against the Lakers, Hernangomez posted back-to-back lackluster games before eventually putting together another solid performance in the Nuggets preseason game against the Los Angeles Clippers. In that game, he had 11 points and 12 rebounds with most of his minutes coming alongside the end-of-the-bench players in the fourth quarter. It might be difficult for Malone to keep Hernangomez off the court if he can score the basketball at an effective clip.
On the other side of the coin, Beasley has recored double-digit scoring marks in each of Denver's first four preseason games and has shot a combined 12-18 from behind the three-point line. After making just 28 threes in 62 games last season, Beasley's three-point shot looks much improved. The big difference for Beasley is that he is outplaying Hernangomez on defense. Beasley is playing with an extreme amount of energy and tenacity on the defensive end of the court and it has shown. If he keeps impacting the game like he has during the 2018-19 preseason, it looks like it will be Beasley who secures the final spot in Malone's rotation.
For a Nuggets' team that has struggled to find and consistency from their bench last season, these four preseason games has been a welcomed sight. The Nuggets organization knows that their bench unit failed them at multiple points last season, but this year things should be different. The reserves know how important their jobs are now more than ever. That realization may be what helps propel Denver back into the playoffs.
"It is really important," Lyles reiterated to Mile High Sports when asked about the importance of having a strong bench unit. "Our starting group is so powerful that when they come off, we have to make sure that we are right there and able to pick up where they left off. If one night they are not having the greatest night, we need to have that energy coming off the bench that we can sustain throughout the whole game until they come back in."