 Has there ever been a more dominant big man to play for Colorado State Rams men's basketball than Nico Carvacho?
Only two-and-a-half years into his career with the Rams, and the answer already is "No."
Last Saturday, Carvacho played one of his best games in his career, racking up 23 points and 22 rebounds – his second career 20-20 game, tying Jason Smith – and he also passed Smith in career rebounds with 688. Smith has been the standard of excellence in terms of Rams big men, playing at CSU from 2004-2007 and following that with an NBA career that continues today.
Of course, we can't just look at those shockingly splendid statistics to tell the story of Carvacho, the leader of Niko Medved's Rams basketball team. Instead, we must look back to truly appreciate how far he's come.
Carvacho grew up playing a sport that he loved, and was really good at it too, but it wasn't basketball. The big man played soccer for most of his life, and his dad Eddie Carvacho was a life-long soccer player and professional soccer coach, too.
"Nico, at a very young age, got involved in every sport," Eddie explained that his son had a knack for the game of soccer. "He smelled the goal. He had that sixth sense of scoring, and finishing…At a very young age, he surprised me. I felt very lucky. 'I have my soccer player, yes!'"
It wasn't until Nico was about nine years old when he finally started playing basketball, but only in the winter, with soccer being his year-round, true love. Because of his height, his I.Q. and his skill level, Carvacho actually played up a year with the older kids. He moved on from playing forward, transitioning to goal-keeper like his proud papa, which Eddie believes helped his phenomenal rebounding skill; securing the ball with both hands, using his body and fantastic footwork.
In fact, he loved soccer so much, Nico did something brave that not many 15-year olds would do; he ventured to a new country, played so well he was invited to stay. Teenage Nico stayed for five months with the soccer club, immersing himself into the culture of Chile as well as the culture of the game.
It wasn't until Nico was 15 years old that he really started taking basketball seriously. After that five-month experiment, he came back home to Texas – asking God to guide him – and told his parents he had changed his mind, that basketball was the sport for him. Eddie said he was proud of Nico's decision, and that former college basketball player Nicole, Nico's mom, was thrilled. But, now the young man had a mere 2.5 years to really develop his game and earn a coveted D-1 scholarship.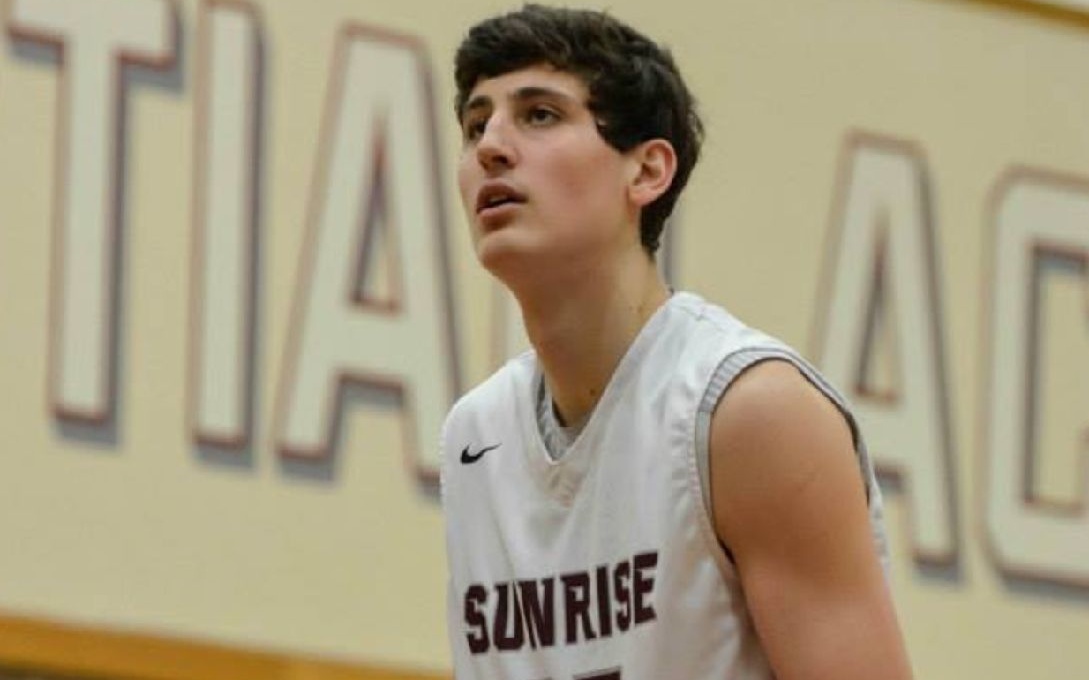 "A lot of what Nico is today is because of his work ethic," Eddie explained. "But also, Nico has a chip on his shoulder because he wasn't a star, recruited student-athlete. He is the product of hard work, of effort, the product of that constant and never-ending attitude of 'I gotta get better and I want to be better.'"
He used that blue-collar attitude to work dilligently on his game, even attending Sunrise Christian Academy to once again immerse himself. This time, in basketball.
His decision to transition over to basketball was validated that summer, with that experience of playing with Chile's U16 team in Uruguay in 2013. He also played for Chile's U18 team in Germany in 2014, expanding his experience against top-notch competition overseas.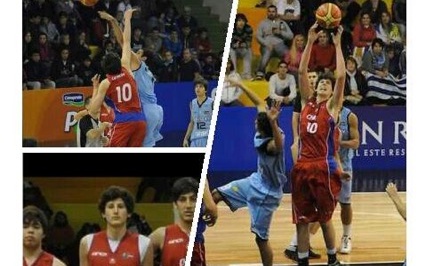 In 2015, Carvacho accepted one of the few D-1 scholarships he was offered, deciding to play in Fort Collins. Before he could even play a single minute for Colorado State, though, Carvacho had to sit on the bench and redshirt his entire freshman season.
As a redshirt freshman in 2016-17, Nico was raw. He picked up quick fouls and lacked touch around the rim, but was a dominant rebounder, even that year, while getting few minutes. He did play for Chile in the summer of 2017 a third time, during the FIBA South America Championships, and was named Honorable Mention All-Tournament. That, again, validated his move from soccer to hoops.
He took that experience in Chile and built on it. Last season, 2017-18, was his breakout. Not at first, though. In non-conference play, he only averaged 6.6 points and 7.9 rebounds. As he told me before this current season tipped off back in October, the 6'11" forward's confidence shrunk early last season, and he had to rely on conversations with his parents to reinvigorate himself.
"I lost my confidence for a little bit during the middle part of the season," Nico said. "I was able to get it back, just working hard, and I changed my mindset. I was able to talk to my parents, they got me out of my slump."
Luckily, he's always had his parents to rely upon, for advice, encouragement and support.
"Last year, I think it was more than anything, just being dad," Eddie, the coach, said of the advice he imparted. "'Hey dude, you're gong to be fine. Every athlete goes through it and you just have to clear your mind, go back and believe in all the hard work and do it one step at a time.'"
That second half, after those all-important talks with Eddie and Nicole Carvacho, we saw a different Nico. He finished the season with 16 straight double-doubles, scoring with ease and consistency down in the paint, while grabbing basically every loose ball that flew or bounced even somewhat near him.
He's not only carried over his play from last year, but has continued to build on that, too.
Being the second-best rebounder in the country, at 12.6 boards per game, is great. But again, it only tells a small amount of the story that is Carvacho's game.
His court vision and precise passing – which are rare for a big man – are traits he first learned on the soccer pitch and things he only recently been able to bring into his basketball game.
"In soccer, you have to pass," Eddie said. "He's trying to see the play ahead. Because in soccer, the very good players are the ones that can see the play two or three plays ahead."
And then there's the part of his game which brings little notice from the box score; Carvacho's tough-nosed defense.
Carvacho is always there, doing the dirty work, the hard work that rarely gets noticed unless you're watching the entire game, on both ends. Defense isn't sexy, but it's incredibly necessary to win basketball games at the D-1 level. While the Rams' biggest weakness this season has been defending – especially in the paint – Carvacho has shone as the lone example of what's needed down there when CSU doesn't have the ball.
"Playing better defense," Carvacho explained of the team's goal in the second half of their win over Sam Houston State. "Defense leads to offense, and I think that's what we did."
Simply, Carvacho has all the tangibles needed to make an NBA roster. He's 6'11" and 240 pounds; you can't teach size. He uses that big body to out-position opponents as one of the best rebounders in the entire nation. Offensively, he can turn a rebound into a tip-in or score with smooth, spinning hook shots with either hand. Carvacho's a great passer for a big man, and his ability to guess what's going to happen before it does also sets him apart.
But his intangibles – like a passion for the game, which is second-to-none – and his leadership qualities, only help his case.
"You look at what Nico did tonight, he just willed us (to the win)," Medved said of Carvacho after the victory over Sam Houston State. "He was just like, 'Hey, we're not losing this game.' He's got an amazing heart."
Going back to the Carvacho – Smith comparison; Nico's playing so well, simply in his rebounding and scoring, that he's starting to open the eyes of NBA scouts. There were some 10 scouts at Moby Arena for Arkansas – CSU this year, most there to scout likely first-round pick Daniel Gafford, who battled with Nico all day long. Nico's defensive intensity led to Gafford getting into early foul trouble and Carvacho finished with a double-double (12, 11) despite CSU losing.
The Rams' redshirt junior has been studying tape of that game, too, always looking for ways to improve on the hardwood while using his photographic memory to document successes and failures.
Make no doubt about it, Carvacho does want to play in the NBA, as his dad explained.
"Even just in the last three games, that he has had those monster games, I said, 'Hey Nico, that's all fine and dandy. But the key word now is consistency. Can you do it again? And again? And again?'"
This season, he's averaging career-highs of 14.3 points and 12.6 rebounds per game, a rare and remarkable feat considering he's only been focusing on basketball for about five years.
While he has NBA dreams, for now, Colorado State is working through the changing roles and new expectations which come with a new coaching staff. The Rams, with a final non-conference game this Sunday against New Mexico State, sit at 5-7 in Medved's first season. Despite their less-than ideal start to the season, fans need to get to Moby Arena and take in the great versatility that is the true big-man Carvacho, before it's too late.
Notes:
Mike Childress has a claim as arguably the greatest big-man in CSU history. He only played two seasons, from 1969-71, but averaged 15.3 points and 15.4 rebounds per game.
Of course, Jason Smith is also in there as one of the best Rams big-men ever. He played three seasons in Fort Collins before going in the first round of the 2007 NBA draft to the Miami Heat at No. 20 overall. That senior season, Smith averaged a double-double of 16.8 points and 10.1 rebounds per game.
Carvacho was close to averaging a double-double in his redshirt sophomore season (9.2 points and 10.3 rebounds) and is well above that mark this year (14.3 points, 12.7 rebounds). Barring injury, Carvacho will easily be the No. 1 rebounder in Colorado State history by the time his career comes to a close next year, already only 164 away from taking the record with 19 games to go this year. In fact, he may take that record in this, his third full season. And if he keeps his current pace, Carvacho (260) will be No. 1 in offensive rebounds, currently held by his assistant coach Pierce Hornung (342).