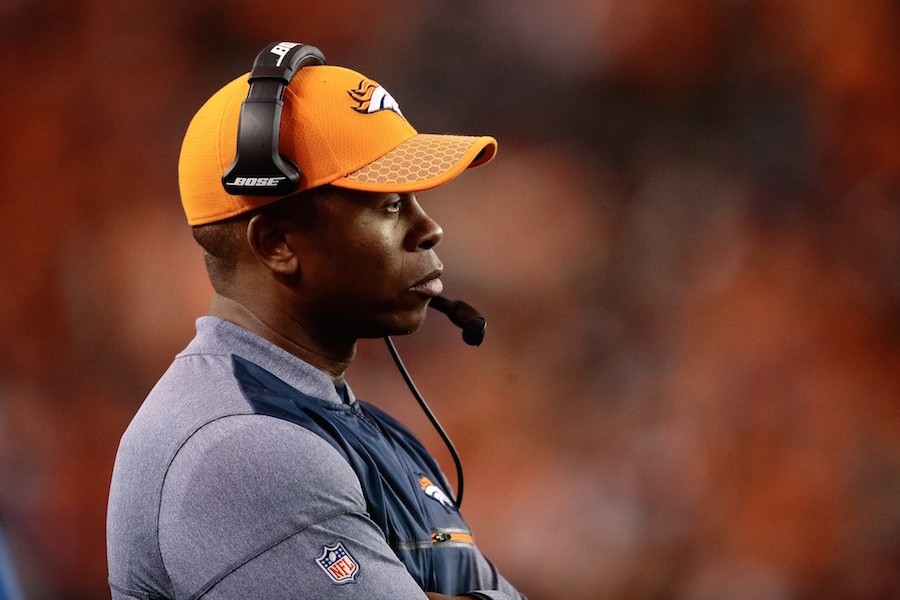 The 2017 Denver Broncos are hurting.
That was most evident postgame in the Broncos locker room after a 20-17 loss to the Cincinnati Bengals — Denver's sixth consecutive loss and seventh in eight games.
A sobbing C.J. Anderson, who cares so much for the success of his team, couldn't control his emotions at his locker after a critical fourth-quarter fumble in the loss, unsure when and how the nightmare trip will end.
"This s— hurts, man," Anderson said tearfully before the media broke away. Anderson sat broken, much like how the Broncos season now seems.
Linebacker Brandon Marshall, an outspoken voice in the locker room, was calm and collected, but noted that the energy at Sports Authority Field at Mile High felt as lost as the team.
Whether in the press box, on the field or watching on TV, it was impossible to ignore the boos that rained down from the stands in Denver at various points in the loss Sunday.
"I've been here since 2013. I've always felt like the stadium gives you extra juice," Marshall stated. "There's so much life in the stadium. But today was the first time were I was like wow, this kind of reminds me of Jacksonville's stadium."
Cornerback Bradley Roby, perhaps feeling as lost as Bengals wide receiver A.J. Green made him look multiple times in the game, wouldn't speak to the media after what just occurred on the football field.
Chris Harris Jr., a leader of the once-heralded "No Fly Zone," expressed his frustration to a sea of media. "It's not a good mood at all," Harris Jr. said. "We lost [six] in a row. We can't figure out how to win."
The leaders, looking for answers, are unsure where the solution is to come from. Pro-bowler Von Miller, addressed the elephant in the locker room — one that seemed to be on the minds of all the players — general manager John Elway's comments from earlier in the weekend that the team has grown "a bit soft."
"He's the head guy. His comments, he's the boss. That's what he said. He said it," Miller said.
"I was kind of taken back by it, which you should be. If you have any type of emotion about you, if you play soft, your reaction should be, 'What? I'm not soft.' But, if you take a look back at it, the truth is that's what we've been putting out there. That's the type of team that we've developed into. That's what we got. It's the truth. He's telling the truth."
There's plenty of blame to go around, and it shouldn't get pointed at one individual, group or department. As Broncos head coach Vance Joseph put it postgame, "It's all of us."