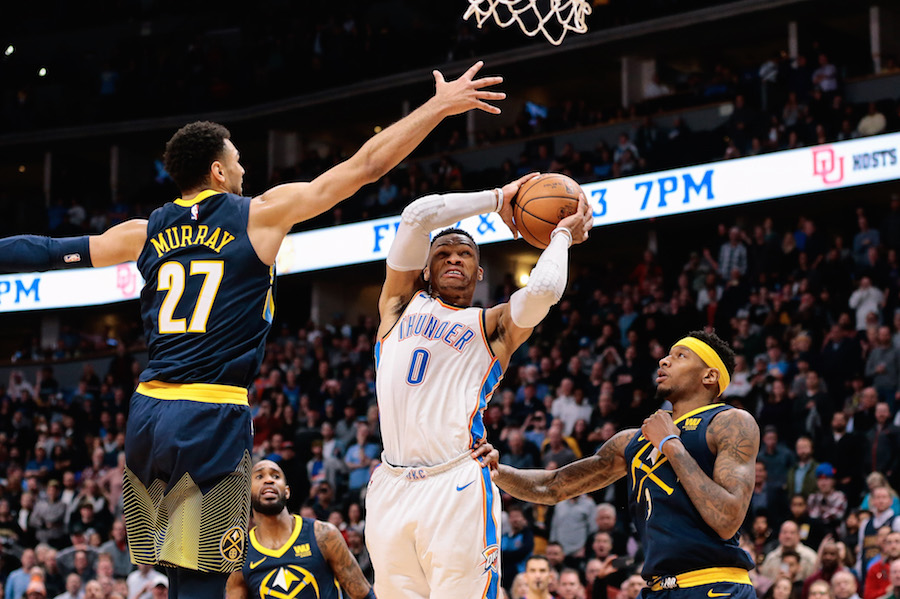 Let's show a little class, Denver.
The Denver Nuggets on Thursday defeated Western Conference power Oklahoma City on a buzzer-beating 3-pointer by Gary Harris. The win moved Denver to 27-25, still holding on to the eighth and final playoff spot in the West. The loss dropped the Thunder to 30-22, a half-game ahead of Portland for the West's fifth seed.
But by the way one fan reacted to Harris' shot, you'd think the Nuggets had just punched their ticket to the NBA Finals.
After Harris hit the game-winner, one fan walked onto the court and went chest-to-chest with reigning MVP and seven-time All-Star Russell Westbrook — earning himself a shove from the Thunder guard and a visit from Pepsi Center security.
Come on, Denver. We're better than that, aren't we?
Some fan got in Russell Westbrook's face and he was lucky he didn't catch the hands.pic.twitter.com/36JzJQYHou

— The Shadow League (@ShadowLeagueTSL) February 2, 2018
There's nothing wrong with being excited for your team after a big win, but let's be a little more aware of our place Denver.
Westbrook, as previously stated, is the defending league MVP and a seven-time All-Star. Denver's entire roster put together can't claim those honors. A player of any kind should never receive that kind of treatment from a fan, let alone one of Westbook's caliber. That kind of behavior is uncalled for with Westbrook, even from a player on the floor.
Over the past four seasons, Denver has never made the playoffs and finished with a season-high of 40 wins (last season) during that span. The Thunder have two trips to the Western Conference Finals to their credit during that span. And remember, Denver is just 3-8 against Oklahoma City over the past three seasons. Even from a team perspective Denver has no reason to be chest-thumping right now.
Denver has always been known as a passionate fan base — whether cheering for the Nuggets, Broncos, Avs or Rockies. But I've seldom heard us described as a particularly educated fan base. This latest incident doesn't help that reputation.
Sure, we might know when it's appropriate to chant "IN-COM-PLETE" following a missed pass by the opposition at <CORPORATE PARTNER TO BE NAMED> Field at Mile High, or to scream "ONE-TWO-THREE" when implored to do so by the Nuggets' PA announcer after a Gary Harris or Jamal Murray 3-pointer, but we're also a fan base that starts the wave at Rockies games when the opposing team is at the plate.
Author's Note: It is NEVER okay to start the wave at a baseball game, let alone when the opposing team is up to bat. It's also never okay to set foot on the field of play and confront an opposing player — in any sport.
The worst part about it? It was broadcast on national TV. After Denver picked up a "W" in one of the most exciting nationally televised games of the season, fans of the Mile High City came off looking small-time and stupid because of one person's poor judgment.
The Denver Nuggets, even during their streak of 10 consecutive seasons in the playoffs, have not been a team worthy of even their players going face-to-face with an opponent the way that fan did on Thursday night. Outside of Kenyon Martin's bullying of Dirk Nowitzki in the 2009 Western Conference Semifinals, Denver since the 1980s has never really been in a position to thump their chest at an opponent in such a fashion.
Sure, the NBA is full of bravado and braggadocio. All sports are, really. Murray's breaking of Steven Adams' ankles during Thursday's game, and specifically the reaction of the Nuggets bench to the play, are perfect evidence of that.
But let's not forget that the Thunder at one point Thursday trailed by 20 points in the third quarter and entered the fourth down by 15, only to tie the game in the closing seconds. Westbrook had 10 points, two assists, a steal and a defensive rebound in the quarter.
Were it not for Harris' miraculous shot at the buzzer, that game likely would have gone down as one of the biggest choke-jobs of a Nuggets season that is still very much hanging in the balance in terms of making the playoffs.
You can thump your chest (from the sidelines, of course) after a 20-point win. You can't do it after nearly blowing a 20-point lead.
Mile High Sports started more than 15 years ago with a simple motto: Be a better fan.
Seems we still have work to do.