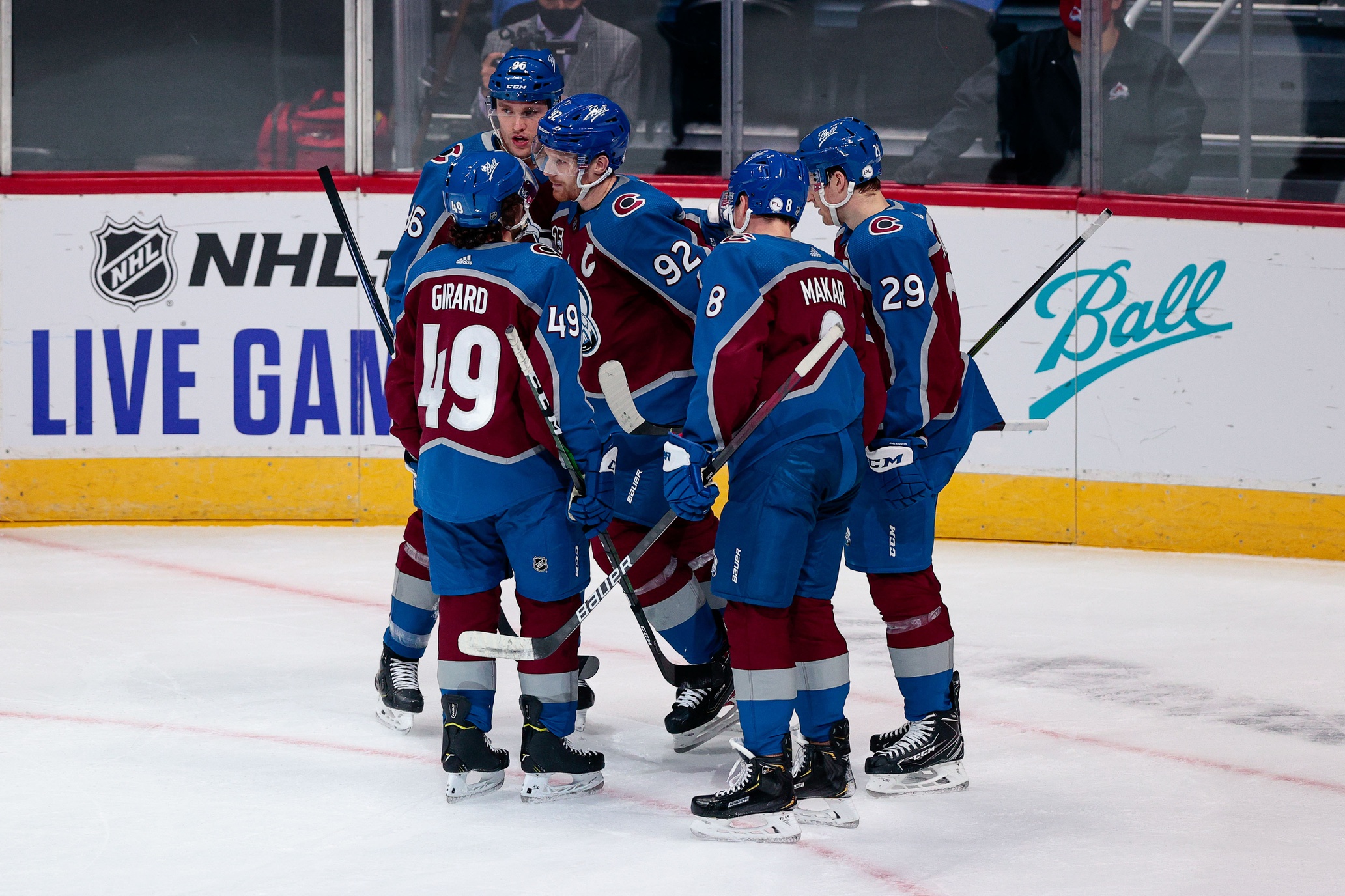 The Avalanche have often tried to split up its top line of Gabe Landeskog, Mikko Rantanen and Nathan MacKinnon to spread the scoring wealth. But when a spark is needed, Avs coach Jared Bednar can always turn back to his big three, just as he did Friday.
And it worked. Perhaps better than imagined.
Rantanen (goal, assist) and Landeskog (two goals) reached career milestones, and MacKinnon (goal, two assists) pulled closer to two of his own in an 8-0 thumping over the St. Louis Blues at Ball Arena.
Landeskog scored his 200th career goal and Rantanen added his 100th just 2:31 later to help Colorado split the two-game series against the Blues. Colorado scored five power-play goals, and MacKinnon, who had one of them, pulled within two points of 500. He is also nine goals shy of 200.
"We know that it works when they're together," Avs coach Bednar said of his top line. "We experiment at times with spreading those guys and try to make us tougher to play against. Sometimes it works, sometimes it doesn't."
Landeskog, 28, began the season playing on the Avs' second line with center Nazem Kadri and newcomer Brandon Saad. Bednar quickly shifted him back onto the top line in place of Andre Burakovsky after the Avalanche's poor performance on opening night — a 4-1 loss.
"Game 1 was not good and it wasn't good from a lot of different aspects," Bednar said. "Those three guys — Landy, Mac, Mikko — are the leaders of our hockey team and if we're going to challenge guys on our team it's going to be those guys because of their status. We put them together and give them the best opportunity to lead our hockey club and that's exactly what they did."
The Avalanche went 79:08 without a goal and it seemed like they had no answer for goaltender Jordan Binnington in Game 2 after a scoreless first period. But it was Landeskog who finally broke through with a tally on the Avs' 15th shot.
And then the floodgates opened.
Colorado scored three more times to take a 4-0 second-period lead.
The Avs continued to pour it on St. Louis in the third. Inexperienced backup Ville Husso replaced Binnington to begin the frame and the young netminder surrendered four goals on 14 shots. Colorado's eight goals came in a span of 30:53 on just 23 shots. The other goals came from defenseman Devon Toews (power play), forwards Joonas Donskoi, Andre Burakovsky (power play), and Kadri (power play).
"I liked our response start to finish," Bednar said. "We got outworked, embarrassed in the opening game and it wasn't the way we wanted to lose. The guys took it to heart and came out with a strong work ethic and a real good commitment to defend."
That defending helped hold the Blues to just 20 shots. Avs goalie Philipp Grubauer recorded his 12th career shutout.
Landeskog has played 635 regular-season games in the NHL, all with the Avs, and is coming off a 21-goal campaign in 2019-20. The ninth-year captain has scored at least 20 goals in seven seasons.
Rantanen's 100th regular-season goal comes in his 283rd game. The 24-year-old struggled in 2019-20, finishing with 19 goals and 45 points in 47 games. He rebounded in the playoffs and was over a point-per-game in 15 games in the Edmonton bubble.
"It feels good," Rantanen said of his milestone. "I wasn't thinking about it too much but it feels good, I can't deny that."
Rantanen's goal also was his first while wearing an 'A' on his jersey as the Avalanche's alternate captain. With defenseman Erik Johnson on the COVID-protocol list, Rantanen has assumed the role in both games.
That's the leadership Bednar was pertaining to. And the performance from Rantanen, MacKinnon and Landeskog was what he expected.