Danilo Gallinari had a career-high 40 points as the Nuggets ran away from the Orlando Magic to snap a three-game losing streak with a 119-100 win Sunday.
Jameer Nelson added 15 points and five assists in just 17 minutes for Denver against his old squad.
Once again, the second quarter was a lob-sided affair, but this time, it was in the Nuggets favor. Already with a three-point lead after one, the Nuggets turned it on to start the second, with Will Barton, Nelson, and the rest of Denver's bench providing the spark.
The Nuggets bench outscored Orlando's 50-36 on the night. Along with Nelson, Barton and J.J. Hickson added 11 points each. Denver outscored the Magic 41-26 in the second, and carried a 69-51 lead at the half.
Denver continued to pour it on in the third quarter, and Gallinari kept attacking. It was Gallinari at his absolute best, shooting the ball well from downtown and putting the ball on the floor to get to the rack time and time again.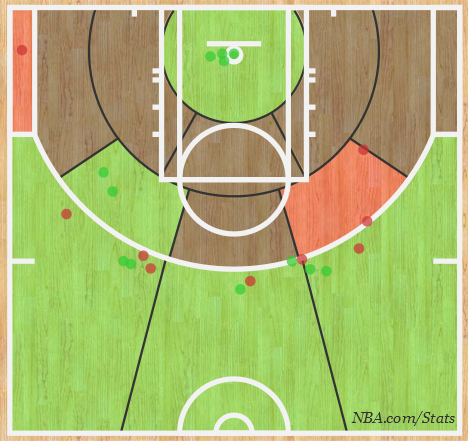 He finished 12-21 from the field, including 6-13 from downtown, and added seven rebounds, four assists, and even tossed in a pair of blocks. Thanks in large part to his efforts, the Nuggets had their lead out to 33 at one point in third quarter before settling in to a 30-point cushion heading into the final frame.
Including his big night, Gallinari's averaged 18.3 points per-game since the all-star break.
In the fourth quarter, the young guys finally got some play – Erick Green finished with 20 minutes of court time, though Gary Harris and Joffrey Lauvergne saw nine minutes of run. A late empty run by Orlando with the rookies in cut the final score to somewhat respectable and disguised just how big a blow-out this one really was.
One downside to the evening – Ty Lawson finished with zero points on 0-2 shooting, although he did finish with eight assists.
The win means that the Nuggets finished up their five-game road trip with a 2-3 record. They'll come back home to take on the Philadelphia 76ers Wednesday. Tip-off is set for 7 p.m. at the Pepsi Center.
---
Zach Marburger is a staff writer for Mile High Sports. He can be reached via email at [email protected] or on Twitter @BurchBurger.
---