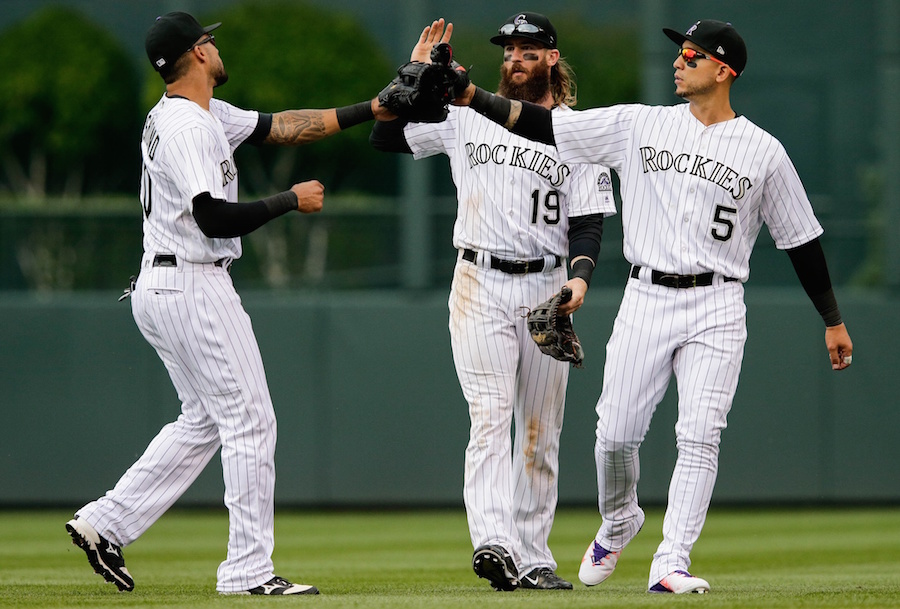 The Colorado Rockies are leading the National League West and have the second best record in all of Major League Baseball. Even for the most optimistic of fans, that's a truth very few saw coming as the end of May rolls around.
Now multiple games past the quarter mark of the 2017 season, these Rockies appear to be different than the fleeting winners of early seasons past. Eight years removed from their last postseason appearance, the 2017 Rockies have reasons to be optimistic about the remainder of the year. As opposed to the unsustainable offensive numbers that have outlasted poor pitching performances, the team's success this year has resulted from a combination of good pitching and timely offense.
What's more, the Rockies' ability to win the first game of a series has proved invaluable in the early going. Of the 14 series the Rockies have completed, they won the first game of the set 11 times. Including the game one win against Philadelphia on Monday, that number is 12. This early success has limited the team to two series losses this season. In those series that the Rockies won the first game, they proceeded to lose the series only once, a four-game set against the Washington Nationals.
Thomas Harding, Rockies beat reporter for MLB.com, joined Gil Whiteley on Mile High Sports AM 1340 | FM 104.7 to discuss the game one triumphs that have benefited the team in 2017.
"Generally in that first game, their starting pitcher has pitched well," Harding said. "That's the way you win games on the road. You're not necessarily going to score 8-10 runs per game. In general, if you pitch well throughout the series, and certainly if you pitch well enough in that first game to win it, you're in a pretty good spot for the rest of them."
If the Rockies can continue to win the first game of a series, there is no reason not to believe that the playoff drought may soon be coming to an end.
Listen to the full discussion with Harding, including who he sees as a possible 2018 World Series preview, in the podcast below.
Catch Gil Whiteley every weekday from 11a-12p on Mile High Sports AM 1340 | FM 104.7 or stream live any time for the best local coverage of Colorado sports from Denver's biggest sports talk lineup.