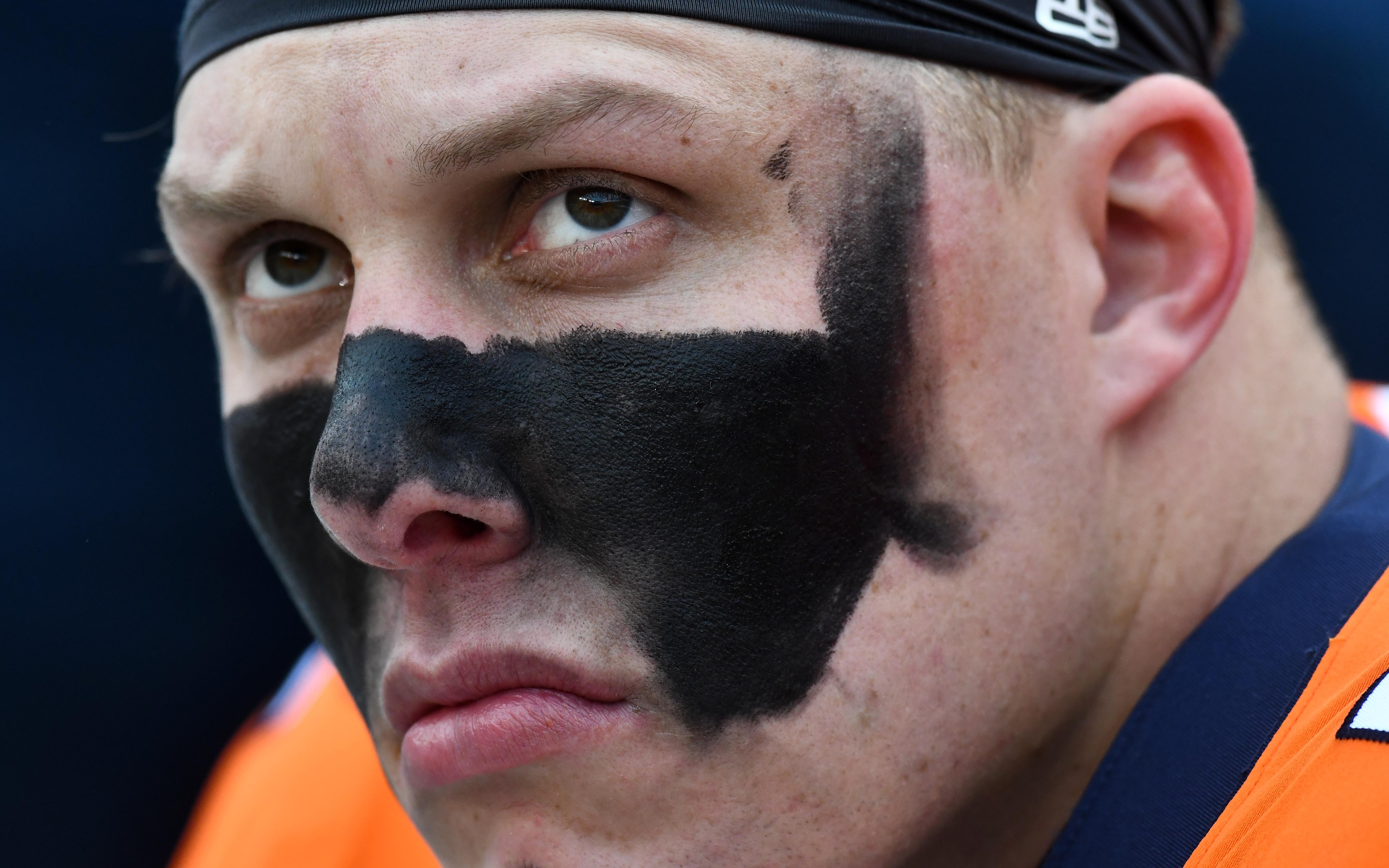 It's time to put up or shut up for left tackle Garett Bolles.
In the world of the NFL, first-round picks are expected to excel immediately and then continue to grow from there into Pro Bowl players. Instead, what we've seen from former No. 20 overall pick Bolles is inconsistent, up-and-down play filled with too many penalties to count.
During his first two seasons in the NFL, Bolles racked up 15 and then 13 penalties respectively, good for second and third-worst in the league, respectively. Of the 22 of those calls which were accepted, 14 were holding, seven were false starts and there was also one unnecessary roughness mixed in there.
When Bolles was drafted, he called himself a "nasty prick," alluding to his toughness, grittiness and downright nastiness down in the trenches. But, for the most part, that hasn't been seen. What we've seen instead is lackadaisical, half-hearted, slow play from a tackle who still doesn't get how to play his position at a high level.
That same Bolles showed up on Monday Night Football, and yes, it was only the third game of the preseason, but the trend is truly difficult to ignore. In the first quarter of the Broncos – 49ers game on Monday, Joe Flacco dropped back, waited a second too long but still unleashed a bomb for Emmanuel Sanders, who stopped and still managed to catch the ball for a giant gain. But, not so fast.
Upon further review, Bolles held.
Matt McChesney broke down the play and Brandon Thorn weighed in on Twitter, too, exposing why Bolles needed to hold in the first place. Simply, Bolles' technique is terrible for a starting left tackle in the NFL, not sliding to get into position but opening his hips immediately and losing leverage against defenders. As Thorn says here, "Last year to fix it."
Bolles' technique or lack thereof specifically his hands was my top concern coming out of Utah. He didn't get exposed as much with his hips opening too early against the competition he faced back then, but it's been another constant issue as a pro. Last year to fix it. https://t.co/rgc2w974Kz

— Brandon Thorn (@BrandonThornNFL) August 20, 2019
In terms of sacks, that's one area Bolles improved in dramatically from his rookie campaign to his sophomore season, from eight allowed to only two last year. But, he needs to both not allow sacks as well as not hold defenders. It can't just be one or the other, but both.
Of course, it's not just in pass protection where Bolles has struggled mightily, but in the run game, too. As Sayre Bedinger shows here, Bolles is blown off the ball, and while all the rookies and other offensive linemen did their job to perfection, it only takes one player to make a play fall apart. On this one, it was Bolles.
⛓️ It only takes one weak link to wreck a house call

Garett Bolles gets blown off the ball here by Solomon Thomas, but LOOK AT THE ROOKIES, MY CHILDREN.

Noah Fant, Dalton Risner, George Aston, moving bodies, taking names, creating NIGHTMARES.#Broncos pic.twitter.com/5Xmw5py5Q0

— Sayre Bedinger (@SayreBedinger) August 21, 2019
Sayre broke down more of Bolles' film from Monday night, and following the devastating holding penalty, he did bounce back and play with better technique, but that was against the second and third-team defensive ends. Bolles can dominate against them all he wants to, but if he can't block the first-stringers on a regular basis, the Broncos left side of their line will be exposed.
In terms of overall grades, Bolles was the 34th-best tackle (70.7) last year and the 31st-best (72.9) in his rookie season, putting him smack-dab in the middle of all tackles in the NFL. He's middle of the pack, pedestrian-at-best and much worse than that when he has an off game. Only five times last season, mostly early on, did Bolles grade out with a 70-plus grade according to Pro Football Focus, with nine grades in the 60s, one in the 50s and one in the 40s. According to PFF, being graded in the 60s is a "backup" and anything lower than 59 is "replaceable."
Where we're at in the Garett Bolles saga is leaning towards him being replaced, the Broncos moving on instead of continually trying to make him turn into a Pro Bowler. The one positive? Mike Munchak is on the team.
If the offensive line guru can't get Bolles to play at a much higher level, there's not much hope anyone can. This year is make-or-break for Bolles, even if he does have one more year left on his rookie deal before Denver decides to pick up his option or not.
What the Broncos need to see is more consistent play and even a few games of fantastic play along the way during this grueling NFL season in 2019.