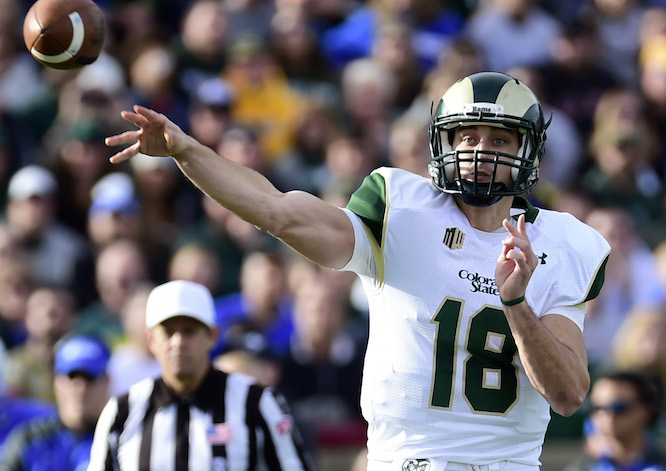 Former Colorado State University star quarterback Garrett Grayson has been named the 2014-15 Mountain West player of the year. Garrett joins Danielle Minch (volleyball) who won this award for the 2010-11 year, as the only CSU athletes to receive the award, which was established in 2010.
Grayson had an outstanding last year as a member of the Rams football team before being selected as the 75th pick of the 2015 NFL draft by the New Orleans Saints. Grayson's steady arm helped lead the Rams to their first national ranking in 11 years. At times throughout the year, the team ranked as high as No. 21 in the USA Today/Coaches and Associated Press polls. He also was an All-Mountain West firstteam quarterback and was named the 2014 Mountain West Offensive Player of the Year.
Grayson was among the top quarterbacks in the nation in passing yards (fourth, 4,006 yards), passing efficiency (fifth, 166.2), passing yard per game (seventh, 308.2) and passing touchdowns (eighth, 32).
The Rams averaged 33.9 points per game last season; Grayson was responsible for 198 on the season. He led the Rams to a 10-3 record and a trip to the Royal Purple Las Vegas Bowl. He set career records during his senior campaign at CSU and broke his single-season record for passing with 4,006 yards.
Grayson is only the third MW quarterback in conference history to throw for 4,000-plus yards in a single season. Grayson had two games where he threw for more than 400 yards (434 at Boise State and 425 vs. UC Davis) last year to claim two of the top four passing games in school history. Wide receiver, Rashard Higgins was his main target last season. Higgins led the nation in receiving yards (1,750), touchdowns (17) and receiving yards per game (145.8).
The New Orleans Times-Picayune projects Grayson to be the Saints' third-string quarterback in 2015 behind Drew Brees and Luke McCown.
---
Marcus Flowers, a Mile High Sports intern and Claflin University student, contributed to this report
---