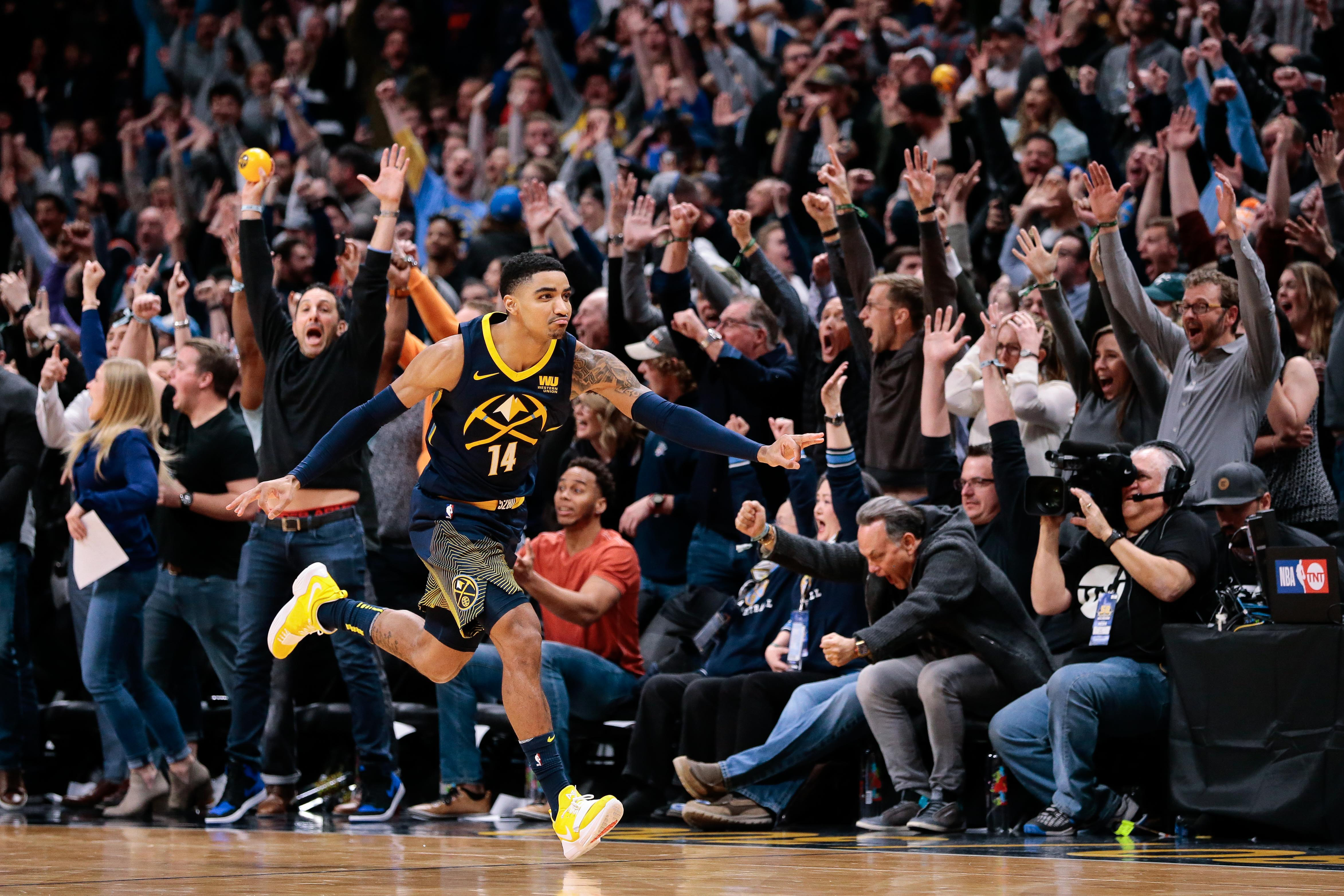 The 2017-18 Denver Nuggets' season was constant battle to make the playoffs for seemingly every game for the final two months of the season, but for the Denver Nuggets' starting shooting guard — Gary Harris — it was also filled with development, growth, injuries, and defeat. Now, after another career-best season, Harris has earned himself some well-deserved-rest.
Harris was largely the Nuggets' most consistent player throughout the year and — before missing 11 of Denver's final 13 games of the season due to a strain/sprain to an undisclosed ligament in his right knee — he led the Nuggets in scoring at 17.7 points per game.
Harris finished the season with averages of 17.5 points, 2.6 rebounds, 2.9 assists, 1.8 steals, and 1.8 turnovers per game while shooting a blistering 48.5 percent from the field, 39.6 from three-point range, and 82.7 percent from the free throw line. Those per-game averages led to career-highs in points (17.7), steals (1.8), three-point makes (2.3) and field goals made (13.6). It was Harris' best season to date.
Now, after a winner-take-all loss to the Minnesota Timberwolves on the final day of the season — a game in which Harris was no more than 70 percent healthy according to sources — Harris is not putting any blame on his knee injury late in the season. Although, with that being said, there was a sense of 'what if' that was palpable as Harris answered the question of if he thinks injuries are a large reason for the Nuggets missing the playoffs.
"No. There are injuries every year in basketball and you just cannot control who they happen to or when they happen; you just know it is part of the game," Harris explained. "You hate to see it happen, but unfortunately, it is going to happen."
Now, Harris is doing exactly what he told media he would do to start his offseason when he answered with, "I'm chilling," before letting a quick smile overcome his face. Harris is currently sitting on a beach in some beautiful tropical vacation that could easily be defined as 'paradise on earth' currently getting the rest he has earned.
"I am just getting away," Harris explained. "It is a long summer, man. I will be ok."
There is honestly nothing Harris needs more than rest. After hurting his right knee, the best thing he can do is rest and let it heal. This was easily the most intense season of Harris' professional career and that clearly took a toll on his body. Harris coming back healthy and rested is the best possible thing he can do for himself and this Nuggets' team.
That isn't to say that the 2017-18 season didn't leave a sour taste in Harris' mouth. Harris understands that this is now the second-straight year in which the Nuggets missed the playoffs by a single game. That has been eating at Harris since the moment that Denver lost in Minnesota on the final day of the season.
"A few of us guys talked about it after the game," Harris explained. "If we played like that the whole season, I don't even feel like we would have been in that position. Especially dropping a few games that we know we should not have dropped that came back to haunt us at the end of the season. We just have to come into next year more locked in and ready to play how we did the last seven games of the season."
Even with the frustration of missing the playoffs for the fifth-straight season, Harris can see the development and growth of this Nuggets' team this year. It is clear that the young core in Denver continues to grow, develop, and evolve into better versions of themselves year after year.
"Look, we missed the playoffs and we were ten games over .500. If you would have told me that would have happened to begin the season I would have said that you're crazy, but we are improving," Harris explained. "We won 46 games this year. We weren't even .500 last year and who knows where we were at the year before that. We are improving. You can see everybody getting better. Guys are maturing and we are getting better. That is all you can ask."
What can be expected from Harris himself this offseason once he returns from his well-deserved rest? He is being quite vague and quiet about that, but — as Harris has consistently shown — he will likely come back for the 2018-19 NBA season ready to take yet another leap as a player as he battles to become one of the top-five shooting guards in basketball.
"Just, I guess, stay tuned and see," Harris said before laughing. "I am just going to try and come back a better player and just try to do whatever I can to help this team win more games next year."