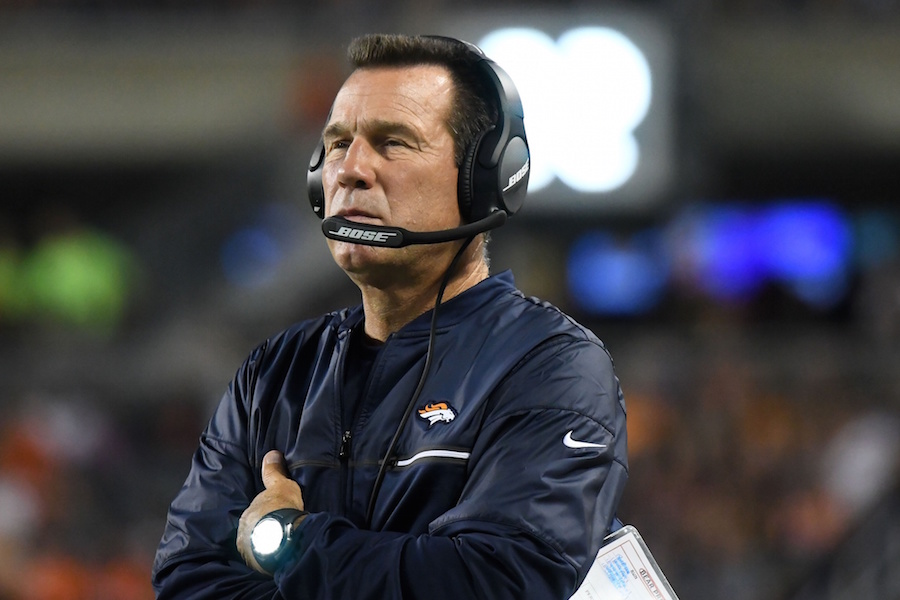 We all have bad days at work.
The key is making sure they're few and far between.
Broncos head coach Gary Kubiak has had some bad days lately.
That trend needs to stop now. And if it doesn't, Denver will shockingly miss the 2016 NFL playoffs.
Look, Kubiak pushed all the right buttons last year on the Broncos' roller coaster ride to a Super Bowl 50 win. Back in May, I wrote about him being underappreciated in this very same Wednesday morning column. But right now, no one should let Kubiak near the nuclear codes. Almost every button he's pushed lately has been wrong.
Especially against New England.
It was clearly Kubiak's worst day as Denver's head coach thus far, and he, as much as any player, needs to bounce back against the Chiefs this weekend in order to save the season.
First, the decision to play Jordan Norwood was absolutely mind boggling.
Norwood had two horrible fumbles against the Patriots, one to basically start the game and one to basically end the game, and right now doesn't belong on an NFL field.
He was one of the main reasons the Broncos lost to the Chiefs in Week 11, and after a two-week absence from the punt returning job, was inexplicably back in that role versus The Deflators.
The decision by Kubiak backfired almost immediately, as Norwood fumbled the first punt of the game after Denver's superb defense forced a three and out.
Aqib Talib stared Norwood down as he came off the field (after shoving him a few weeks prior), but maybe Talib should've be glaring at Kubiak.
WHAT.WERE.YOU.THINKING.GARY?
"I have a lot of confidence in [WR] Jordan [Norwood]. I'm disappointed that he didn't handle the ball well. Obviously that was a few weeks ago, too. He has to handle the ball better, but he's also made some big plays for this team. I'm the guy that put him back there. I believe in him. I think he's done a lot of good things for this team. I'm going to battle with guys," Kubiak said Monday.
That explanation leaves a lot to be desired, as Kalif Raymond performed just fine in the role against Jacksonville and Tennessee, but at this point there's not much Kubiak could say that would be considered satisfactory.
Aside from the complete botching of the punt returner situation, Kubiak badly mismanaged the clock to end the first half, and was more conservative than Rush Limbaugh earlier in the second quarter.
In fact, you could call him (gasp!), Gary Fox.
If you have any idea of my views on John Fox, you know that's about the furthest thing from a compliment I can dish out.
With all three timeouts and more than a minute left on the clock in the first half, New England was forced to punt the football. Rather than take his first timeout and give Trevor Siemian and company a chance to cut into the Patriots 10-3 lead, Kubes let the clock tick down to close to 30 seconds left. He then called one run play and the Broncos limped into the locker room down a touchdown, rightfully booed off the field by their paying customers.
Just five minutes of game time earlier, also down 10-3, Kubiak refused to try a 54-yard field goal by Brandon McManus with the Broncos facing fourth and 14 from the New England 37. Sure, it was cold, but with points at an absolute premium it was just another example of Kubiak not coaching gutsy enough to beat Tom Brady, Bill Belichick and the Patriots.
Finally, and this is obvious, Kubiak calls the play and the Broncos scored three friggin' points. Three points. Let that marinate.
If you hold Brady and the Pats to 16, you should win. You need to win. The total lack of creativity from Kubiak and his offensive staff is worth another 800 words, but that can wait for another day.
The bottom line is this: If Kubiak didn't win a Super Bowl a season ago, people would be calling for his job. Fair or not, that's this city when it comes to the Broncos. The last two years have been absolutely painful on offense, and that falls on the shoulders of Kubiak, who played QB in the NFL and created his next career out of being an offensive coach.
In terms of a silver lining, Kubiak can still make this right. Just like a player he can rebound. The Broncos can win their next two games and make the playoffs. They do need help, but not unrealistic help. Everything about this season might feel lost, but it isn't. At least not yet. It's on Kubiak to plug the holes in the sinking ship.
Everyone has bad days at work.
How you come back the next day says a lot.
Kubiak's next day, at least in the public spotlight, is Sunday night at Kansas City.
Please buck this bad trend, Kubes.