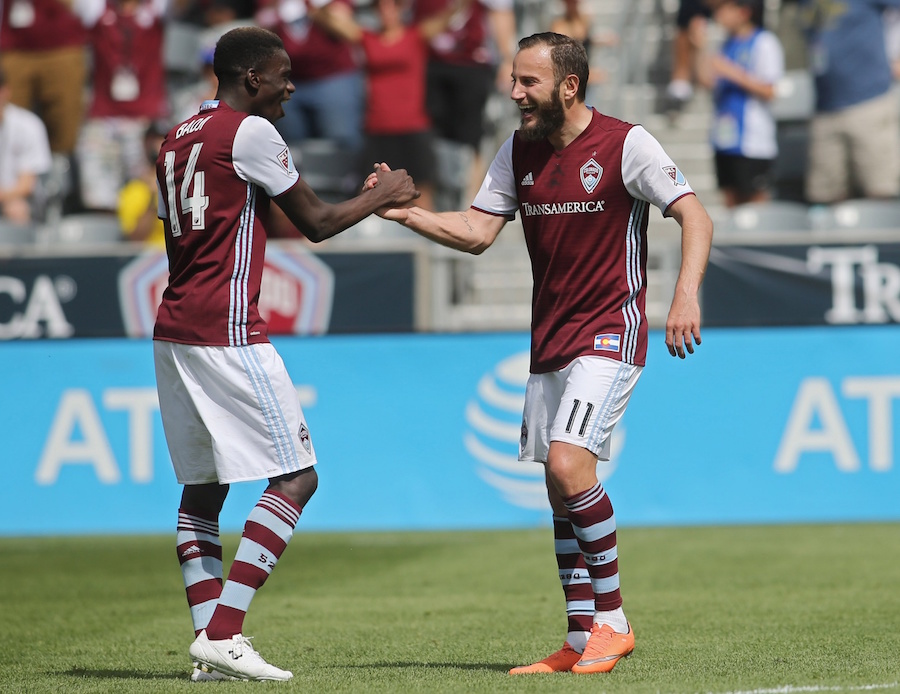 Two goals from Shkëlzen Gashi and one from Dominique Badji catapulted the Colorado Rapids to their biggest win over San Jose Earthquakes since 2002, and also gifted them their second success of the season.
This was a Rapids side that had lost five in a row, and were without a win since the opening day of the season, but that did not show as they dominated from the first whistle.
Pablo Mastroeni broke from tradition and sent his troops out in a 4-4-2 formation, with Alan Gordon and Badji up top. Also, Marlon Hairston played at right back, a position not unfamiliar but one which he has not played since the start of 2015.
Despite the upheaval, and despite the results coming into the contest, the Rapids were rarely troubled by a Quakes side seeking to make it three wins in a row.
"I played with [DaMarcus] Beasley for a long, long time and I believe that wingers make really good defenders, if they're committed," goaltender Tim Howard said of Hairston's performance. "I think you saw his commitment, defending one-on-one and latching on to some of their strikers."
San Jose's best effort fell to the feet of Anibal Godoy on 61 minutes, but Howard made himself big to deny the Panama international from 10 yards out. By that stage, though, the visitors were 3-0 down, thanks to a Gashi brace and a third of the season for Badji.
"I think it was about breaking that losing streak and getting back on the front foot," Howard said postgame. "This was the game we needed – particularly going into a long week."
After Gordon missed an open goal from close range, but the Rapids were in no mood to feel sorry for themselves and kept on the front foot.
Gordon won a freekick midway inside the San Jose half on 29 minutes. A ball from Dillon Powers was neatly taken down by Mohammed Saeid, who delivered a cross with his second touch, which was converted by Gashi.
"I think last week was the turning point for him and for the group as a whole," Mastroeni said about Gashi's play on Saturday. "I thought last week was his best performance as a Colorado Rapid and he one-upped it today."
The former San Jose man Gordon was provider for the second, linking up well with Badji 10 minutes before the interval, allowing the Senegal striker to stride clear and beat David Bingham from the edge of the box.
Gashi made it 3-0 on 56 minutes after an improvised pass from Badji. The Rapids number 14 was on the ground, and yet still managed to scoop the ball into the path of the Albanian, who made no mistake.
Godoy went close for the Quakes, but so too did Bobby Burling and Kevin Doyle for the Rapids, on an afternoon which belonged to the boys in burgundy.
Next for the Rapids are two road games, starting with a midweek trip to Chicago Fire on Wednesday (6:30 p.m. MT).