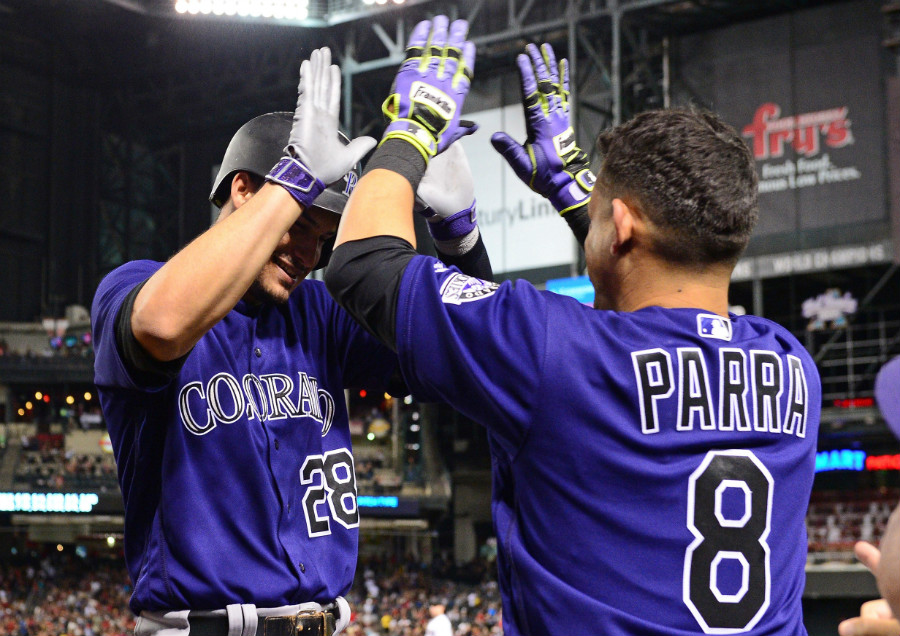 One of the best moves the Colorado Rockies made prior to the start of the season was signing free agent Gerardo Parra to help complete the team's outfield.
Parra, 29, came off a career year in which he hit .291/.328/.452 while splitting time between the Milwaukee Brewers and Baltimore Orioles.
One of the holes the Rockies had to fill this offseason was in the outfield. The Rockies had two spots locked down, with everyday starters in Charlie Blackmon and Carlos Gonzalez; however, a third was needed to complete the trio.
Last offseason was a rich one for outfielders, with guys like Alex Gordon, Justin Upton and Yoenis Cespedes all on the market, but the Rockies are a small-market club; they don't have the type of cash to compete with the larger organizations when it comes to the big-name free agents.
Parra, though, was the perfect fit. He's young, versatile and inexpensive; cost to production, he's turned into one of the most efficient contracts (three years, $27.5 million) in baseball.
The Rockies got their third outfielder to complete their core, and his impact has been substantial. Already, Parra has produced on the field, bonded with teammates in the clubhouse and become a fan favorite in the city.
Currently, Parra is hitting .286 with 10 doubles and 18 RBIs.
"High energy, live wire, he brings that to the game." Manager Walt Weiss said when talking about the type of player Parra is. "He's a pretty complete player. He does everything well."
And his impact goes far beyond the diamond.
"He's certainly brought something to our team, not only on the field, but in the clubhouse. Weiss said. "He's been refreshing around here."
Parra has quickly established himself as a leader. Laughing and joking, he keeps the team loose and easy going.
Not to mention, he's stealing the hearts of Rockies fans.
The term "Parra for President" is buzzing all over social media and around the ballpark.
Colorado Rockies nominate Gerardo Parra for President #ColoradoRockies #GerardoParra https://t.co/ioqC3pRZkP pic.twitter.com/s2YstgXPVW

— Sports Brief Now (@SportsBriefNow) April 6, 2016
While he may not be one of the game's most-popular names, Gerardo Parra is doing it all for the Colorado Rockies, and they're happy to have him.